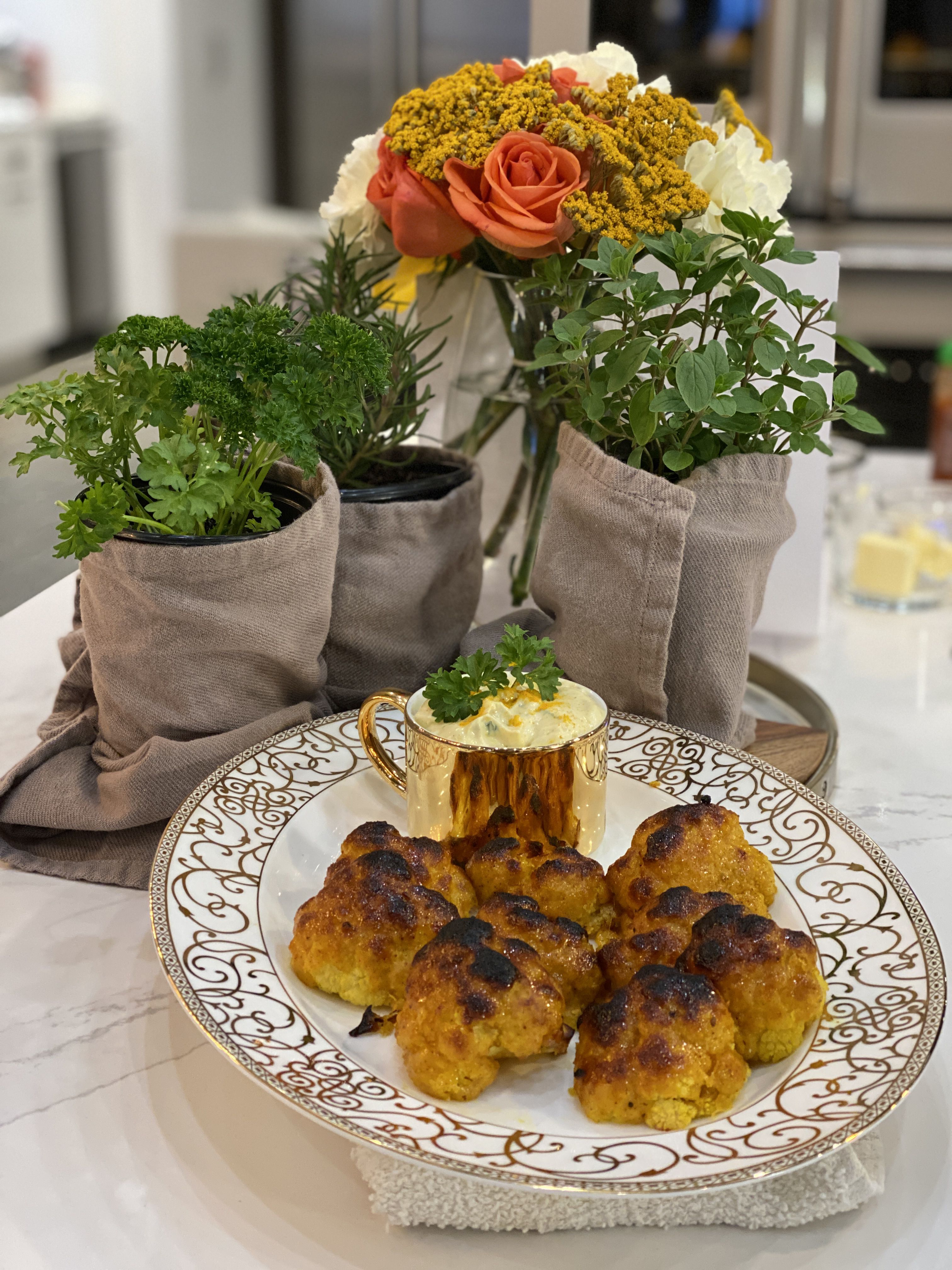 Chef Jaime Laurita's Buffalo Cauliflower Things
Yield: 25 pieces
Prep time:  20-25 minutes
Total time: 1 hour

Batter for Florets
1 Large or 2 small heads of cauliflower (cut into florets)
1 Cup of All Purpose Flour
1 ¿ cups of half and half
1 teaspoon garlic powder
¿ teaspoon curry powder
¿ teaspoon chili powder
¿ teaspoon turmeric
¿ teaspoon salt
¿ teaspoon pepper

Preheat Viking oven to 450 degrees.
Whisk together all ingredients making sure the flour is very incorporated.  Individually coat each floret with batter and place on a rack above a sheet pan lined with parchment paper. Bake 20-25 minutes until golden brown.
Glaze for Florets
5 tablespoons of honey
2 tablespoons of hot sauce
¿ teaspoon curry powder
¿ teaspoon turmeric
Pinch of salt
4 tablespoons of butter
Melt butter in a saute pan and add ingredients.  After the cauliflower come out of the oven you can use a pastry brush to coat or toss the glaze and the cauliflower gently in a mixing bowl and put everything back on the racked pan and place back in oven for an additional 10 minutes at 450 degrees.  You can also use broil for a minute to brown to your liking.  Serve with the dipping sauce.

Dipping Sauce
2 cups mayonnaise
2 tablespoons chopped dill
3 tablespoons Hot Sauce (your choice brand)
1 teaspoon Dijon mustard
¿ teaspoon garlic powder

Combine all ingredients and Chill.