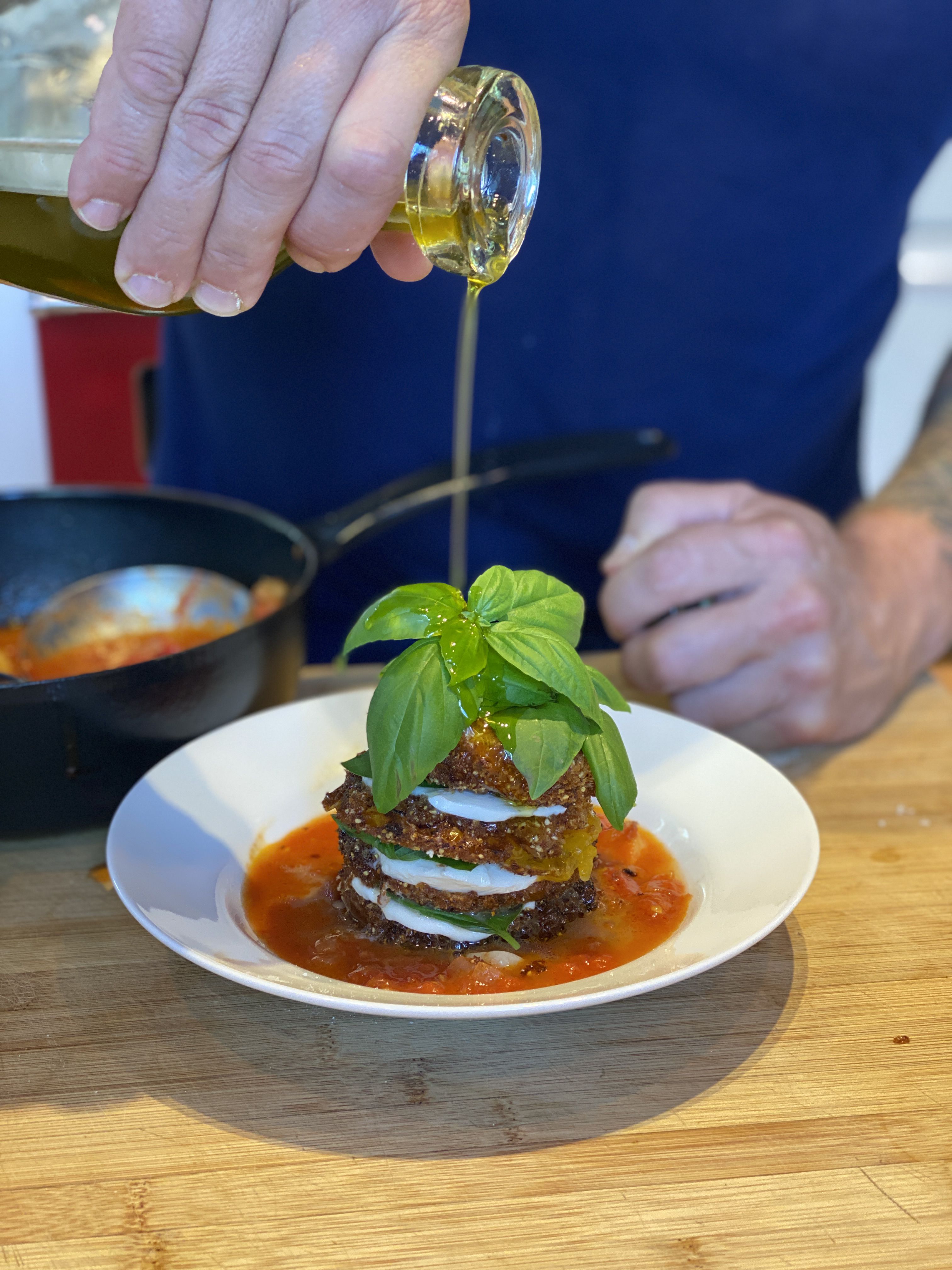 Fried Green Heirloom Tomatoes Caprese Stack
2 large green heirloom tomatoes
½ cup all-purpose flour
2 large eggs
½ cup milk
½ cup cornmeal
½ cup Panko Bread Crumbs
1 teaspoons coarse kosher salt
Pinch of ground black pepper
Pinch of ground cumin
Pinch of ground chili flake
Pinch of garlic powder
1 quart vegetable oil for frying
4 discs of fresh mozzarella cheese, ¼" thick
6-8 fresh Basil Leaves
Quick Heirloom Tomato Sauce
¼ cup of olive oil
Pinch of chili flake
1 small white onion, chopped
4 clove of garlic, smashed
1 large ripe red heirloom tomato, rough chopped
¼ cup of hot water
Season with salt and pepper
For the quick sauce, heat the oil in a small sauce pan before adding your onions, chile flake and garlic. Cook over medium to high heat until the onions are light golden brown and translucent. Add the tomato chucks and water, bring that to a boil then reduce the heat to a simmer for 6-8 minutes.  The skins will rise to the top for easy removal with a fork.
Slice the tomatoes 1/2 inch thick and discard any ends.
You will be creating a 3 dip process.
1.    Scoop the flour onto a plate.
2.    Whisk egg and milk together in a medium-size bowl
3.    Combine cornmeal, bread crumbs and salt, pepper, cumin, chili flake and garlic powder in a gallon plastic bag and shake to thoroughly mix and pour onto a second plate.
Dip tomatoes into flour to coat. Then dip the tomatoes into milk and egg mixture. Dredge in breadcrumbs to completely coat.
In a large skillet, pour in the vegetable oil, enough so that there is 1/2 inch of oil in the pan and heat on medium. Place 4 tomatoes into the frying pan at a time, they should not touch each other. When the tomatoes are browned, flip and fry them on the other side. Set on a paper towel to remove grease, then make your stack while the tomato is still warm as you want the cheese to melt.
In a shallow bowl, scoop some heirloom tomato sauce into the bowl, place a fried tomato, then the mozzarella with a basil leaf and repeat for desired height and hunger level. Add some grated parmesan cheese in between stacks for some extra cheese zing or even some fresh lemon zest.
This is one of my favorite recipes for the end of the summer headed to fall using some of those tomatoes that are left in the cooler temperatures.