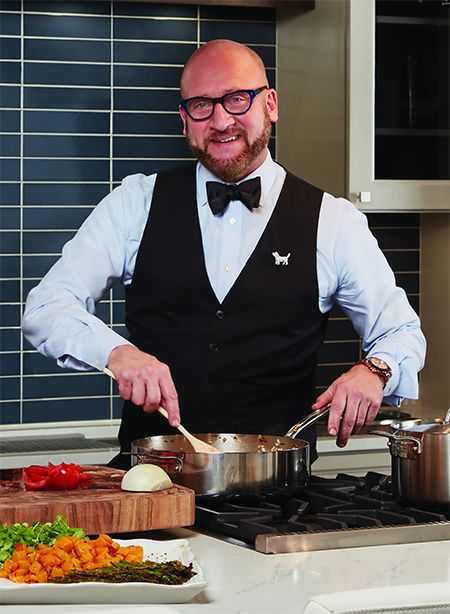 Ingredients
5 Granny Smith Apples 1 Lemon, juiced
1 Hibiscus Tea Bag, steeped in 3 cups hot water, then chilled
1 cup Cane Sugar
4 TBSP Salted Butter Zest from one Orange Pinch of Kosher Salt
1/4 tsp Apple Pie Spice Pinch of Curry Spice
1 tsp Vanilla Bean Paste (Nielsen-Massey Madagascar Bourbon) or the caviar from 1 Vanilla Bean
1 sheet of Puff Pastry, chilled Mint Leaves (for garnish)
Vanilla Ice Cream

Jaime's Tip: As an alternative to the Hibiscus Tea, you could also use Ginger, Rooibos, Cinnamon or Chai Tea for a different taste!
Directions
1) Preheat the oven to 425°
2) Peel and core the apples, cutting into 8 sections. In a bowl, soak the apples in the 3 cups of hibiscus tea and the juice of one lemon in the refrigerator for 2 hours. Remove the apples from the tea/lemon juice mixture and retain the liquid for the next step.
3) On the stovetop in a 12" oven safe non-stick skillet, add 1/2 cup of the retained hibiscus tea/lemon liquid to the skillet. Bring it to a boil and add the sugar. With a whisk, dissolve the sugar to create a simple syrup. Reduce the heat slightly to medium - high heat.
4) Add the butter, orange zest, salt and spices. Stir until the butter is melted and the spices are thoroughly mixed together.
5) Place the apple slices, cut side up, into the bottom of the pan (be careful as the pan will still be hot!). The apple slices will create the design for the top of your tart so be creative with the placement and do not stir the apples into the mixture. Continue to cook over medium heat until the sugar thickens and caramelizes. The apples will release moisture so continue to cook until the liquid starts to caramelize and becomes a light golden brown (the color of honey).
6) Cut a circular shape disc out of the chilled puff pastry that is slightly larger than your skillet. Once the sugar has caramelized, place the pastry circle over the apples and tuck the edges into the pan carefully so that you don't burn your fingers on the hot pan. Poke about six holes in the pastry dough (a chopstick works great) to release steam during the cooking process.
7) Transfer the skillet into your preheated oven and bake until the pastry has risen and has turned golden brown, about 10 - 15 minutes. Remove the hot pan from the oven with an oven mitt and rest for 5 minutes.
8) Carefully invert the pan and turn onto a serving dish (note: your serving dish should be larger than your skillet and have a lip on it to catch any excess hot liquid). Be careful not to burn yourself and do it fast so the apples don't slide. Slice and serve with a scoop of vanilla ice cream and mint leaf for garnish.   ENJOY!