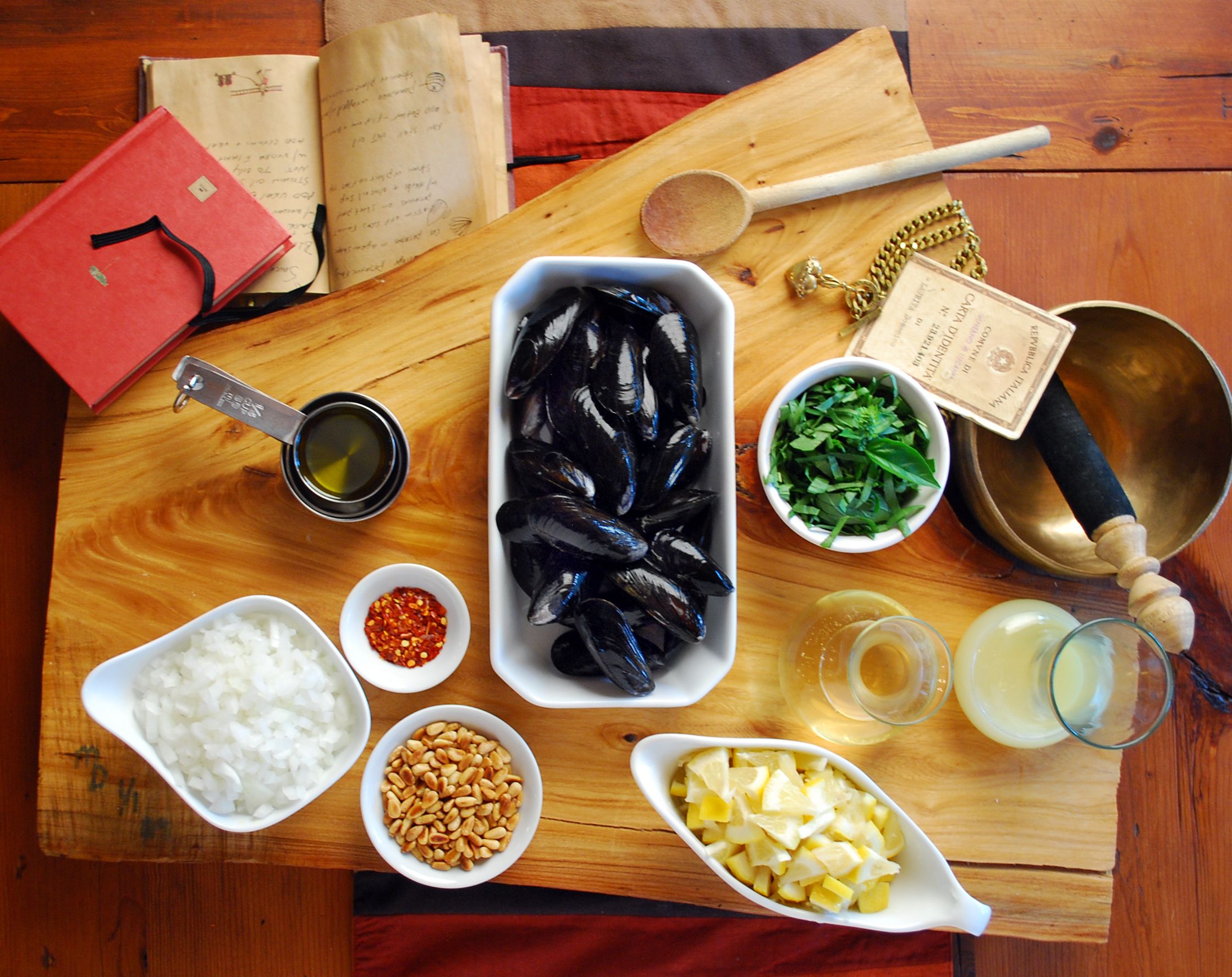 Spicy Ligurian Black Mussels with Lemon Segments and Fresh Basil
Serves 4-6
2 lbs of fresh water Black Mussels
2 tablespoons of unsalted butter
¼ cup of Extra Virgin Olive Oil
2 large shallots chopped (about ½ cup)
4 cloves of garlic chopped
½  teaspoon of chili flake
1 lemon juiced
1 cup of kalamata olives
1 cup of dry white wine
½ cup of water
½ teaspoon of salt
2 lemons, cut into discs
4 tablespoons of toasted pine nuts
1 cup of basil, chopped
(Rosemary and Thyme are nice as well)
¼ cup of olive oil to finish
kosher salt and pepper to taste
Toasted or grilled bread for dunking
Method
Wash your mussels under cool running water. Scrub the outside and debeard the mussels if they are present, pull fibrous beard towards the hinge of the shell and discard.
In a large cast iron skillet sized with a coordinating lid on your Viking range, heat the olive oil and butter over medium to high heat until it starts to melt and foam.  Add the shallots, garlic and chili flake, then sauté it over high heat until the shallots are translucent and the garlic turns golden brown.
Add your cleaned mussels, lemon juice, olives, white wine, water and salt.  Bring everything to a boil and then cover the pan to steam for six to eight minutes or until the mussels all open up. Remove any unopened mussels (they are bad—throw them away). Add in lemon segments and heat for a few more minutes. Then add pine nuts and basil and turn off your heat. Serve in the pan or transfer to a serving dish, then finish with a drizzle of olive oil. Serve immediately with toasted bread and pasta. This is so great to serve to a group of people I originally had this as it was prepared outdoors over a wood fire overlooking the beautiful Mediterranean Sea.
When I was traveling through Italy on a scholarship from the Culinary Institute of America, this was a recipe that I cherished as I learned it in a very small restaurant in the Cinque Terre. It brings back all the good memories of backpacking through the olive orchards and the beautiful Lugurian countryside and a coast known for their amazing olive oil. I loved this part of my chef life and I am so glad to share this recipe and taste memory with you.