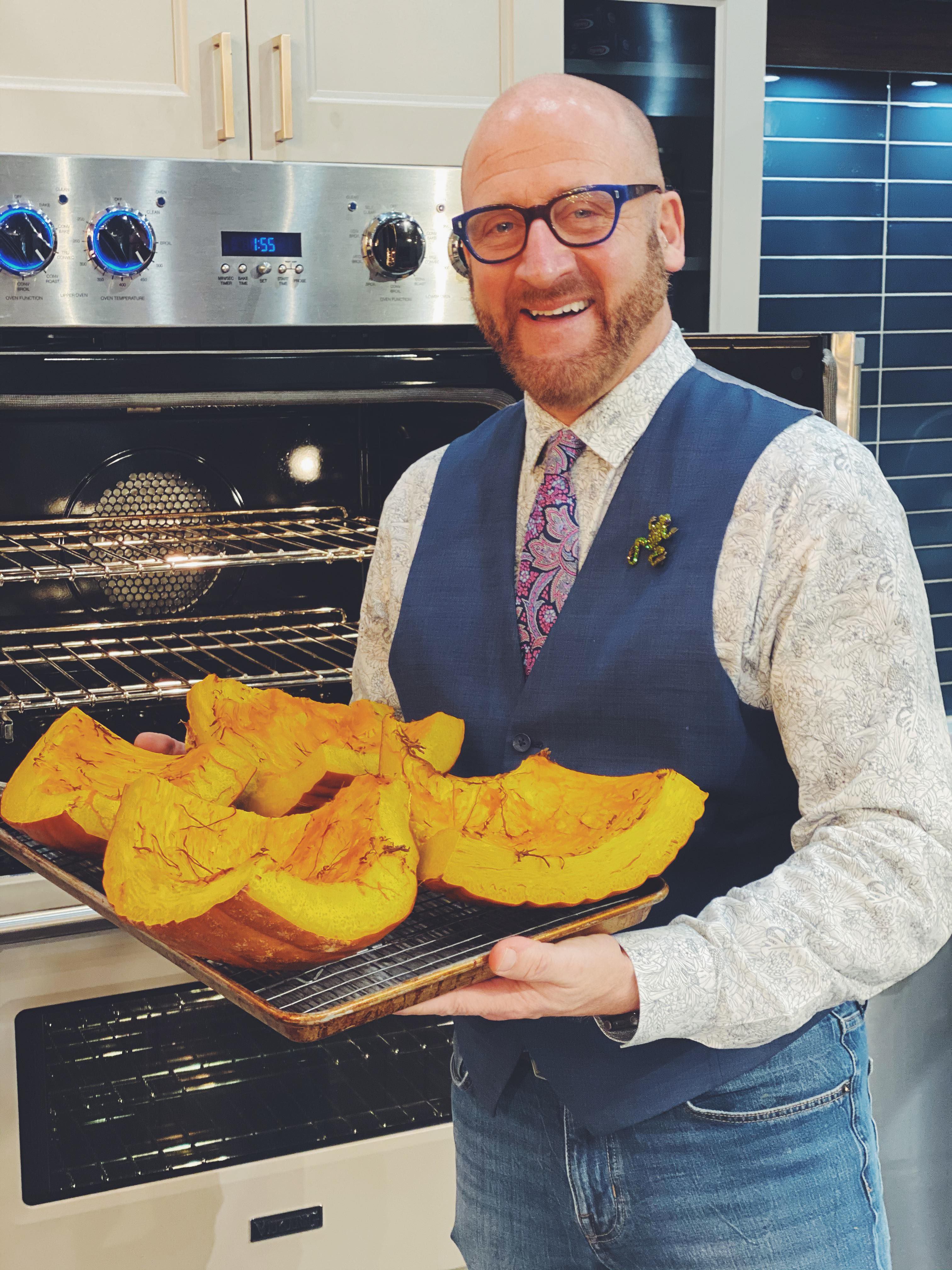 Sweet Pumpkin Bourbon Casserole 
Serves 10-12
Preheat your Viking oven to 450 convection roast
Ingredients
1 Medium to large sized Pumpkin seeded sectioned into 6 pieces and roasted to yield 10-12 cups of Pumpkin
1 cup whole pecans toasted then chopped.
3 Tbsp softened butter
4 Tbsp olive oil
2 cloves garlic chopped
1 cup chopped yellow onion
3 Tbsp Crystallized Ginger chopped
1/4 cup Bourbon
1 cup vegetable stock
1/2cup coconut milk
1/3 cup Raw honey
2 1/2 Tbsp kosher Salt
3/4 Tsp ground black pepper
1/4 Tsp ground Nutmeg
1/4 Tsp cinnamon
4 cups mini Marshmallows
1 cup chopped pecans
2 heaping Tbsp brown sugar
1/4 Tsp curry powder
1 cup sweetened moist coconut
1/4 Tbsp kosher salt
Method
You'll need at least a 9x12 ceramic casserole dish buttered and ready for the mixture. This serves 10  people or a family of six. I always leave extra for leftovers.
Clean and Roast your pumpkin skin side up for 45 minutes or until the flesh easily falls off of the skin be careful as it's hot and set it aside
Also toast your pecans on a separate sheet pan at the same time for 10-15 minutes let cool chop and set aside.
In a deep sauté pan add the three tablespoons of butter and olive oil over high heat until they are melted and hot and add your garlic and onion until they are translucent and begin to turn golden brown. Then add your Crystallized Ginger and let it incorporate for two minutes.
I want you to be careful here. Off of the flame add your bourbon and carefully flame it up using a kitchen torch away from everything or anyone so be careful. The alcohol will burn off  and the flame will slowly go out. It's a little bit of a flame show. Then add your Stock and bring it to a boil then off the flame.
In a large mixing bowl add your cooked pumpkin and the contents of the sauté pan.
Add your coconut milk, 2 1/2 tablespoons of salt, pepper, nutmeg and cinnamon and honey. Mix it up until everything is incorporated and the flavors are mixed eventually through. Do not over mix and put the contents of the mixing bowl into your buttered casserole dish.
In a separate bowl mix together your Marshmallows, Shredded coconut, Toasted Pecans,  brown sugar, curry spice and salt.
Evenly spread out the contents of the mixture right on top of the pumpkin in your casserole dish.
In your oven on 325 convection bake heat your casserole until the marshmallows are melted and toasted golden brown and your casserole is heated through. Approximately 25-30 minutes.
Happy Thanksgiving everyone!