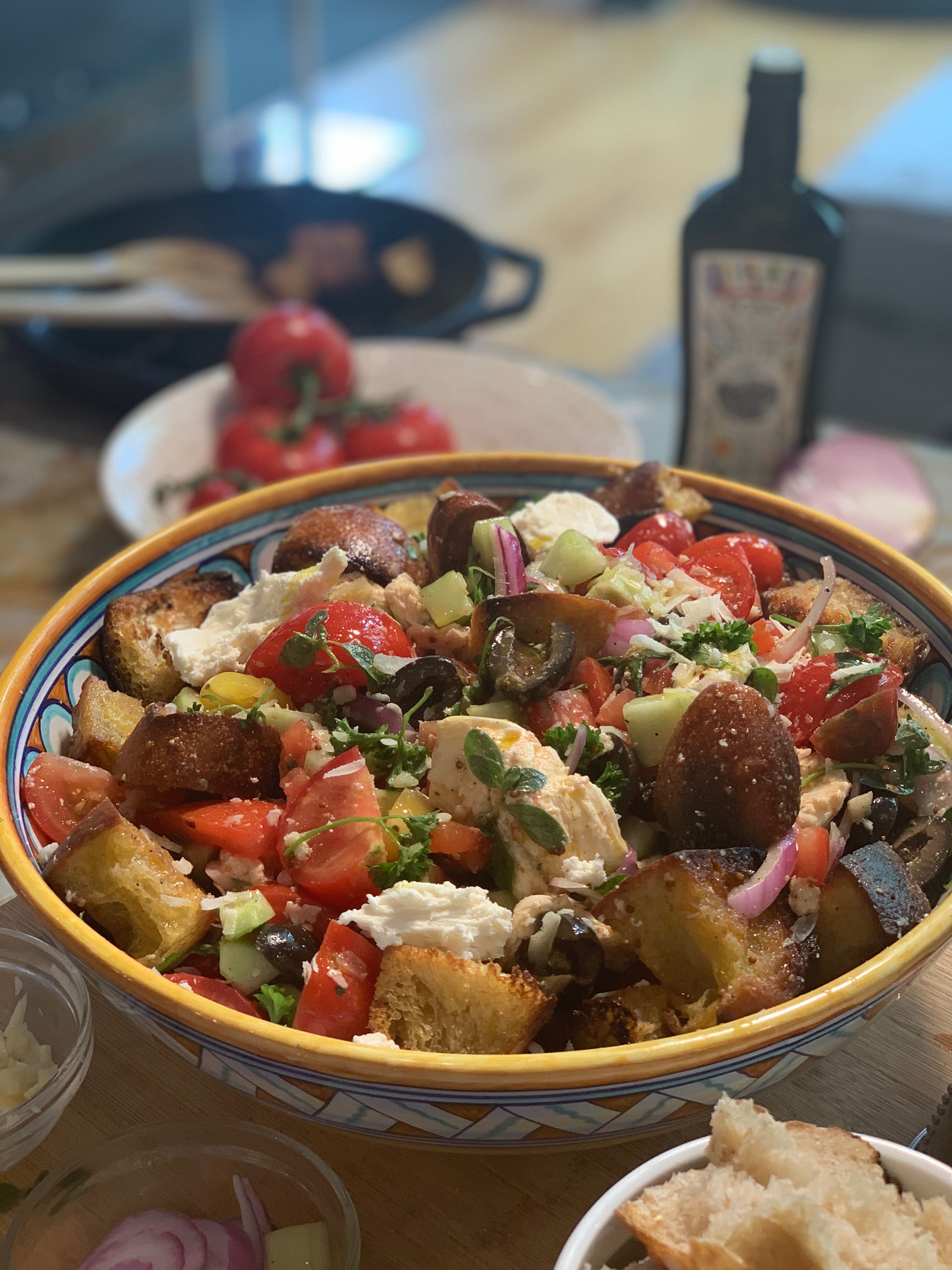 Tuscan Panzanella Salad
Ingredients
4 ounces Sourdough or French baguette, cut into 1-inch cubes (about 3 cups)
8 tablespoons extra-virgin olive oil
¾ teaspoon kosher sea salt, more to taste
2 pounds garden tomatoes, using a variety of colors, cut into medium cubes
8 ounces fresh mozzarella, cut into 1 inch cubes
½ cup parmigiano reggiano, shredded
½ cup red onion, thinly sliced
2 garlic cloves, grated to a paste or store bought paste
2 tablespoons red wine vinegar, more to taste
1 tablespoon chopped fresh oregano
1 tablespoon chopped fresh thyme
Large pinch red pepper flakes
½ teaspoon Dijon mustard
Black pepper, to taste
½ cup thinly sliced Kirby cucumber
½ cup jumbo black olives, cut in half
½ cup basil leaves, rough cut
¼ cup flat-leaf parsley leaves, rough cut
1 tablespoon capers, drained.
Directions
1. Heat your Viking Range to 425 degrees. Spread the bread cubes on a rimmed baking sheet and toss with 2 tablespoons oil and a pinch of salt. Bake until dried out and pale golden brown at the edges, about 10 minutes.Cool and set aside.
2. In a bowl, add cut tomatoes, mozzarella, parmasiano, onions, garlic paste, 1 tablespoon vinegar, oregano or thyme, 1/4 teaspoon salt and the red pepper flakes if using. Toss to coat and set aside.
3. In another bowl, combine remaining 1 tablespoon vinegar, the mustard, 1/4 teaspoon salt and some black pepper to taste. While whisking constantly, slowly drizzle in the remaining 4 tablespoons olive oil until the mixture is thickened. Stir in cucumbers, olives, basil and parsley.
4. Add bread cubes, cucumber/olive mix and capers to the tomatoes and toss well. Let sit for at least 30 minutes and up to 4 hours before serving. Toss with a little more olive oil, vinegar and salt if needed just before serving.