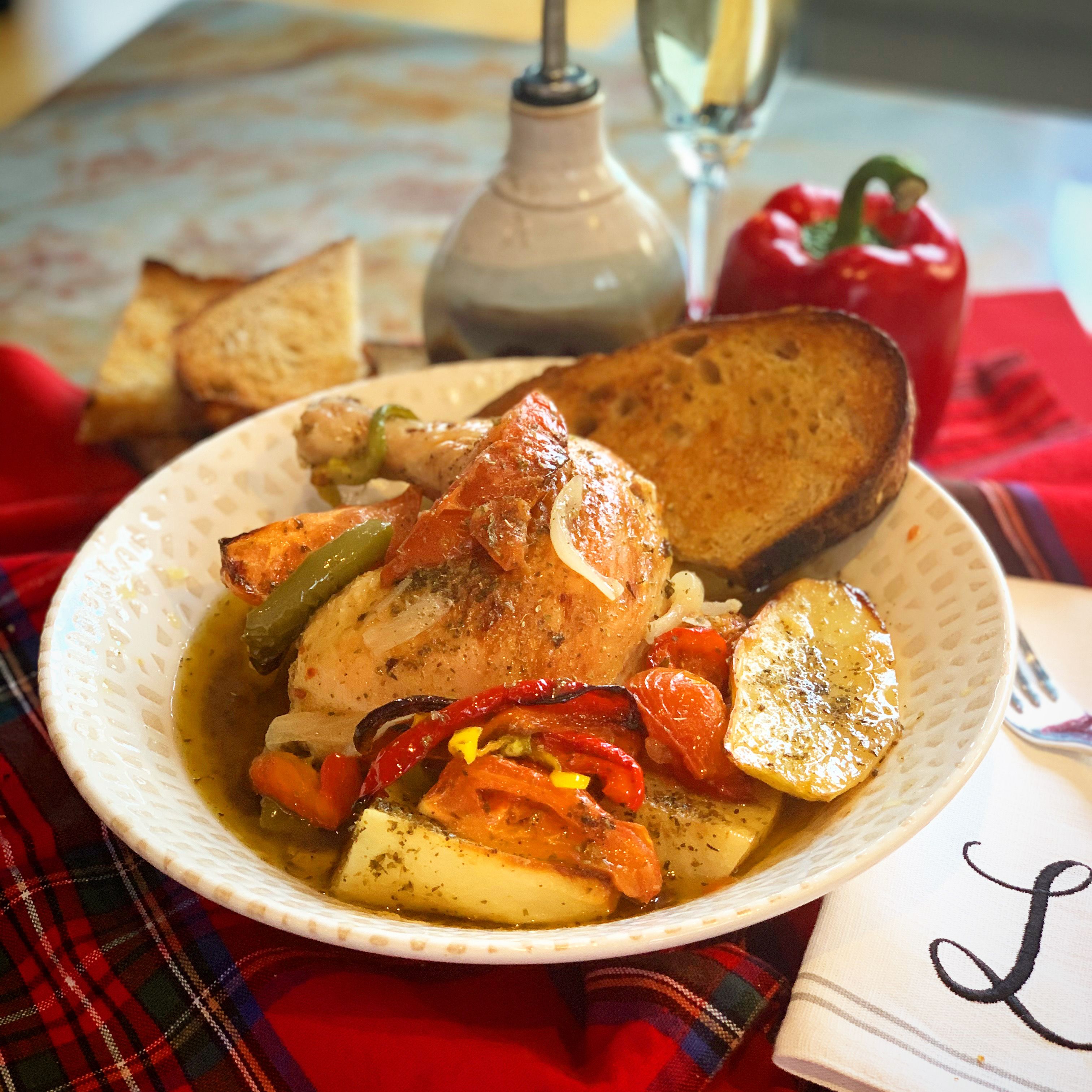 It's Yummy!!! My Grandmother would make this all the time and for me it is a childhood food memory.

Enjoy with LOVE & GRATITUDE!  
Ingredients:
4 Chicken thighs (skin on)
1 medium onion-sliced
6 cloves garlic-peeled and smashed
1 large red bell pepper-Sliced
1 large green bell pepper-Sliced
2 vine tomatoes- chopped
2 white potatoes-peeled cut in half
1/2 cup white wine (any type)
1/4 cup extra virgin olive oil
2 tablespoons oregano (dried or fresh)
1 tablespoon kosher salt
1/2 tablespoon black pepper (ground)
4 tablespoons red wine vinegar to finish
1 part Love!

Method:

Preheat your oven to 350 convection roast.

In a large bowl add your clean chicken thighs.
Slice your onions and peppers, and garlic add this to your bowl. (Use any color peppers of choice)

Dice your fresh tomato (small canned diced tomatoes) add to bowl.

Peel and cut your potatoes in half. Add to bowl.

Now add the rest of your ingredients except for the vinegar to the bowl and give it a few turns to incorporate all the ingredients let it sit for an hour or so in your refrigerator to marinate. If you're in a pinch for time you can omit this step. It's still delicious.

Arrange your ingredients in a roasting pan or casserole oven friendly dish. Face your chicken skin side up and your potatoes sliced side up. Arrange the rest of the ingredients so it looks pretty and pour over any of the marinade over the chicken and place the dish in your preheated oven.

Cook until it's golden brown and the internal temperature of the chicken reaches 165 degree. Approx 45 mins.

Drizzle your red wine vinegar over the top before serving. It's so delicious served with crusty toasted bread.

On the side suggestions: sautéed spinach, escarole or collard greens. A bowl of steamed peas, broccoli with butter. A wonderful mixed green salad.