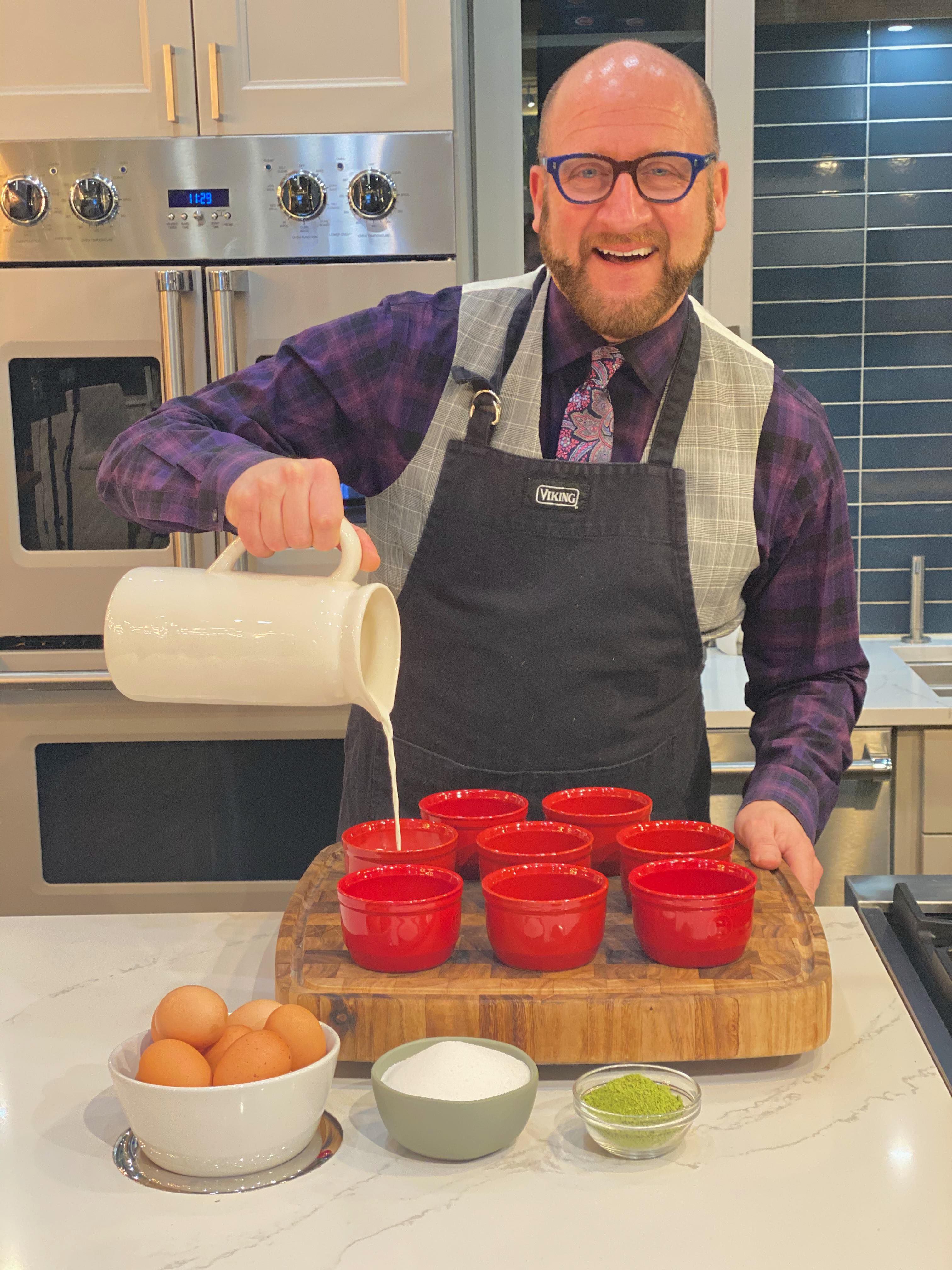 Matcha Green Tea Cinnamon Creme brûlée
Makes 6-8 servings
2 1/3 cups heavy cream
1/3 cup half-and-half
1 vanilla bean split lengthwise
1 tablespoon Matcha Powder
3/4 teaspoon cinnamon
8 large egg yolks
1/2 cup granulated sugar
1/2 cup raw sugar, course sugar or even some additional granulated sugar for your sugar topping
Heat your Viking range to 300 degrees.
On your Viking range in a saucepan, heat up your half and half, vanilla bean, matcha, and cinnamon just until it comes to the boil. Be sure to set it a side maybe give it a quick whisk and let everything infuse for 10 minutes.
In a large Viking bowl whisk your egg yolks and the 1/2 cup of granulated sugar just until it's combined. Here's an important step. While you're constantly whipping little by little add in your hot cream mixture. Strain this into a pitcher to smooth it and remove and vanilla bean fragments.
Gently pour this mixture into 6-8 oven proof ceramic ramekins and arrange carefully into a hot water bath that comes up just half way up the sides. I like to put a few paper towels underneath to prevent the ramekins from sliding around and hitting each other. Bake this in the center rack of your oven for about 35-45 minutes they should slightly jiggle in the center. There will naturally be a little carry over cooking as it sets and cools. Remove them from the water bath and let it cool for 20 minutes and then wrap them tightly with plastic wrap for at least two hours until ready to serve.
When you are ready to serve these beauties hopefully you have a Viking wall oven especially a seven series with the glass broiler as it's incredible preheat your broiler to high heat or if you have a kitchen torch that also is amazingly fun to use to brown your sugar.
Pour a decent amount of sugar on top of each ramekin and let it sit for a minute and then pour off any of it that dose not stick to the moisture of the custard. Pouring one onto the other works not to waste sugar.
Under your broiler on a sheet pan caramelize the sugar until it is browned not black. Approximately 2-3 minutes or use your kitchen torch to put on a show for your quests one by one until your done. It's lovely served with fresh whipped cream.