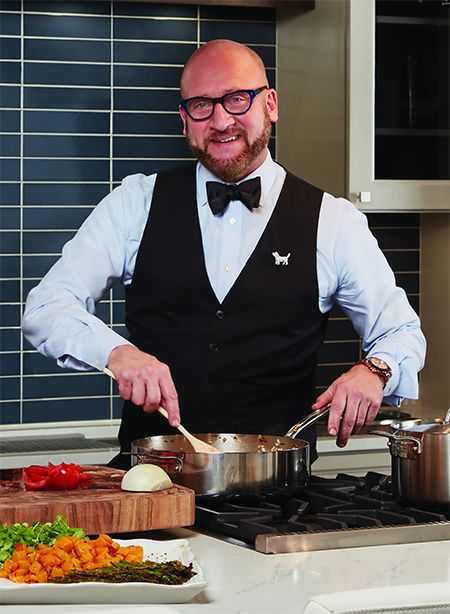 Serves 8-10 people

Ingredients:

4 tbs olive oil
1 pound of Sweet Italian Sausage
Kosher Salt and Pepper
5 cups of vegetable stock
2 cups of Sweet Potatoes, peeled and diced
1 cup pecans, toasted and chopped
8 cups Sour Dough Croutons, toasted
5 tbs melted butter, browned
1 tbs Sage, chopped
1 tbs Rosemary, chopped
1 tbs Fresh Thyme,chopped
1 1/2 cups Yellow Onions, chopped
2 cups Celery, chopped
8 Cloves of Garlic, chopped
1/2 tsp Cumin
1/2 tsp Red Chili Flakes
1/2 tsp ground pepper corns
2 small or 1 large Fresno Red Pepper
3 cups Baby Portobello Mushrooms, chopped
3/4  cup White Wine
1/2 cup Parlsey, chopped
1 Egg, optional

Directions:

Heat a large skillet or pan with four tablespoons of olive oil. Add your ground sausage and cook the sausage for about  5-10 minutes over medium high heat until golden brown. Season it with a touch of salt and pepper (I like to season along the way)then remove it from the pan but keep the oil in the pan for the sauté of the vegetables.

Heat your 5 cups of vegetable stock and bring it to a simmer and add your sweet potatoes and cook until they are fork tender but not soft. Remove from the stock but keep the stock as you'll need it for the recipe.

If making your own croutons cut your bread into small cubes that will resemble what you might find with store bought stuffing mix (which by the way you could also use instead of making your own). Even the cornbread type is delicious in this recipe but making your own is always better.

The pecans can be done in advance. Butter a sheet pan and place your raw pecans in a 350 degree preheated oven until toasted and browned approximately 10-12 minutes. Let cool then chop them up and set them aside for later.

The croutons can be done in advance. Cube your bread and add 5-6 tablespoons of melted lightly browned butter into a bowl with all the chopped sage, rosemary and thyme. Add a healthy pinch of salt and pepper. Toss and place them on a sheet pan into a preheated oven on convection bake 325 degrees until they are golden browned and crispy, not burnt. Keep an eye on the croutons because they turn brown fast towards the end. You may have to toss them around with a wooden spoon from time to time to get them to brown evenly. Fortunately I don't find that problem in a Viking oven. Once done set aside so to add them back to your stuffing.

Back to sauté of the vegetables… In the same skillet with the sausage oil, add a pat of butter; crank the heat; and add your yellow onions, celery and garlic until it's letting out liquid and the vegetables are getting translucent. Here's where I like to add my ground spices (cumin, peppercorns and red chili flakes). Let it cook a minute and become fragrant.

Add your Fresno peppers and mushrooms over high heat and let them lightly brown. The mushrooms will let out their moisture and then become brown. Once the pan is hot and everything is browning, add your white wine and deglaze your pan and let the wine reduce a bit and add your cooked sausage back to the pan along with the cooked sweet potatoes. Add the chopped parsley and toasted Pecans.

If your pan is big enough you can use it to bake this in the oven or you can transfer this mixture into a larger baking dish coated in butter. I always prefer a large cast iron skillet as I think it looks festive on the table.

Add your sausage and croutons and gently toss the ingredients together.

The vegetable stock should be warm and you can mix an egg into the stock to make the stuffing come together more if you'd like. I prefer it more moist but most people like the egg. Your choice.

Assemble your stuffing either in your skillet or your casserole dish and pour the warmed vegetable stock over the top, trying to evenly distributed it over the ingredients.  Place it in a  325 degree preheated oven for 25 -30 minutes.

My grandmother always loved placing several pats of butter randomly on top of the stuffing before putting it the oven.

This stuffing is very warming and that hint of cumin and chili flake really tastes wonderful with Homemade turkey gravy.

Happy Thanksgiving!