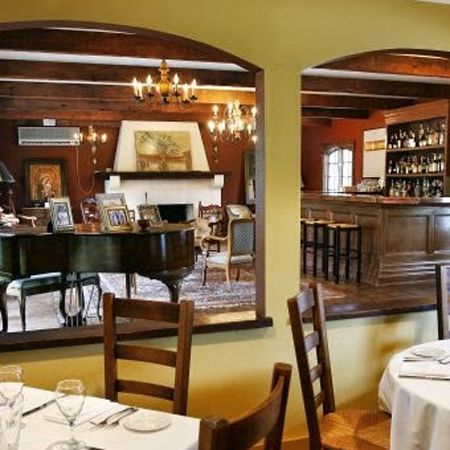 In keeping with this issue's theme, the decision before me was how to prepare a meal of authentic French provincial cuisine with which to pair appropriate French regional wines. I could spend a few days trying to replicate an array of offerings from Patricia Wells, or I could call Chef John Besh, who recently purchased and rejuvenated the legendary La Provence restaurant on the North Shore of Lake Ponchartrain, outside of New Orleans. A 30-second deliberation ultimately delivered eight dining enthusiasts into Chef Besh's care for a memorable evening. Our group included nationally respected gastronomes Gene Bourg, Lolis Elie, and Carol Puckett.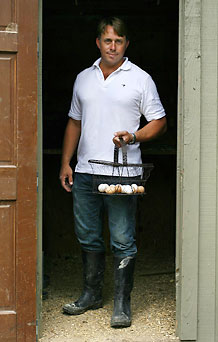 After an aperitif of '99 Veuve Clicquot Champagne in the comfortable salon-style bar with its prominent fireplace and French Provincial furnishings, we began our feast, prepared this evening under the direction of Executive Chef Steven McHugh.

The five-course menu began with 3 versions of pork charcuterie, arranged on platters and casseroles in a family-style presentation, accompanied by the 2000 Pascal Cotat Sancerre les Monts Damnes. The fabulously rich and flavorful charcuterie, prepared from the restaurant's own Berkshire pigs raised on the property, made interesting demands on the wine selection. To cut through the fat and refresh the palate, ample acidity was needed, but I was reluctant to create a severe contrast. So I chose the Cotat, a wonderfully aberrant sauvignon blanc from the Sancerre region in the Loire Valley, which provided the region's trademark fresh minerality, but also possessed the non-traditional viscous core of peach and pear, a signature of this great vintner. It proved to be a delicious partner to the pork, but I would have liked a bit more zest on the finish. A big, yeasty, vintage Champagne would have been divine.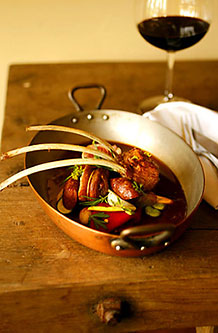 The frog legs, lightly sautéed and served atop a rich (a recurring element of the meal) and earthy mushroom sauce, were delectably plump and succulent. This is why God created white Burgundy. The vibrant '02 Morey St. Aubin les Chamois offered a perfect foil for the texture and deep flavors of this dish. The light aromas of white flowers and peaches, followed by the stony mouthfeel and concentrated flavors of lemon zest and peach, stimulated the palate for a return to the luscious cuisse de grenouille.

The main course, as if each could not have sufficed as such, was the roast duckling with a glaze of lavender honey. It had the soft glow of Armagnac and, surrounded by the stuffed miniature onions, eggplant, tomatoes and potatoes, presented a comforting visual effect that I was loath to disturb. I was waiting for Gene to burst into Le Marseilles. The aromas broke my concentration and set me forth into a panoply of rustic textures and flavors, paired with two very different wines to test the effectiveness of each with the duck. The '99 Potel Volnay les Pitures was elegant, possessing a nose of red fruit and damp leaves, and a medium body with flavors of red cherries, iron, and soft earthiness. However, the broad, grand flavors of the honey-glazed duck somewhat suppressed the finer points of this wine, which, upon tasting, suggested it would have gone beautifully alongside the frog legs and their prominent mushroom sauce.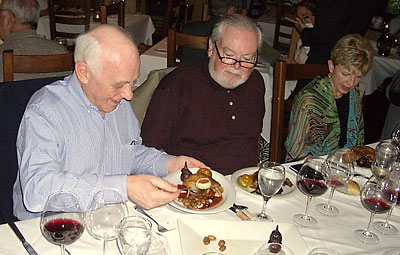 What did go perfectly with the duck was the '98 Clos du Mont Olivet Chateauneuf-du-Pape. Brawny and stringent in its youth, nine years of aging, and two hours of decanting, rendered an opulent, powerful, full-bodied wine which held its own with the duck. On the palate was an impressive display of dark fruit, herbs, coffee, and pipe tobacco, and still-evident soft tannins supporting a firm structure. This pairing is a good illustration of the mutual evolution of the wines and cuisine of the Southern Rhone Valley over the centuries and how they complement one another.


After the cheese course, satiated but undaunted, we were presented with a sweet, buttery tart of fresh figs, joined by a glass of dark, golden nectar – the 1988 La Tour Blanche sauternes. A bouquet of honeyed stone fruit, flowers, and caramel rose dramatically from the glass. The wine's substantial weight, oily texture, and extreme sweetness of super-ripe pineapple were balanced by adequate acidity and a slightly burnt caramel bitterness to prevent a cloying aftertaste.

This last course was a sublimely decadent conclusion to a dinner where the cuisine, wine, and setting promoted warm conviviality and lively conversation among old and new friends, an atmosphere prevalent in the restaurants of the French countryside. This may be the highest purpose of a great cuisine, and of a treasured restaurant such as La Provence.





Viking's French Country Dinner
Restaurant La Provence
Lacombe, Louisiane
le 7 juillet 2007


---
Les trois saveurs de porc: rillettes de porc, pâté de foie de porc et pâté de campagne
(A sampling of pork charcuterie
: Pork paste with seasoned pork fat, pâté of pork liver,
and country-style pork pâté)

2000 Pascal Cotat Sancerre les Monts Damnés
~
Cuisses de grenouille croustillantes à la blanquette de cèpes
(Crunchy frog legs in a creamy white sauce with Boletus mushrooms)
2002 Bernard Morey Saint Aubin les Chamois Premier Cru
~
Caneton de ferme rôti sauce au miel de lavande, petite farcie de legumes, pommes de terre à l'ail et aux herbes de notre jardin
(Roasted farm-raised duckling in a lavender-honey sauce
with Provence-style stuffed vegetables and potatoes with garlic and herbs from our garden)


1999 Nicolas Potel Volnay les Pitures Premier Cru
1998 Clos du Mont Olivet Chateauneuf-du-Pape Réserve
~
Assiette de fromages de la région

(Platter of regional cheeses)
~
Tarte aux figues de premier fraîcheur au beurre noisette
(Tart of dew-fresh figs and brown butter)
1988 La Tour Blanche Sauternes