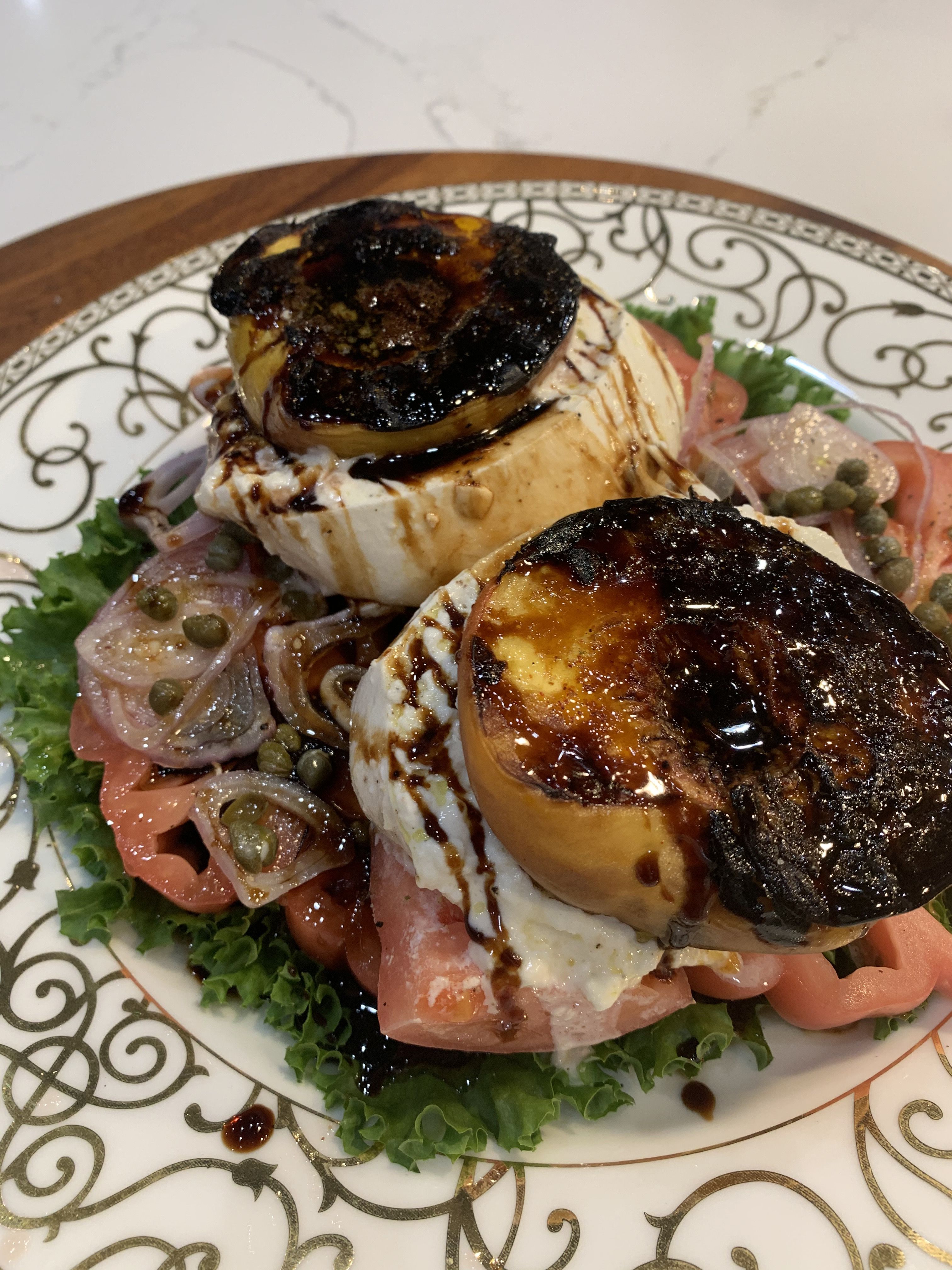 Ingredients:
For The Tomato Salad
1 large Heirloom Tomato, sliced and chilled
A few thin slices of Red Onion
1 TBSP Capers
(1) 8oz ball of fresh Burrata Cheese
5 TBSP Good Olive Oil
3 TBSP Red Wine Vinegar
Salt & Pepper to taste
10 Basil leaves, sliced for garnish
For The Grilled Peaches
1 Ripe Peach
2 TBSP Butter, softened
2 TBSP sugar
1/4 tsp Cinnamon
1/4 tsp Curry Powder
Pinch of Paprika
Pinch of Salt & Pepper
For The Balsamic Reduction
1 cup Balsamic Vinegar
Directions:
For The Tomato Salad
Keep everything cold until you're ready to prepare the salad. On a cold plate, layer the tomatoes and onions, then add the capers on top. Drizzle with 3 tablespoons of olive oil, 2 tablespoons of vinegar and a bit of salt & pepper. Tear the Burrata into pieces and place on top of the tomatoes and drizzle with the rest of the olive oil, vinegar and a bit of salt & pepper. Best to refrigerate this until your peaches are ready.
For The Balsamic Reduction
Reduce the balsamic vinegar in a small sauté pan on medium heat until it is reduced by half and thickened.
For The Grilled Peaches
Preheat and oil your grill. Add all of the ingredients for the peaches together in a bowl and combine. Cut your peach in half and remove the pit. Once the grill is hot, take half of your butter mixture and spread it on top of the flat part of the peach and place it on the grill, flat side down. Grill for 3-5 minutes, turn them over and put the rest of the mixture on top of the peach to melt in the flavors. Cook another 3 minutes, not turning or touching the fruit. The goal is to get some nice grill marks & charting on the peach. Once your peaches are grilled, place them on top of the chilled Tomato/Burrata salad. Drizzle the Balsamic Reduction over the top and garnish with basil.
Chef Jaime's Tip: This dish is wonderful when sliced Prosciutto is added! You can also bulk up the dish with Arugula Greens.