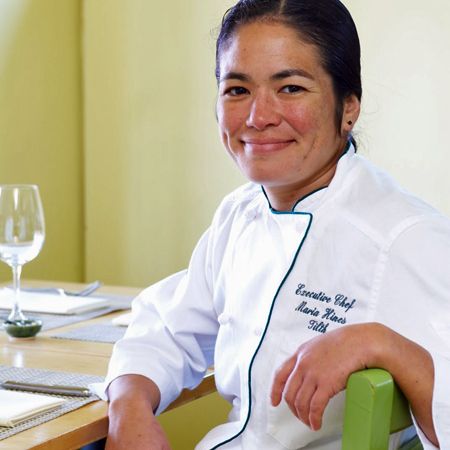 Well-sourced food has always been one of Chef Maria Hines' hallmarks. She was the stellar chef of high-profile Seattle restaurant, Earth and Ocean when the James Beard Foundation called her one of Seattle's greatest culinary treasures. Food & Wine magazine named her one of the country's top 10 chefs of 2005 because she is "obsessed with finding the best fish, meat and produce, and smart in how she uses them in her extraordinary Pacific Northwestern menu."
Tilth, Hines' restaurant which opened in September 2005, is one of only two restaurants in the country to receive organic certification from Oregon Tilth, and specializes in "New American" cooking featuring the best from regional producers. Hines' philosophy on the food experience reflects itself in the restaurant, housed in a Craftsman bungalow that, from the service to the presentation to the reasonable prices to the artwork on the walls. Clean, bright flavors are presented among fine flatware and glassware, while professional and sincere servers welcome questions and impart information about the different producers involved in bringing their food to the table. The menu is seasonal and features house-made sodas in flavors ranging from a ginger-mint soda to a seasonal komboucha, as well as a house-made Limoncello. Hines has sourced her artwork as she would her produce, meats, eggs, and cheeses – from local artisans. Simply put, Tilth is just as much about the experience as it is the food.
Chef Hines chooses to use locally sourced ingredients "first and foremost for selfish reasons, because it tastes so much better when you're working with great products," Hines told the Seattle Post – Intelligencer. "That allows you to cook very simply and let the flavors stand up on their own. It's a simple way to cook, but also, to a certain degree, I think it's the hardest way too."
It would be easier to work her organic alchemy in private but Chef Hines takes her passion to the people. She maintains a blog, tilthblog.wordpress.com. There, Maria and the staff at Tilth update the menu, share recipes, and promote local wines. She even advocates local restaurants and bars in the "Where Maria Eats" section. Chef Hines also blogs about her quest for better nutrition while planning for a rock climbing trip in Thailand.
Chef Maria Hines was nominated by the James Beard Foundation as 2007 Best Chef: Northwest.