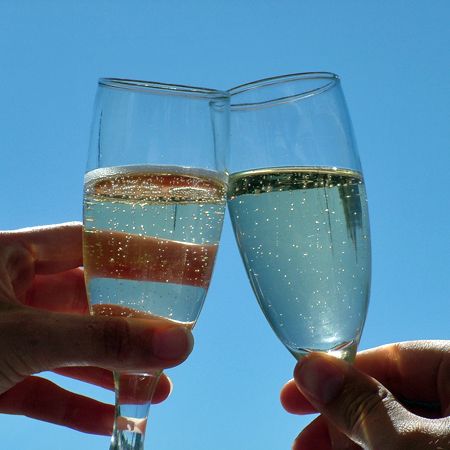 The first guideline for serving sparkling wine is: Do it. Don't think you have to wait for a special occasion to open a bottle of bubbly. Too many people believe sparkling wine is only for birthdays, anniversaries, and other infrequent celebrations. What a shame to limit this guaranteed mood lifter to only a few outings a year.
Many sparkling wines-especially those from the U.S., Italy, and Spain-are affordable enough to enjoy more often. Why not toast the end of the work week with a glass of sparkling wine on Friday nights? Buy a champagne stopper, a metal clamp that keeps the fizz in an open bottle, and you can have another glass on Saturday night and maybe even a sip or two left over for Sunday.
In California's wine country, many dinner parties begin with a glass of sparkling wine all around. It sets a festive mood even if there's nothing to celebrate but the pleasures of friendship. Some people may avoid serving sparkling wine at home because they are fearful about opening the bottle. Here are some pointers:
Chill sparkling wine thoroughly. Have flutes ready. Tall, narrow, flute-shaped wine glasses help preserve sparkling wine's "bead," or bubbles, and make the bubbles easy to admire.
Remove the foil capsule. With your thumb over the top of the cork, remove the wire cage. Keep your thumb over the cork after you remove the cage and keep the bottle pointed away from people.
With one hand grasping the cork firmly, use the other hand to turn the bottle in one direction. Don't turn the cork or it may break. As you turn the bottle, ease the cork out gently. Ideally, the sound you hear will be a gentle hiss, not a loud pop.
Pour the wine into the glasses in two motions. First, put an ounce or so in each glass to provide a cushion. When the mousse subsides, pour again, filling the flutes about two-thirds full.