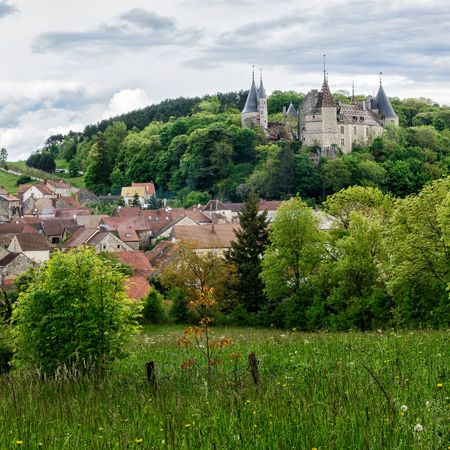 "How would you like to host a dinner for Aubert de Villaine?" asked my friend Gib Rockwood of Wilson Daniels, a wine importer. I have been a sommelier for 12 years and have had some wonderful wine evenings, but I knew I was in for a special treat. I had met Monsieur de Villaine years before at a Domaine Romanee Conti ("DRC") dinner when I was the sommelier at The Lodge at Pebble Beach. He is charming, erudite, and passionate about his wine, perennially one of the greatest pinot noirs in the world. For a man in the position of oversee ing the most revered estate in Burgundy, M. Villaine's humble and gracious nature is immediately endearing.
I jumped at the opportunity.
The dinner was a celebration of the wines of Hyde de Villaine ("HdV"), a collaboration between Aubert de Villaine and Larry Hyde of Carneros, the cool-climate viticultural area along the northern shore of San Pablo Bay. Monsieur de Villaine's wife is American and a cousin of the Hyde's, hence the relationship. No doubt, however, if Hyde didn't own one of the premier vineyards in California, the alliance would never have occurred. The wines are the culmination of a long exchange of ideas on winemaking and viticultural practices between the Hyde family and Aubert de Villaine. The HdV proprietary blend is Merlot and Cabernet Sauvignon, made by Stephane Vivier, using 100% Hyde Vineyard fruit. The HdV Chardonnay is 100% Hyde Vineyard from a number of clones selected by Larry Hyde.
Earlier in the day, there had been an HdV tasting for the trade, so this dinner was meant for the wine collectors. The venue was Boulette's Larder, a small restaurant in San Francisco's foodie-mecca Ferry Plaza Building. It often closes for small, private events in the evening. The room is intimate and inviting, and boasts a wood-burning fireplace at the head of the room. I went to Diamond Mountain in Napa Valley the day before and picked pine, California bay, chestnuts, persimmons, and pinecones to decorate the table. We created one long table to accommodate the 18 wine lovers, which included Larry and Beta Hyde, Aubert de Villaine, Lee Hudson (the other premier vineyard owner in Carneros , as well as a friend of the neighboring Hydes and great admirer of Aubert), a smattering of collectors from the Bay Area, and even one wine lover in from Chang Mai, Thailand!
The wines had been dropped off earlier to the chefs, Lori and Amaryll, to inspire artful food and wine matches. They rose to the challenge brilliantly, creating an ideal menu to complement the wines with both similar and contrasting flavors and textures.
Conversation was lively, as the merits of two vintages of HdV Chardonnay were debated: the 2000 (rich, with notes of mineral, earth) and the 2003 (lively citrus, bright acid, mineral) were very distinct and perfectly paired with a Japanese custard with fresh Dungeness crab.
The red blends from the 2000 vintage (red currant, lead, leather, soft tannins) and the 2003 vintage (cedar box, red cherry, dark earth, round tannins) showed beautifully paired with locally- raised lamb. The 2003 Syrah capped off the evening, its fruit showy, rich, dark and decadent. Paired with a fresh fig tart with cheese, it was a memorable ending.
As Monsieur de Villaine was departing, he inquired about my interest in tasting through the 2003 DRC line-up with him and a few other wine professionals the following morning. What could I possibly say?
The 2003 vintage in France was marked by extreme heat, ripening the fruit early and producing California-style wines: lushly fruited with higher than usual alcohol levels. The Burgundy harvest was one of the earliest on record: beginning August 22 and completed by September 1. Overall, there was a density of color and lower noticeable acids. As de Villaine eloquently noted, "The terroir now whispers but will speak louder as the years go by. The wines' capacity for aging is hidden in the lush tannins."
Alas, my tour de force with M. Villaine was at an end, but not before providing me with a special niche in my tasting memories.
A few tasting notes to savor:
2003 Echezeaux

- Delicate aromas of raspberry, minerals, seafoam, game. Somewhat austere. Good grip of tannins with a medium-full body. Medium acid, though wine appears juicy. Persistent length of stone minerals.

2003 Grands Echezeaux

- Spicy aromas of cinnamon, cloves, and toast. Full-bodied with a great texture of big tannins, medium acid and a lovely length of red fruits, slate minerals. Medium mid-palate.

2003 Romanee St.-Vivant

- Aromas of black licorice, smoke, cool earth, and a whiff of alcohol. A lovely perfume of black cherry. Full-bodied with a great texture of full tannins and a dark fruited component. Medium length of red fruits. Very pretty and complex.

2003 Richebourg

- Delicate perfume of red fruits with high notes of ripe red raspberry. An amazing core of fruit on the mid- palate continues well into the persistent length - stone minerals, red berry. Perfectly balanced medium tannins, acid, and fruit. World class.

2003 La Tache

- The most reticent aromas of the line-up: coffee, chocolate, mocha. Medium- weighted palate of fine, pervasive tannins, cocoa, red cherry fruit, medium acid, and medium length. This wine was quite closed . Needs years.

2003 Romanee-Conti

- Huge aromas of oak mingles with red raspberry and coffee. Medium-bodied palate of red Bing cherry, mouthwateringly pleasant high acids, wet stone notes and a wonderful texture. A truly hedonistic experience.

2003 Montrachet

- Intense aromas of lemon, custard, wet stone, minerals. The full-bodied palate is big, ripe and unctuous with medium-high acid balancing this incredible drink. Lovely bright notes of hazelnuts, minerals, smoke, and lemon. Long, persistent finish studded with citrus and hazelnuts. If you can find it, get it. Now. Incredible.