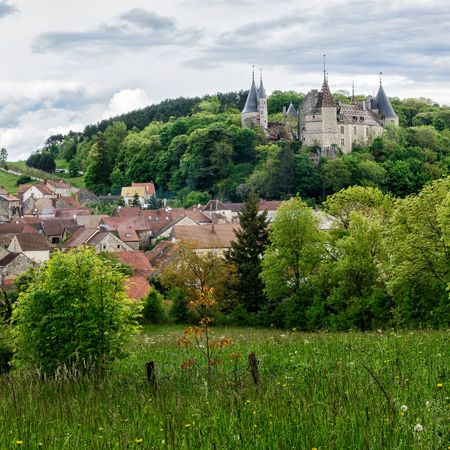 It's hard not to be biased when it comes to Burgundy because I've lived here over twenty-five years. I've come to know the landscape like the back of my hand: stretches of sunflowers along the highways, world-famous vineyards climbing the steep hillsides of Chablis and rolling south from Dijon to Mâcon, bright fields of mustard and colza, patches of corn for well-fed cows, wind-blown wheat fields up on the plateau near my home… No wonder the food here is so good, as it has been for ages. In fact, Burgundy can justly claim to be the place where serious French eating began.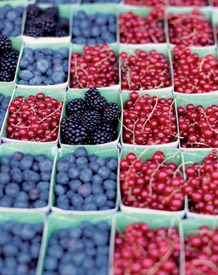 Starting in the 14th century, when Philip the Bold extended his Duchy north by marrying Marguerite of Flanders, the Burgundian empire covered a large swathe of Europe and was itself a center for creative talent. In the next century, the reigning duke added a stupendous kitchen to his palace in Dijon, the better to serve his guests. Its ample construction featured a vaulted octagonal chamber with four vast stone fireplaces sharing a common flue, and prompted the gastronome Curnonsky to exclaim "Some have built a hearth in their kitchen, but the dukes of Burgundy, they made a kitchen in their hearth."
Today Burgundy retains its reputation for good cooking (not to mention its thoroughbred Pinot Noir and Chardonnay wines). Dijon remains the capital of prepared Mustard. The Morvan hills are famous for their aged hams. Charolles says the same for beef and prime bulls are tracked in a herd book, like racehorses. Large, buff, and uninspiring in appearance, the Charolais steer answers the modern demand for a high yield of lean meat, ideal for simmering, as in Côtes de Veau Dijonnaise in a creamy mustard sauce. The same garnish of bacon and local wine is also the foundation of a unique regional sauce called Meurette (page 00), made with red Pinot Noir and designed to go with eggs, fish, and brains. I have even eaten snails, a top Burgundian first course, cooked, not in the usual garlic butter, but in Sauce Meurette flavored with tarragon.
"The
vendange
is the most important time of the year for us," says veteran Chablis vintner Michel Colbois, "The wine harvest is the culmination of a whole year's work." It's always a tricky time, too. Every autumn, wine country people start looking at the skies and talking feverishly among themselves about the weather. "Will we get the two more weeks of sun we need?" "Is it threatening to hail?" "Any chance of a cold snap?"
"But the vendange is not what it used to be," Monsieur Colbois sighs nostalgically. "When I was married in 1947, everything was still done by hand with horse-drawn carts. The vineyards were full of pickers who used to stay on the property. We'd have thirty-five people at lunch and parties every night. I used to have guys crawling out of my cave at three in the morning on all fours. But they'd be back in the vineyards to pick the next morning!" Hand-picking is done only on a small scale now in France, machines having taken over. "But it's no fun. It's just you and a machine and no one to talk to." But small vintners do compete and, in fact, make some of the best wines around.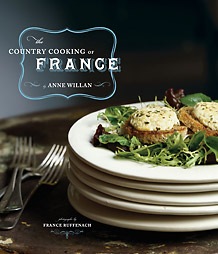 Not to brag, but even the French aperitif hour owes much to Burgundy. Cheese puffs called Gougères are ubiquitous.
Kir
is named for Canon Kir, World War II resistance hero and mayor of Dijon. Traditionally, this aperitif mixes a tablespoon of
cassis
(blackcurrant liqueur) with dry aligoté wine, or with
crémant
(the local sparkling wine) for a
kir royale.
For a change, any liqueur can be substituted—
mûre
(blackberry),
framboise
(raspberry), and, my favorite,
pêche de vigne
(wild peach). Handsome bottles of these fruit liqueurs, locally made, are sold in shops and markets all over Burgundy.
Burgundians are hearty eaters, and a meal without cheese in the region is almost unthinkable, preferably a wedge of the region's smelly, marc-washed Epoisses or a zesty little goat cheese from a nearby farm. Chocolate cake is a favourite Burgundian finale, specialty of Lyon in the south. Fruits too. Depending on the season, the meal may end with a
corniotte
, a three-cornered puff pastry filled with cherry compote, or a red berry soup, or sorbet of blackcurrant, or pear or peaches poached in wine. Sometimes a slice of the famous Burgundian gingerbread called Paind'Épices will appear alongside—although, in my house, pain d'épices means breakfast!
Excerpted from THE COUNTRY COOKING OF FRANCE, by Anne Willan, Chronicle Books, © 2007