A Life in Wine: A Discussion with John Gilman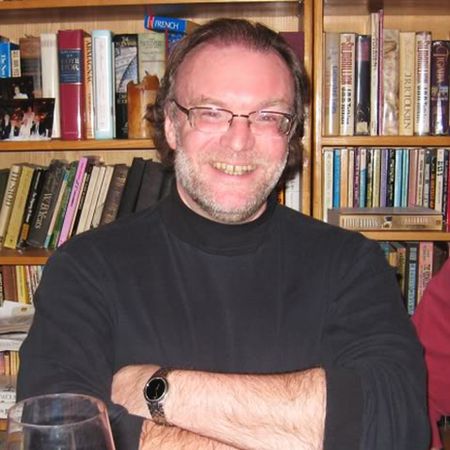 John Gilman, whose articles appear regularly in The Viking Life, is one of our country's most influential wine commentators, particularly among serious enthusiasts and collectors who subscribe to his bi-monthly periodical, "View from the Cellar." However, despite his reputation as a connoisseur of the rarefied sphere of the world's greatest wines, John's interest lies equally with teaching the glories of more pedestrian wines to anyone seeking a deeper and richer culinary life. The story of John's wine journey is instructive, especially to those with an inner passion for living well. With this in mind, I interviewed John, and part of the next few issues of The Viking Life will be devoted to John's story of his ever-increasing fascination with wine.
Q: Was there anything particular in your background that led you into a career in wine?
A: My parents had been married in France, just outside Bordeaux, and brought back with them the practice of having wine with dinner every night. I began sharing in this ritual on special occasions when I was in my early teens. My father kept a modest wine cellar, mostly petits chateaux Bordeaux, and by the time I left for college, I had developed a love of wine, even though I didn't know much about it. My favorite wine at that time was a Hungarian red wine, Egri Bikavar, which was softer on the palate than the tannic young Bordeaux. I really encourage parents to introduce wine to their teenagers, in prudent amounts, at dinner. Like most things, the capacity to develop your sensibilities and skills is much greater when young, when your memory is developed for tastes for example, and it stays with you throughout your life.
I graduated from the University of Massachusetts in 1987 with a degree in Political Science and History. Off campus, I minored in wine and food with a group of like-minded friends whose parents' cellars were pretty deep, so we would get together to host dinner parties, sometimes with the bottles of 1978 Figeac and 1970 Pichon Lalande that someone's father had sent along for us to try. I usually manned the stoves for these affairs to compensate for my relatively meager wine contributions. This jump-started my quest for great wine. When you go from a good, enjoyable eight-year old cru Bourgeois to tasting a great 20-year old classified Bordeaux, it feels like a whole universe of wine is opening up for you, and it is. Also, my part-time jobs throughout college were at the local wine shops in the Amherst area, which afforded price discounts and wonderful tasting opportunities. This beat flipping burgers, but I tended to blow my weekly paycheck largely on trying new wines.
Q: So, had you decided in college to pursue a career in wine?
A: Oh no. By the time I graduated, I was fully bitten by the wine bug, but aspired to a political career in Washington. However, my party was out of office during the Reagan/Bush years, and so I wandered a bit aimlessly out to the West Coast and then back while I waited for a change in the political climate, all the while continuing to work in wine shops. Then, amazingly, I was offered the job as the wine buyer for the largest retailer in New England, Town and Country Wine and Liquors in West Springfield, Massachusetts. I jumped at it and spent three years there, tasting a vast array of wines, many of which were just beginning to be exported to the U.S.
But, the greatest stimulus to my knowledge and excitement about wine during this period was through a very sophisticated tasting group in Hartford, led by a doctor named Herb Werner. The wines were tasted double blind, meaning no one knew which wines were being served, and the challenge was to deduce the identity of each wine. There were no themes; the only requirement was that each bottle be a great wine. This was intellectually challenging, and very enlightening. Dr. Werner was a remarkable man and probably taught me more about wine, food and life than anyone other than my father. He helped me to refine my culinary skills, showed me how to taste, how to appreciate art, and really how to live life on an aesthetic basis, which I have striven to do ever since. He invited me into the group and hosted the first tasting. With wines that included '69 Jean Gros Richebourg, '70 Mouton Rothschild, '70 Petrus and '70 Freemark Abbey Cabernet Bosche`, I left that tasting simply blown away and thinking, " This is what the rest of my life is going to be about."
It was also at about this time that I first began going to France to taste wines with the winemakers. I began in '89, meeting the wonderful importer Peter Weygand in Burgundy, and going from there to the Rhone, Alsace and Champagne. There were still so many great winemakers who had not yet been discovered by the general wine market and meeting and tasting with them was terribly exciting then, and remains so. I really began to understand the fascinating symbiosis between local cuisine and the local wines.
Q: Well, here you are in West Springfield, Massachusetts, and your life plan has solidified. What next?
A: My learning curve had really accelerated and I couldn't wait to get to Manhattan, which was by far the most sophisticated wine market in America. I worked for about five years as general manager at two of New York's top retailers and then was hankering for a new challenge and had the great fortune to become the sommelier at Alfred Portale's three-star Gotham Bar and Grill. My timing was perfect, because Chef Portale had become really interested in wine and was very supportive of the changes I made to the wine program there.
One of the things I most loved about working with him was his conviction that the wine list should offer good bottles at lower price levels, and not just trophies for the high rollers. On off-days, we would have great dinners with some of his chef friends, such as Tom Collichio and Scott Bryan, who were just beginning to develop a serious interest in pairing wines with their cuisines. Alfred is very passionate about great Piemonte wines (Barolos and Barbarescos) and some of the wines from Giacosa and Conterno I tasted with Alfred and his friends were among the greatest I've ever had. By the time I left, Alfred had expanded his wine list to 750 wines. Those were very good days indeed
Q: You were one of the top sommeliers in New York, what prompted you to change course?
A: A sommelier's hours are long and had limited my time abroad. All of that quickly changed in the late '90s when I accepted an invitation from a Geneva-based rare wine broker to represent them in the eastern U.S. In addition to significant European travel and renewing relationships with winemakers there, I became immersed in tasting wines at the very pinnacle of the food chain with the firm's very generous clientele.
Burgundy and rare Bordeaux were the firm's specialties and I was able to drink a lot of Henri Jayer, Domaine de la Romanee-Conti, and Coche-Dury during this period, for which I shall always be grateful. It was at this time that I began honing my writing skills with wine articles for the firm's website, and I found that I enjoyed the process of research, deliberation and writing.
When I left to form a brokerage firm in New York, I continued writing on my own website, and was encouraged by several of my clients to publish a newsletter. Thus was the genesis of View From the Cellar.
Q: You are a guardian of the traditional regional styles of winemaking. Why so?
A: I have been so fortunate over the years to taste some of the greatest wines in the history of the twentieth century, wines like 1928 Domaine de Chevalier, 1929 Château Latour, 1955 Haut Brion, 1961 Giacomo Conterno Monfortino, Comte de Vogüé Musignys from the 1930s and 1940s, 1970 Heitz Martha's Vineyard, Freddy Mugnier's 1937 Musigny, old Chave and Jaboulet, Egon Müller, Clos Ste. Hune, DRCs – the list could go on forever and still leave some out. All of these wines changed magically in the bottle over the course of their long lives, and how and why wines do this is still a mystery that we cannot solve, despite all of our scientific advances. But that they do change, live and grow and improve in the bottle is beyond dispute, and to my mind they mark one of the great human achievements in our history. For me wine is art – the medium may be different than the canvas or the musical score, but many of the same drives and inspirations lie behind great art and great wine. Like art, there are vicissitudes and momentary trends in the market that can affect wine, but the masterpieces in both milieus seem to exist beyond the changes in fashionable taste.
But as the wine market has evolved, at least in part, into a luxury goods market in the last several years, particularly for many of the historically important estates, considerations of the balance sheet often now outweigh questions of wine quality, and this simply should not be. It betrays the historical legacy of the quality wine pioneers who have come before. Now, believe me, I fully understand that wine is a business, and if producers cannot make a profit, then eventually there is no wine, either traditional or mercantile in its inspiration. I do not begrudge anyone their living, but the pendulum has swung too far in many regions in the last several decades, searching for market and acclaim by popular critics at all costs, and I have a very real fear that one day there could be no more traditional wineries left standing.
I greatly admire Robert Parker and was a devoted reader of The Wine Advocate for years, but I gradually realized that my taste and his had diverged in some critical aspects. Without question, Bob's opinion has become deeply important to the prosperity of most wine makers, and his taste has influenced the style of wines they produce. If a wine maker makes changes to eliminate flaws, which is what Bob would say is largely happening, then that is one thing, but if the changes are designed to create a richer, denser style than the region's traditional wines in order to score points with Mr. Parker, I am dismayed.
Q: Why should a person delve beyond just a surface knowledge of wine?
A: The sheer depth of brilliance and variety that can be found in the world of wine, even today, with the international style trying to storm so many gates, should be reason enough to at least whet the appetite of curiosity of even the most casual of wine drinkers. There are wines that go better with different cuisines, wines that are best at certain seasons, wines that match or change your mood – wine is a ridiculously deep and fertile mosaic that really offers something "just right" for everyone. And I cannot think of a whole lot of other avenues where this is the case in the modern world. The trick is simply to be open to looking for it, and it is much easier than the casual wine drinker usually thinks. All it takes is a little fortitude looking for the right wine merchant, and once you find him or her, then the universe magically begins to unfold before your eyes (or nose). It is easy to tell when you have found the merchant that matches your palate well – you go home, open the bottle, pour the glass and bang, the wine will tell you! But you have to first interact a bit with the merchant, tell them about wines that you have liked before, wines you have not liked before (perhaps even more important) and look for a merchant who shows interest in this discussion. In a good wine shop it is very easy to find staff who are more than willing to talk wine with you – this is an infectious passion that people love to share – and if the shop shows little interest in talking wine with you, just search out another merchant.
Editor's Comment: John Gilman is both inspired and inspiring, and passionately so. I hope a glance at his path to fascination with the world of wine will lead you in the same direction. It is a delight that will be with you forever. His newsletter can be accessed at http://www.viewfromthecellar.com.
RECENT POSTS IN Food and Wine Articles