Learn About Viking's Bluezone Technology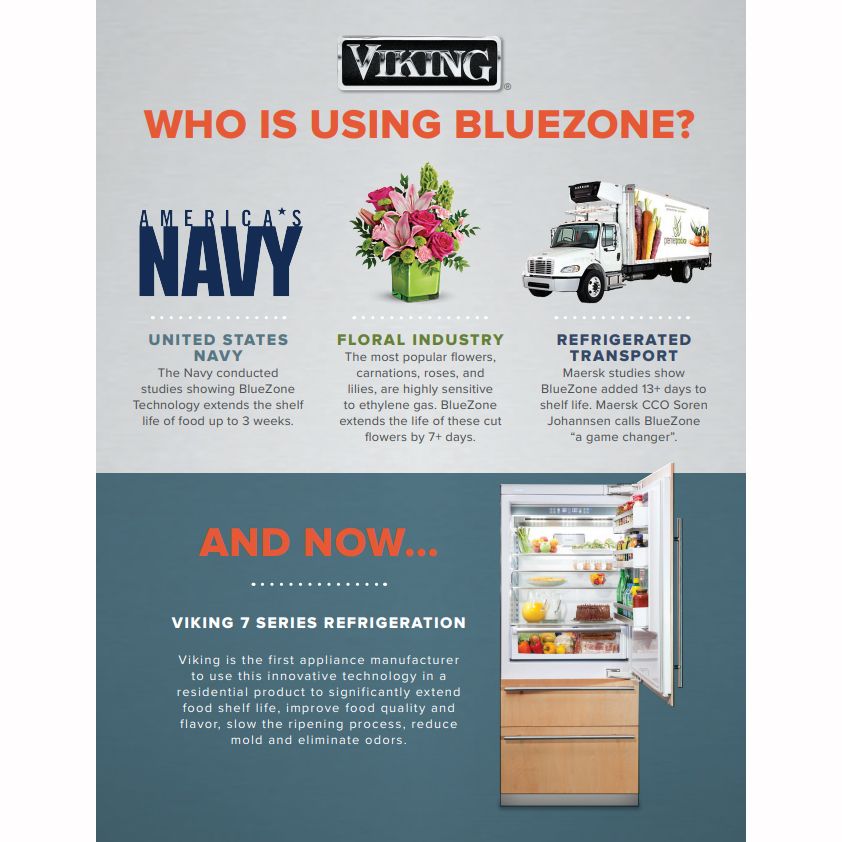 Ultimate temperature and humidity control can be achieved by using the most innovative and advanced purification technology available to purify the air; the Viking BlueZone Fresh Preservation Technology. Viking's Bluezone Fresh Preservation Technology strips microbes, ethylene, hydrocarbons, odors and other contaminants inside the refrigerator to provide the ultimate in food preservation.

BlueZone Fresh Preservation Technology is like no other air purification available on the market. Initially designed for the United States Army, this BlueZone Preservation Technology is also used commercially to extend the shelf life of fresh fruits and vegetables in transport containers, cold storage rooms, walk-in refrigerators, reach-in refrigerators and general food storage areas along the global food supply chain of storage, distribution, transport, and retail sale. In this application, Bluezone Technology removes the decay-producing chemical and microbial agents from the air without introducing any chemicals or gases to the fresh fruits and vegetables storage space.    

Now, this unique, exclusive and patented commercial air purification technology is available for your home, only from Viking with the new 7 Series Refrigeration line.   Significantly fresher, longer lasting foods are possible with this government grade food preservation technology that has been incorporated into Viking Professional residential refrigeration.