Hands-On with the Viking 7-Series Range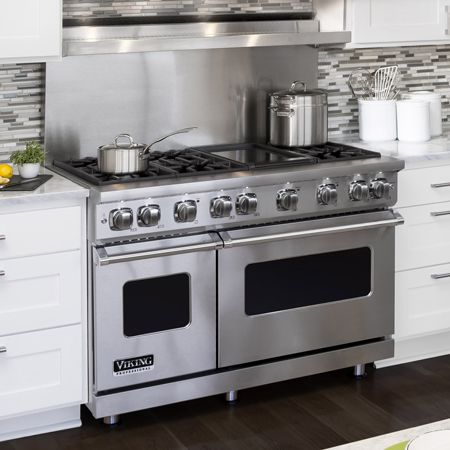 Viking is one of the most well-known manufacturers of high-end appliances, so we were very excited to see the company's new flagship range—the Viking VDR7486GSS (MSRP $14,699). It's part of the new Viking 7-Series lineup, and we spent some time with it at Design and Construction Week in Las Vegas.
Already, we can tell this is a special range. One of the first new products developed under Middleby, Viking's new corporate parent, it uses burner technology developed for the commercial sector and features a mirrored chrome griddle. The model we saw even adds some Bluetooth connectivity.
It also debuts with Viking's new warranty: Three years for repair, and a 90-day replacement. If you're spending this much on a range, it's nice to know you've got backup.
DESIGN & FEATURES
The VDR7486GSS essentially has the heart of a professional range, incorporating professional burners from Middleby and detuning them for residential use. The two rear burners put out 15,000 BTU, while the two front burners can do 23,000 BTU. Viking told us that those burners can also simmer evenly enough to pass an important test: melting chocolate on a paper plate without setting the plate on fire. We're looking forward to putting that claim to the test.
Interestingly, the burners are all installed in a porcelain enamel-coated recess. Other ranges use a stainless top here. That certainly looks impressive, but Viking representatives told us that the coated well makes for an easier cleanup. Having scrubbed both stainless and enamel ranges, we tend to agree.
In between the burners is a chrome-plated griddle, common on commercial ranges but rare on home products. Chrome is non-reactive with foods and allows for even heating and less sticking. A cast-iron griddle is an available extra. The griddle comes with a new PATENT PENDING grease containment system that funnels messes into a grease trap with a stay-cool handle, so you don't have to wait to empty it. Underneath, the VDR7486GSS has a fully featured convection oven.
The 7-Series also debuts Viking's first attempt at connectivity, the fruit of a new partnership with iDevices. The Viking-branded iGrill2 plugs into the range and transmits temperature data from the range's meat probe straight to a smartphone app. It's a bit clumsy so far—we'd prefer if the whole setup was wireless and integrated into the range—but it shows that Viking is at least taking an interest in connected appliances.
LINGERING THOUGHTS
Like all flagships, this range is a statement. The 7-Series proves what Viking can do when cost is no object.
Clearly, it isn't for everyone. For one thing, it costs over $14,000—enough for a decent used car. It's also got some of the most powerful burners allowed on a residential range, and is designed to be as close to commercial equipment as your homeowner's insurance and local fire codes will allow.
But for owners of high-end homes who entertain frequently—and who just might be inviting a professional chef into the kitchen—it's certainly worthy of consideration.
Jonathan Chan grew up in Massachusetts and studied agricultural economics at the University of Connecticut. Before joining Reviewed.com, he's worked jobs as diverse as a ballot counter, an environmental lobbyist, and a math tutor.