June 2016 Designer of Distinction Awarded to Dan Encin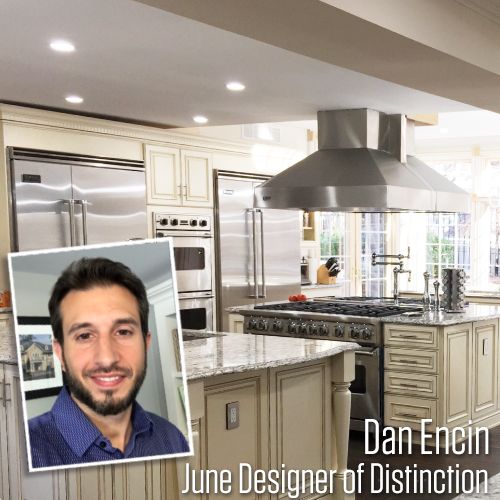 Dan is principal owner of Mendham Design Architects, LLC located in the Mendham, New Jersey. Mendham Design Architects LLC, is a full-service design firm, specializing in high-end residential work, new homes, additions and remodeling.
Dan is a licensed architect with over a decade of experience working in the local architecture and construction field. In addition to a strong background in architecture and design, Dan also has extensive experience with residential and commercial construction. This allows for the greatest degree of assurance to his clients that the final projects will directly reflect the time and effort invested during the design and planning phases of the project.
The June 2016 winning design is a kitchen designed for a busy family that loves to entertain. The customer requested a large entertaining space where friends and family could gather and participate in cooking and food preparation.
The project involved expansion of the existing undersized and somewhat dark kitchen, with an addition extending out into a terrace area. This allowed for a spacious food prep area and more natural light, creating a space that blends seamlessly with the character and proportions of the home.
This spectacular kitchen contains two 48" Viking Gas 7-Series Ranges back to back, two 48" Viking Chimney Hoods back to back, a Viking dishwasher and two 48" Viking Built-in Side by Side Refrigerator/Freezers with a 30" Viking Electric Double Oven in between.