Make It Grain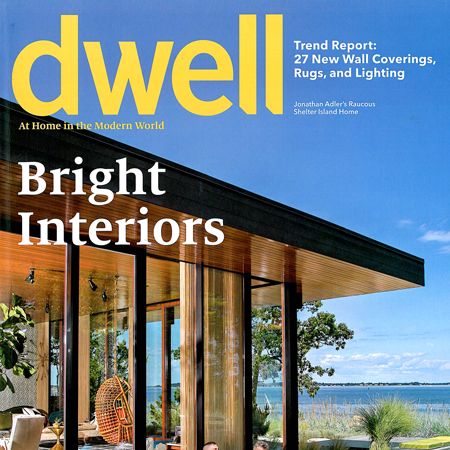 PHOTOS BY Daniel Shea
PROJECT Schaffer Residence
ARCHITECT Salles Schaffer Architecture, sallesschafferarchitecture.com
LOCATION Guilford, Connecticut
When New York City architect Julie Salles Schaffer started designing a house in Connecticut for her family--her husband, Robert, and their two teenage daughters--she planned it around a central hub: the kitchen. "It's pretty unusual for the way you design a house," Schaffer explains, "Since most kitchens are tucked in the back. But I'm the one who does the cooking, and I wanted that room to be the knuckle of the layout." Reinforcing the notion of the kitchen as a focal point is its unusual aesthetic--arctic white accented by exposed wood grain and rounded details.
Blurring the lines between natural and artificial, Schaffer had the cabinets finished to resemble a laboratory version of driftwood, for which fabricator Michael Madore experimented with what he calls an "aggressive" metal-sanding process to pull out the grain from the whitewashed oak plywood. For the hardware-free cabinets, Schaffer looked to a drawer pull detail derived from Gio Ponti's work--though she admits the radial edging is an effect entirely her own. "I wanted to soften the edges in elevation, not in section," she says.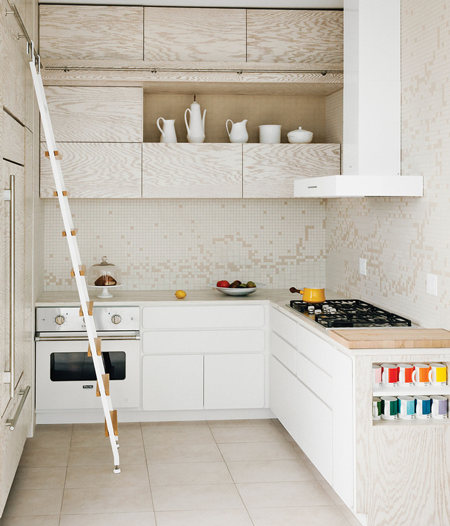 To complement the white-washed custom cabinetry in her kitchen, architect Julie Salles Schaffer designed a tile backsplash to resemble "melting butter in a white pan". Daltile arranged her two-color AutoCAD design—white and off-white—onto a mesh backing for a small fee. To soften the edges of the cabinets' drawers and doors, Schaffer requested radial edging.
Finishes throughout the room reinforce the whiteout theme: Index-d, in nearby Bridgeport, mixed a custom powder coating for the ladder, and Schaffer ordered appliances from Miele and Viking to match the color scheme. The only departure: the Schaffer daughters' favorite Pantone mugs, which reside in one of several carefully placed storage nooks through-out the user-friendly space.
View the full article here.