May 2016 Designer of Distinction Awarded to Monica Santayana and Ronald Alvarez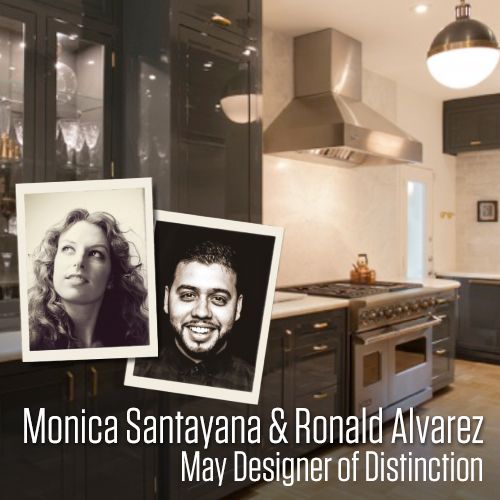 As principal owner of Moniomi, a Miami based design firm located in the Little River Miami neighborhood, Monica, Ronald and his team create beautiful designs for commercial and residential use. Like the neighborhood where they reside, Moniomi is at the pulse of Miami's art and design scene and has become known as a birthplace for creativity.
With more than 20 years of combined experience in commercial, hospitality and high-end residential interior design, Moniomi Design provides clients with innovative interiors that are thoughtful and timeless. The firm specializes in full service interior design for projects of any scale, custom art and furniture design, graphic design, space planning and project management. Moniomi Design's commercial work is comprised of the private aircraft terminal, Orion Jet Center and a hospitality portfolio that includes Hyatt Place, Comfort Suites, Hampton Inn, Staybridge Suites, Holiday Inn, Holiday Inn Express and Pincho Factory restaurant.
From the planning stages of pre-construction homes to luxury renovations of historic estates, Moniomi's residential work includes investment properties, decorating, architecture and landscape architecture consulting. The team prides itself in the ability to stay on the edge of design trends that they combine with classic pieces to create spaces that are refined yet functional. Their recognizable brand of urban aesthetic mixes raw elements with rich colors and patterns that are chosen to reflect each client's distinctive personality, taste and lifestyle.
Husband and wife team, Monica Santayana and Ronald Alvarez are Moniomi Design's Principals and Lead Designers. Monica focuses on the creative details and finishes, while Ronald is the project manager bringing the visions to life and both recognize their creative team as being crucial to their success. Together they find inspiration in everything from pop culture to classic architecture, world travel and luxury trends. Each one of their projects reflects these elements, which are made unique by their aesthetic that pushes boundaries while still being sophisticated and pragmatic. Moniomi works out of their expansive studio in Little River - an emerging Miami neighborhood that is hinged on creativity and entrepreneurship.
The May 2016 winning design is a kitchen designed for a young couple in Miami's historic Morningside community. The design captures the essence and history of the home with a modern approach to its layout and color palette. The curved cabinetry is reminiscent of the subdued deco details accented by the ultra high gloss charcoal paint and beautiful veins of the honed Calacatta marble counter surfaces and backsplash.
Monica Santayana said, "This kitchen was designed for a socially active family with two beautiful young daughters. In the mornings, Mom prepares breakfast for the family to share before heading to work and school. The evenings are Mom and Dad's special time to cook dinner together, try new exciting recipes and cherish each other's company. Social gatherings are always enjoyed with friends and family around the kitchen, which always become the star of the night and the initiator of so many conversations."
Ronald Alvarez added, "The Viking appliances fully satisfy the family's cooking and refrigeration needs. Starting with the stunning 48" Viking range, 6 burner and griddle combo with double oven, and powerful Viking hood, companion built-in Viking steam/microwave oven, paired with sleek design 36" built-in Viking refrigerator; the perfect combination of appliances."