Viking Professional Outdoor Kitchens Featured On Hayward Poolside Blog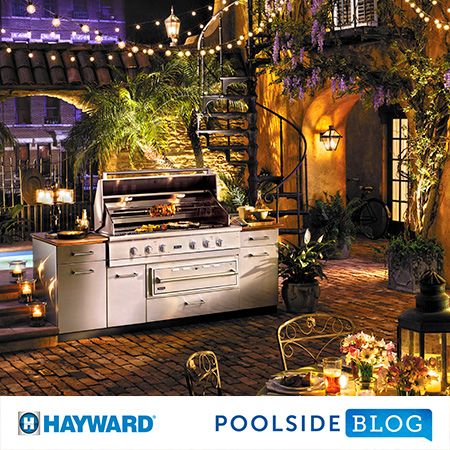 Poolside News had a chance to speak with Tim Tyler, Director of Marketing for Viking – the leading manufacturer of professional-grade appliances for outdoor and indoor residential kitchens.
Poolside: Tim, please tell our PoolSide readers a little about Viking's history.
Tyler: Our founder, Fred Carl Jr., had a passion for cooking. But when building his new home in Greenwood, Mississippi, he grew frustrated by the kitchen appliances available. He wanted his new kitchen to have the performance of professional appliances, and the range, in particular, didn't exist. So Carl took to the drawing board and after countless late nights, he finally arrived at a hybrid that corralled the cooking power and features of a professional range into a design feasible for home use.
Viking soon opened its own manufacturing plant in Greenwood, Mississippi, and realized there was room for professional performance in every corner of the kitchen. By the end of the decade, the Viking kitchen grew to include built-in cooking, ventilation, refrigeration, kitchen cleanup, and outdoor products. To continue the story, we were recently purchased by The Middleby Corporation, the leading commercial equipment manufacturer and owner of over 35 brands. We are now incorporating innovative cooking technology of our sister companies into our Viking residential products to give the customer true restaurant quality results.
PoolSide: What a great story so many of us share his passion for cooking. Our PoolSide readers love to entertain PoolSide, let's dig in to helping them dream, plan and design the perfect outdoor kitchen. What tips can you give our readers on planning their outdoor kitchens?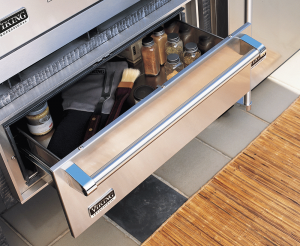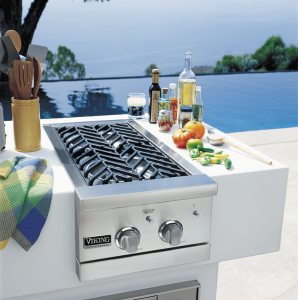 Tyler: We've heard from so many homeowners that they want all the modern conveniences that they have in their indoor kitchens, in their outdoor kitchens. They want to be able to prepare food and appetizers, serve drinks outside while remaining part of the group, rather than having to go inside.
It's important for homeowners to anticipate their requirements and what is needed for their outdoor kitchens to get the most flexibility during its use. It's also vital that they use only outdoor-rated appliances and cabinetry that will provide the same storage and organizational capabilities of an indoor kitchen.
When planning an outdoor kitchen layout, homeowners should consider the flow of people during outdoor cooking and entertaining as well as the flow from inside and outside the house. Since the kitchen is made up of individual cabinets, they can be arranged in virtually any combination allowing for true customization.
PoolSide: Do you offer this cabinetry as well as the outdoor appliances?
Tyler: Absolutely. It was important to Viking to be able to outfit the entire outdoor kitchen for a streamline look, functionality and durability. Yes Viking is known for their high-performance, rugged appliances, but we can pretty much outfit the entire outdoor kitchen. All of the materials are able to withstand the elements and can hold up to the extreme heat of grills, smokers, burners, etc. They get an amazing customizable, professional-grade kitchen that can be easily installed in a day.
PoolSide:  What are some design challenges homeowners face when designing their dream outdoor kitchens?
Tyler: Most patios and decking surfaces are uneven. All of our appliances and cabinetry can be freestanding and their legs are adjustable to accommodate pitches and unevenness of these surfaces.
PoolSide: When it comes to outdoor living trends, what are homeowners looking for these days?
Tyler: Staying outdoors where all the action happens. They want to remain PoolSide with all the modern conveniences, comfort and ambiance that their homes' interiors offer. They want beautiful finishes and rugged appliances that will last.
PoolSide: Great thank you Tim. Can you please share some beautiful images with our readers?
Tyler: These pictures show some of our favorite outdoor spaces.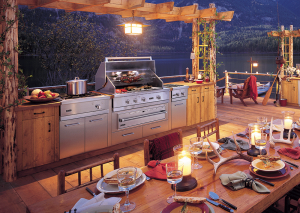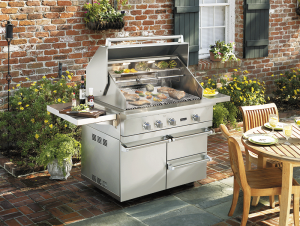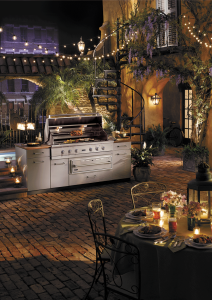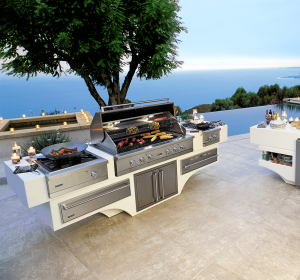 PoolSide: Beautiful. Where can our readers get more design ideas and find out more about Viking outdoor kitchens?
Tyler: We encourage your readers to visit our Viking website with more inspiring images and product information. They can also find us on Facebook, Twitter, YouTube, Pinterest, Instagram and Tumblr.
PoolSide: Thank you Tim for taking the time to share with our PoolSide readers.
Tyler: Thank you. We hope to inspire peoples' passion for cooking…outdoors.