Thai Appetizers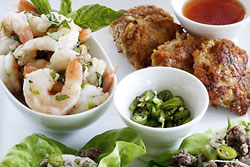 by Karin Calloway
There's still time to make your reservation on the Viking Worlds of Flavor trip to Thailand this November, but in the meantime, we've got a delicious spread of Thai appetizers that are perfect for late-summer entertaining.
The menu is meaty enough to satisfy your hungriest male guests and includes delicious
Pork Satays
with a peanut dipping sauce,
Catfish Cakes
using Mississippi farm-raised catfish, lime-scented
Thai Ground Beef Salad in Lettuce Cups
and cool
Thai Marinated Shrimp
.
If you'd like to round out your menu with a vegetable dish and dessert, consider the
Cucumber Peanut Salad
and
Sweet Sticky Rice with Mango
recipes on this site. For a cool, alcohol free beverage, try this bonus recipe for spicy and sweet Thai Iced Tea.
Thai Iced Tea
8 cups water
8 chai tea bags (available in some supermarkets or at Asian and Indian markets) or black tea bags
1 piece star anise, only if using black tea bags
1 cinnamon stick, only if using black tea bags
1 cup sugar
Half and half
Bring water to a boil in a saucepan or in a tea kettle. If using a saucepan, remove from heat and add tea bags, star anise, and cinnamon stick. If using a tea kettle, place spices in a large bowl along with tea bags and pour boiling water over the top. Steep tea for 5 minutes. Remove tea bags, squeezing out any liquid, then add sugar and stir until dissolved. Refrigerate until cold, for several hours or overnight. If the star anise and cinnamon stick were used, remove them before serving.
To serve, fill glasses with ice. Fill glasses 3/4 full with tea. Top each glass with 3 to 4 tablespoons of half and half.
Makes 6-8 servings.
Recipes: