Planning and Design Resources | Featured Designer
Cindy Collins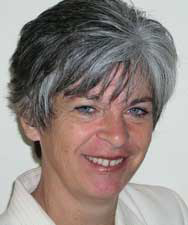 For over 25 years Cindy Collins has been designing kitchens and custom cabinetry for clients around the country and even worldwide. Specializing in space planning, Cindy uses a time and task management method when designing a kitchen, arranging "zones" that relate to specific tasks.
Collins began studying architecture and design on the east coast at Ramapo College, Mahwah, New Jersey and continued at Phoenix College in Phoenix and Arizona State University, Tempe, Arizona. She is experienced in industrial, and commercial design, as well as residential projects.
For over 25 years Collins and her custom cabinetry business, Cucina Kitchens and Baths, has been producing a wide range of challenging projects. "Our products have been shipped worldwide, and our residential projects have taken us around the country and as far away as Puerto Vallarta, Mexico." Says Collins. The kitchen and bath showroom features a line of cabinets that are manufactured in house as well as three other lines of cabinets and products related to the kitchen and bath industry and manufactured by outside sources.
In 1985, Collins relocated the business to San Luis Obispo County, California, where she began to produce the area's first true European cabinets, exclusively using the European system of casegood manufacturing. Although her focus has primarily been residential projects, she has continued to provide fine office interiors for special clients.
In 1990, Collins opened her first showroom in the city of San Luis Obispo and became the first (and only) fully custom manufacturer to provide a complete design service.
For more information about Cindy, visit www.cucinakitchens.com – or download a PDF of her story here.
See more of Cindy's photos.