Planning and Design Resources | Featured Designer
Kevin Fitzsimons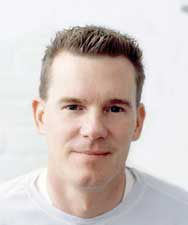 For Toronto designer Kevin Fitzsimons, Viking appliances were essential ingredients in his recipe for transforming "America's ugliest kitchen" into a celebrity chef's paradise. The kitchen belongs to Fitzsimons' friend Art Smith, the Chicago-based chef, cookbook author and television personality who is probably most famous for being Oprah's personal chef. It came into Smith's life when he purchased a 4,000-square-foot condominium in Chicago's Hyde Park-Kenwood neighborhood.
The existing kitchen was 600 square feet and included a red refrigerator that clashed with the garish wallpaper. It needed an extreme makeover.
Fitzsimons firmly believes lifestyle and environment should mesh well. "Let me give you a kitchen designed just for you," he told Smith. "I'll design, organize and renovate this ugly kitchen." And he did.
The key to designing Smith's kitchen, says Fitzsimons, was figuring out how he lived and cooked. "Viking products are so amazing and flexible I knew I was going to use a lot of them."
The result is a beautiful kitchen suited for entertaining large numbers of guests, as well as being a working studio for Smith to offer cooking demonstrations and filming.
For more information about Kevin, visit www.fitzsimonsdb.com - or download a PDF of his story here.
See more of Kevin's photos.