Planning and Design Resources | Featured Designer
Tess Giuliani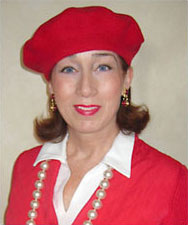 Tess Giuliani, CKD, Ridgewood, New Jersey, has explored many creative areas in her 34 years as a design professional. The common denominator for the 2005 Viking Featured Designer has always been her broad visual interests and experience coupled with an artist's imagination and passion for design that allows her to translate what her clients want but can't always put into words. She has followed a unique path to arrive at her current discipline, residential space planning and design.
This award-winning project began with a picture, and the color blue. Her client came to her with a picture of a cobalt blue Viking gas range and said, "Tess, I want you to design me a kitchen around this range."
The client was a dedicated cook, with a large collection of cookbooks that needed a graceful home in a real working kitchen. There were four children in the family, two away at school, and the family spent a lot of time entertaining and in the kitchen. The home was a large, Gothic style new construction.
"I feel this is the best kitchen I ever designed — and one of the most unusual," says Tess. "To begin with, I had a client with courage. It takes courage to request a kitchen with a color finish on the appliances."
It was up to Tess to blend the design elements harmoniously, while creating the feeling she sensed her client was looking for. "I planned a space that translated my client's vision into a beautiful design." To complement the cobalt blue ranges, she chose Bahia blue granite from Brazil for the counters. The cabinetry was from Sterling Custom Cabinetry, installed by Ulrich, Inc. Especially critical integrating the space are the dramatic arches that were built to tie together the angled entrances with the kitchen's high ceilings, while complementing the harmonious lines of the home as a whole.
"When my client first walked in, she could only say, 'I love it. I love it. Tess, I love you — it's more than I ever expected.'"
Tess also credits Viking and her Viking distributor, Carl Schaedel & Co., Inc., Fairfield, New Jersey. "They have a great showroom," says Tess. "And Viking is so dramatic. It fits in well in any kind of room, large or small. Viking really changed the focus of emphasis in kitchen design. I really think nothing is as interesting as Viking."
For more about Tess, download a PDF of her story here.
See more of Tess' photos.