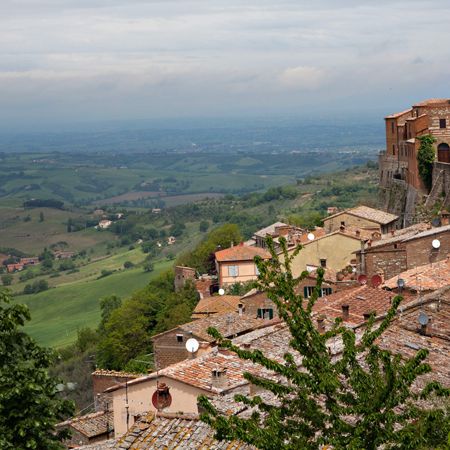 In the wilds of Tuscany ask somebody about what they're eating and you're likely to find out how their mother spent her days, where the good shepherd is located, when a nice fat pig is scheduled to arrive from the Casentino, how to stretch pasta dough to feed a crowd if necessary, or how to make it rich and silky if the hens are laying. Before you know it you're off onto a socio-economic study of wherever you happen to find yourself. You'll get an idea for tradition and how it's being carried forward, modified perhaps by a few creative souls.
As Carmelo Chiaramonte the Modican chef and creative soul working in Catania put it, showing a thirst for knowledge is often rewarded with a richly loaded response. He'd been buying fish from and talking with the same old-timer pescivendolo/fishmonger for six years before he'd taken the care to show his thirst for knowledge. What came out of it was the (re)discovery that Sicilian fishermen traditionally butchered a tuna into 32 different parts, each with its own distinct cooking methods, and Carmelo's subsequent book A Tutto Tonno.
Taking a trip to get to know a culture through its cuisine doesn't mean you have to spend a month interviewing every tuna fisherman and seller you can find on the island of Sicily (although it surely could). Come to Italy to meet the people who work with the earth and sea, listen to them describe their approach to their work, their earth, and then taste the results. In Sicily you can taste the sun, the sea, the minerally black earths of Mt. Etna, or the rich red soil of Vittoria in a sip of well-crafted wine. In Tuscany, in a bite of fresh sheep's milk cheese or a drop of genuine olive oil, you can taste the contrast between gentle breezes and temperate clime, the rocky soil and the Mediterranean maquis.
Meeting honest producers working with what nature provides, and the people who cook with and eat their wares, opens up doors to a culture more immediate and profound than looking at a culture's art and architecture, or observing their festivals.
Living a moment in the rhythm of the Tuscan seasons introduces you to the people who live it today and gives you an opportunity to be a part of the natural cycle.  Experience what autumn means in Tuscany: hike through a mountain forest gathering chestnuts, sit by the fire in a chestnut smoke-house (on a short-legged stool to stay under the smoke), watch the rock hard nuts being ground in an ancient water-powered mill, taste castagnaccio made with the fluffy pink flour. Pick olives while listening to the cadences of stories being told and retold; old-fashioned love songs being sung; watch and smell over the din of well-used machinery as the miller crushes the olives and extracts the peppery green oil. Or taste it like the miller does, on grilled bread with a splash of brusque, yet honest, sangiovese from a plastic cup.
It's easy enough to take a day trip into Chianti to visit a well-known winery or a famous butcher, or to reserve a table at a restaurant with stars. But wait, it's what's lying just under the surface that turns a visit into a thirst-quenching voyage. Go home feeling enriched by having participated in ancient rites, new experiences. Participating with all five senses gives you the full immersion into a culture and lets you become, briefly, a part of it. Have fun,learn a little something, eat well, and affect your own reality by learning about someone else's.Understanding their approach gives you the chance to take it home with you if you want to. Tasting what comes from the earth here in Italy, how it's coddled into being and then how its used in the kitchen, makes you pay more attention to what's coming from your own earth and what you're putting on your own table. Learning about a food philosophy that works and tasting the heavenly good results encourages you to apply the same philosophy to your own culture, the ingredients that come from your own earth. Have fun, learn a little something, eat well, and affect your own reality by learning about someone else's.