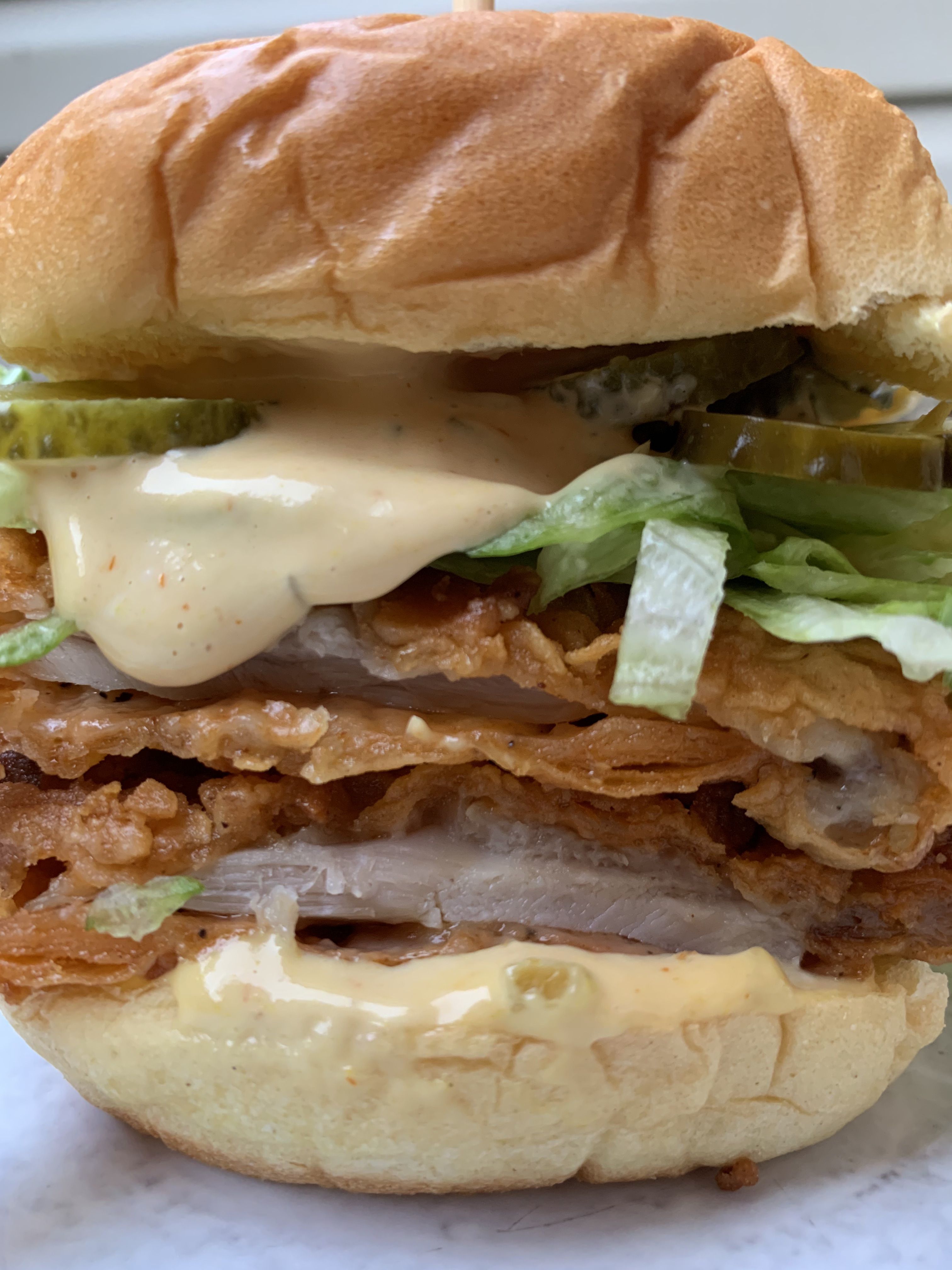 Fried Chicken Sandwich
Prep time 10 minutes
Cook time 10 minutes
Serves 4
Ingredients
Vegetable oil, for frying
4 chicken thighs, boneless, skinless, pounded thin
1 cup buttermilk
½ cup hot sauce
1 cup all purpose flour
1 tablespoon onion powder
1 tablespoon garlic powder
1 teaspoon cayenne  
Kosher salt and freshly ground black pepper
4 sesame seed potato rolls
Special Sauce
1 cup mayonnaise
2 tablespoons yellow mustard
¼ cup ketchup
2 tablespoons sweet pickle relish
Toppings
4 dill pickles, thinly sliced
Iceberg lettuce, shaved
Directions
Heat a medium size Dutch oven with 4-5 inches of oil to 365 F. Place each chicken thigh between 2 sheets of plastic wrap. Pound until ½ inch thick and set aside onto a sheet tray.
Set up a dredging station. Place buttermilk and hot sauce into a ¼ sheet tray or bowl. Next, add flour, onion powder, garlic powder and cayenne to another ¼ sheet tray or bowl. Season with salt and pepper, stir to combine.
Begin dredging process by placing each thigh into the flour mixture, next buttermilk mixture, finally end with the flour mixture. Place onto sheet tray and continue process until all chicken is dredged. Place 2 thighs into oil and fry for 5-8 minutes, until crispy and golden. Remove to a sheet tray lined with a rack season with salt. Fry remaining thighs and remove to rack.
Sauce
To a medium bowl, add mayonnaise, mustard, ketchup and sweet pickle relish. Stir until combined.
The build
Lay out each bun onto a clean work surface. Spread the bottom bun and the top bun with special sauce. To each bottom bun, add sliced dill pickles and shaved lettuce. Top with fried chicken, then more lettuce. Place top bun on. Slice in half and take a crunchy bite!