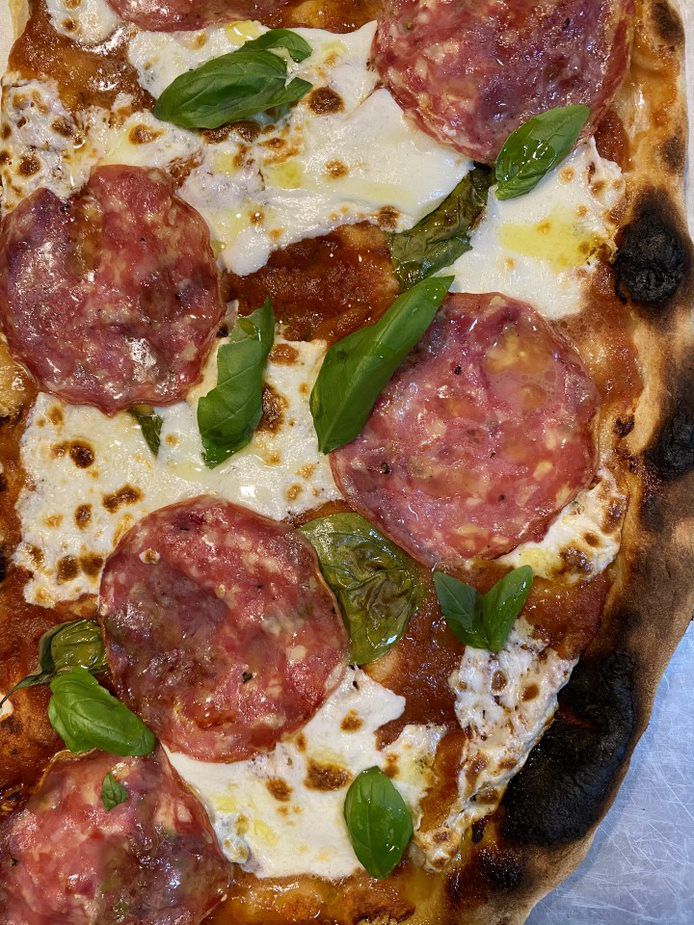 Grilled Pizza
Prep Time: 72 hours
Cook Time: 5 minutes
Serves 4
Ingredients
Pizza Dough
3 3/4 cups bread flour (plus more for kneading)
2 tsps kosher salt
1/4 tsp instant yeast
1 1/2 cups water
Olive oil
Pizza Sauce
2 cups Pomi strained tomatoes
1 garlic clove (peeled)
1 sprig oregano (leaves only)
1 handful basil leaves
Kosher salt and freshly ground black pepper (to taste)
Toppings
1 (8oz) ball fresh mozzarella (thinly sliced)
1/2# hot soppressata (thinly sliced)
Fresh basil (for garnish)
Honey (for garnish)
Directions
Dough
Place flour, salt and instant yeast into a large bowl. Stir until combined. Slowly add water until a shaggy dough forms. Dust a clean work surface with flour. Knead dough for 3-4 minutes until smooth. Oil a large bowl. Place dough into oiled bowl. Cover bowl with plastic wrap and leave at room temperature for 24 hours. Next, put into fridge for at least 48 hours or up to 5 days. This will allow for a slow fermentation. The longer it sits the more flavorful it gets. When ready to use, divide dough into 3 equal portions.
Pizza Sauce
Place strained tomatoes, garlic, oregano and basil into a blender. Blend until smooth, season with salt and pepper. Set aside in a bowl until ready to use.
Preheat outdoor grill to 500 F degrees. Brush grill with oil and allow to heat up. Stretch pizza dough into desired shape. Place dough onto grill and allow to cook on first side until bubbly and golden, about 3-5 minutes. Flip and add toppings before closing grill. Spread pizza sauce, mozzarella and hot soppressata. Cover and let cook for 3 minutes until melted. Remove from grill, garnish with fresh basil leaves and a drizzle of honey. Slice and eat!