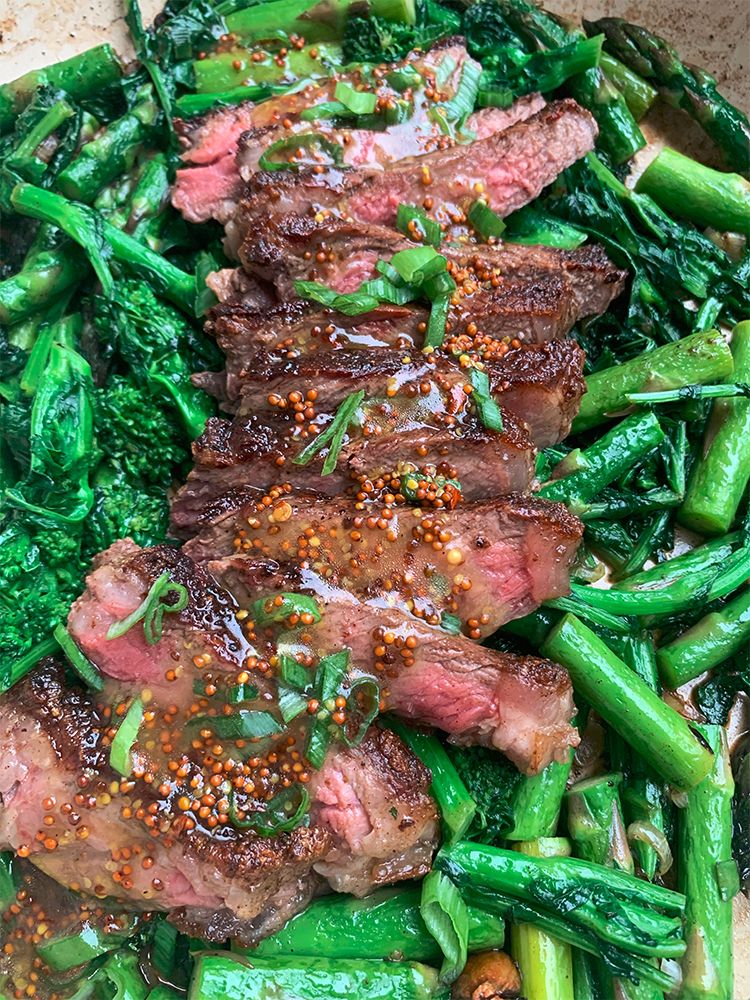 One Pan Steak & Veg
Serves 4
Prep time: 00:05 min
Cook time: 00:15 min
Ingredients
4 tablespoons unsalted butter
1 (16 oz) boneless NY Strip steak
4 garlic cloves (sliced)
4 scallions (divided & thinly sliced)
1/2 bunch Asparagus (trimmed & cut into 1" pieces)
1/2 bunch Broccolini (trimmed & roughly chopped)
1/3 cup whole grain mustard
1 tbsp sherry vinegar
½ tsp red pepper flakes
2 teaspoons honey
1/3 cup olive oil
Kosher salt and freshly ground black pepper
Directions
Heat a large cast iron pan over high heat. Add 2 tbps of butter. Pat steak dry, season with salt and pepper, add to pan and cook about 5 minutes on 1st side, until a deep golden crust is formed. When ready to flip, add sliced garlic and remaining 2 tbsps of butter. Baste the top of the steak while browning the other side. Once steak is a medium rare, about 4 minutes on that final side, remove from hot pan and set aside to rest.
Add in ½ sliced scallions, asparagus and broccolini. Season with salt and pepper and allow to cook down. Meanwhile, to a medium bowl, whisk together, mustard, vinegar, red pepper flakes, honey and olive oil. Season with salt and pepper.
Turn heat off on vegetables, slice steak and place on top of vegetables. Drizzle steak with mustard sauce and garnish with remaining scallions.