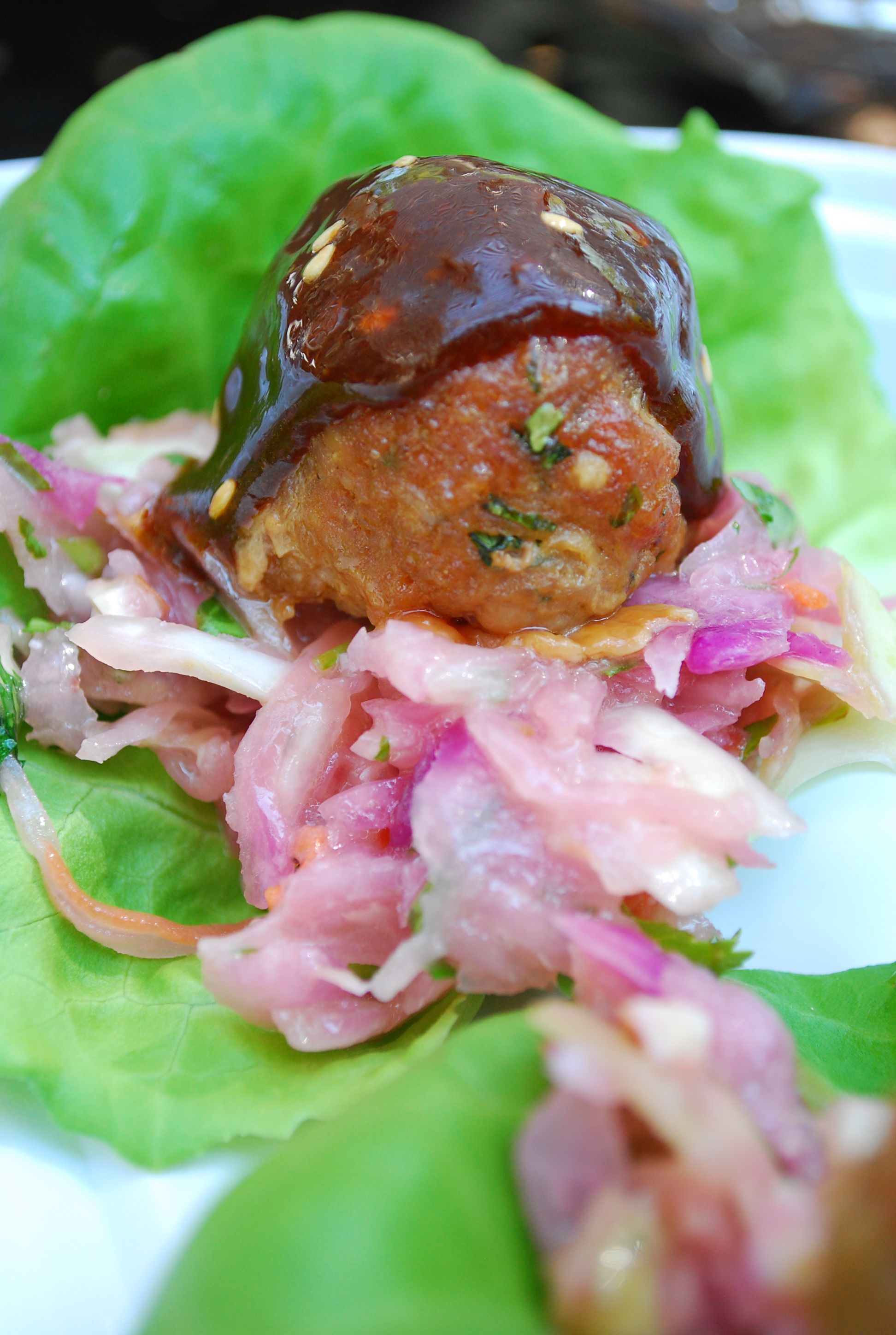 Asian Inspired Ginger Turkey Meatballs
1.25 pounds lean ground turkey
¼ cup of white onion, minced
1 large garlic clove, grated
1 tsp grated orange zest
1 tsp of Chinese 5 spice
½ tsp fresh ginger, grated
½ tsp of Sriracha Hot Chili Sauce
½ of cup of panko bread crumbs
1 tbsp of hoisin sauce
1 tbsp of soy sauce or tamari sauce
1 heaping tbsp of green onion, chopped
½ tbsp of fresh cilantro, chopped
1 egg white
¼  cup of brown sugar to top meatballs
Preheat oven to 375 degrees.
In a large bowl, combine turkey, onion, garlic, orange peel, ginger, Sriracha, panko bread crumbs, hoisin sauce, soy sauce, onion, cilantro and egg white.  Make sure all the ingredients get thoroughly mixed up.  Form your meatballs to be a bit smaller than the size of a golf ball: Swedish meatball sized. You should be able to make about 20 meatballs. Cover and set aside in the refrigerator until ready to bake.
An option is to use pickled pink ginger, like sushi ginger, and a splash of juice from the jar to intensify the flavor.
Cover a sheet pan with cooking spray, and place meatballs about two inches apart.  Sprinkle the top of each meatball with a tiny pile of brown sugar. As the meatballs cook, the brown sugar will glaze the meatballs with a sweet coating.  Cook for fifteen minutes.
Ponzu Dipping Sauce (feel free to use a prepared version, too)
2 tsp of sugar
2 tbsp of fresh lime juice
1 tbsp of orange juice
2 tbsp of mirin (Japanese rice wine)
2 tbsp of soy sauce
2 tbsp of rice vinegar
In a saucepan, combine the sugar, lime juice, mirin, soy sauce and rice vinegar.  Let it sit for about 45 minutes (not cooking!).  After 45 minutes, bring mixture to a boil over medium heat and just as it starts to bubble, remove from heat.  Allow to cool and then strain into a bowl.  Stir in sesame seeds and green onion.  
Asian Cole Slaw
4 cups of cole slaw mix, shredded green and red cabbage with shredded carrots
1/3 cup of cilantro, chopped
1/3 cup of green onion, chopped
¼ cup of almonds, chopped
½ cup of orange segments
Dressing for the cole slaw
½ cup of light vegetable oil
3 tablespoons of lemon juice
1 teaspoon of rice vinegar
1 teaspoon of tamari
2 teaspoon of light brown sugar
1 teaspoon of minced ginger
In a small bowl, whisk together all the dressing ingredients and add to coleslaw mix.  Stir contents together well, cover and then set aside in the refrigerator to chill.
Use butter lettuce to make this into a refreshing summer wrap.  Take a leaf of lettuce, add a spoonful of the Asian coleslaw and a couple of meatballs.  Drizzle on some ponzu sauce and EAT!