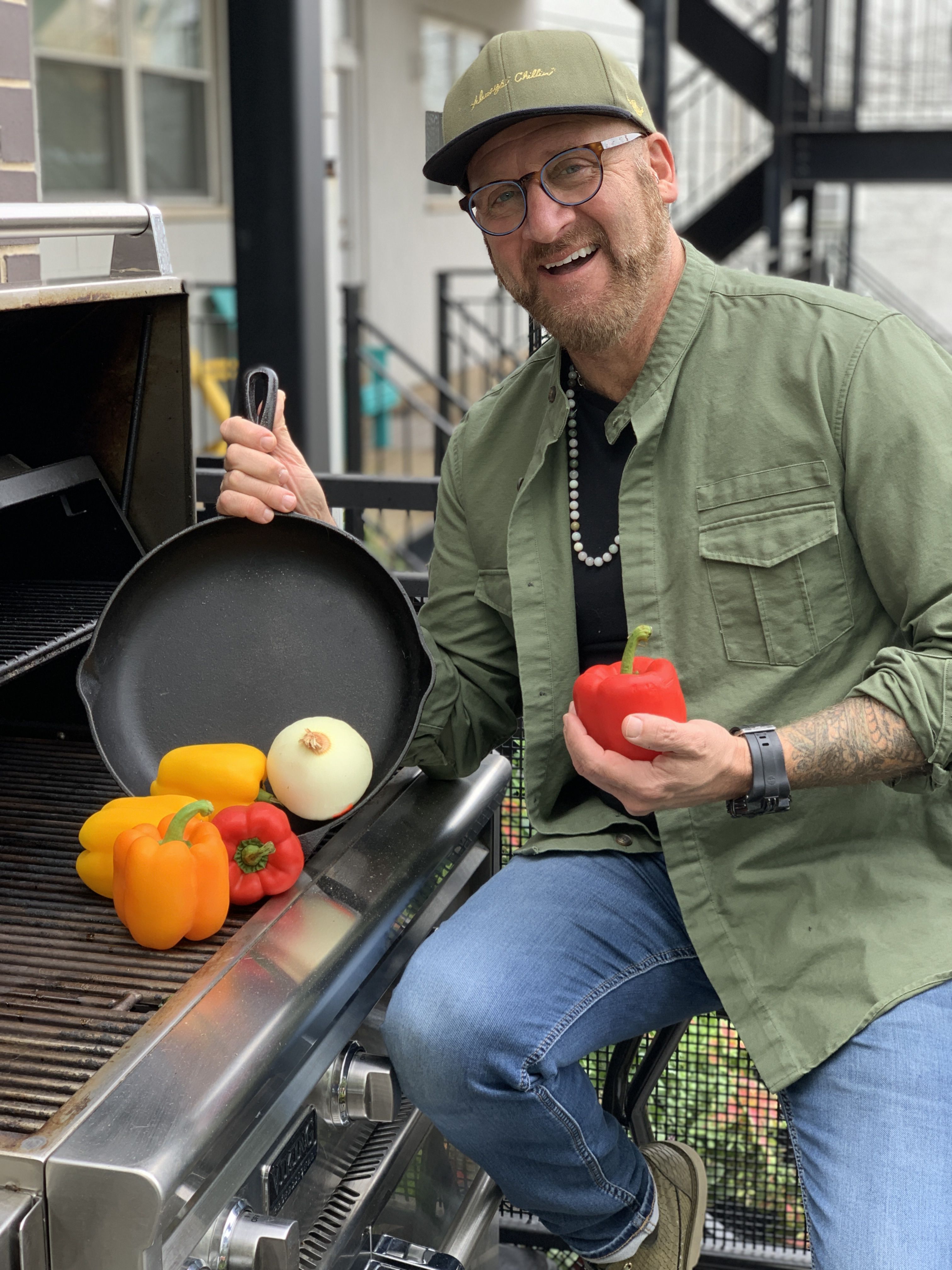 4 ears corn, shucked
4 tbsp unsalted butter, divided
3 cups vine-ripe cherry tomatoes, leave on the vine
3 tbsp extra-virgin olive oil, divided
1 lb. gnocchi
1 red onion, chopped
3 garlic cloves, minced
Pinch of crushed red-pepper flakes
1 red pepper, chopped
1 medium zucchini, diced
1 cup arugula or spinach
¿ cup Parmesan cheese
1 small Burrata cheese
12 Basil leaves,
Kosher salt
Ground black pepper
1. Preheat your Viking grill to high heat. Place a cast-iron skillet on the grill to preheat for sauteing later. Always remember the handle will be hot.
2. Brush your uncooked corn ears with 1 tablespoon melted butter and grill the corn directly on the grill until charred and tender. About 5 to 7 minutes. The goal is to caramelize your corn. Cut the kernels off the cobs and set aside in a bowl.
3. Brush your tomatoes, still on the vine, with 1 tbsp of olive oil. Char and blister directly on the grill while keeping them on the vine. About 3-5 minutes. Set aside with the corn.
4. Bring a large pot of salted water to a boil then add the gnocchi and cook until they float to the surface, 4 to 5 minutes; drain.
5. In the preheated skillet, melt the remaining butter with 2 tbsp of olive oil over medium heat. Add the onion, garlic, and chile flake, then saut¿ until translucent, about 2-3 minutes. Add the zucchini and red peppers, stir in and saut¿ until lightly golden and soften.  
6. Add the cooked gnocchi, corn and tomatoes, and saut¿ about 2 minutes. Add the arugula/spinach and cook until wilted, about 2 minutes.
7. Remove the skillet from the heat (handle will be hot) and top with red pepper flakes, grated Parmesan cheese, the burrata and basil leaves. Season with salt and pepper to taste.
Serve immediately.