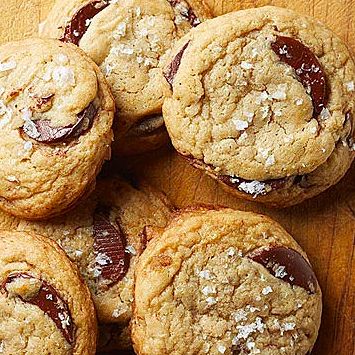 Mindy Segal's Chocolate Chip Cookies
1 cup unsalted butter, room temperature
1 cup sugar
1 cup firmly packed light muscavado sugar or dark brown sugar
2 extra-large eggs, room temperature
2 teaspoons pure vanilla extract
2 1/2 cups unbleached all-purpose flour
1 teaspoon kosher salt
1 teaspoon flaky sea salt (such as Maldon or Cypriot)
½ teaspoon baking powder
½ teaspoon baking soda
2 cups chocolate discs (53% to 64% cacao)*
Flaky sea salt (such as Maldon or Cypriot, optional garnish)
In a stand mixer fitted with the paddle attachment, mix the butter on medium speed for 5 to 10 seconds. Add the sugar and beat until the mixture is aerated and pale, about 4 minutes. Scrape the sides and bottom of the bowl.
Crack the eggs into a small cup or bowl, then pour in the vanilla, but do not whisk.
In another bowl, whisk together the flour, kosher salt, sea salt, baking powder and baking soda.
With the mixer running, pour one egg from the cup into the bowl with the butter mixture, mixing briefly before adding the second, until the batter resembles cottage cheese, approximately 5 seconds for each egg. Scrape the sides and bottom of the bowl, then mix on medium speed for 20 to 30 seconds to make the mixture nearly homogeneous.
Add the dry ingredients all at once and mix on low speed until the dough comes together but still looks shaggy, approximately 30 seconds. Do not overmix. Remove the bowl from the stand mixer. With the help of a scraper, bring the mixture together completely by hand, and then use the scraper to mix or fold in the chocolate. (It's a little awkward, since the chocolate discs are so large and you don't want to break them, but just do your best.)
Transfer the dough to a sheet of plastic wrap and wrap tightly. Refrigerate overnight or up to 1 week.
Preheat the oven to 350°. Lightly grease two cookie sheets.
Using a 3/4-ounce (1 1/2-tablespoon) ice cream scoop, portion the dough into 12 mounds. Be mindful that the chocolate pieces are evenly distributed among the mounds. Evenly space the mounds on a prepared sheet pan. Bake for 8 minutes. Rotate the pan and bake until the edges begin to caramelize and the tops set, approximately 4 more minutes. Sprinkle immediately with additional flaky sea salt, if desired, and let the cookies cool on the pan for 1 to 2 minutes. Using a metal spatula, transfer the cookies to a wire rack to cool completely. Repeat with the remaining dough. Store in an airtight container for up to 3 days.