"I love to cook and I love my Viking stove." - Susan F.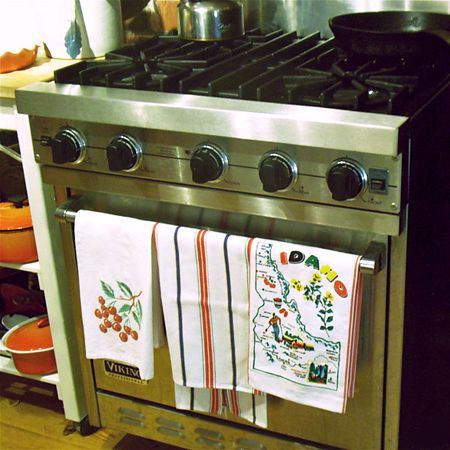 "I love to cook and I love my stove. I got it several years ago and it quickly became my favorite appliance. It is so perfectly designed. The gas rings are wide so the heat goes up the sides of the pan and then down instead of focusing the heat on the bottom of the pan which leads to burning and scorching.
Although I love the way it looks, I did not buy it for it's appearance. I bought it for it's function. The cast iron grates cover the top so pots and pans are easy to slide on and off burners. Each burner has a simmer setting which is so slow you can cook a roux all day long without having to be concerned about it.
The entire top comes off in pieces so it is easy to clean. And another feature that is really nice for messy cooks for me, is a pull out stainless tray that sits under the burners to catch up any spillage. This makes clean up a snap.
Even though my new house in Texas has a generic five burner gas cooktop, I am pulling that out and replacing it with my Viking. And since there are already two built in ovens, I will have three ovens so we will be baking up a storm!
So I can honestly say that my stove is a favorite thing. In fact ~ between you and me, if I had to choose between my husband and my stove, it might be a difficult choice!"
Big Hugs,
Susan F.
Boise, Idaho
View the full post on Ash Tree Cottage.
See what other Viking owners are saying and share your story here.