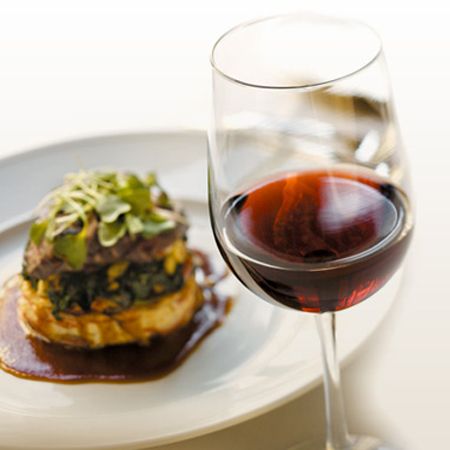 Like many of the top wine regions in Europe, the 2005 vintage has worked its magic on the wines of the Loire Valley, and there are more outstanding vinous choices currently available from this bucolic region than has been the case for a generation. The Loire Valley is known as the "Garden of France," as much of what abounds in the overflowing markets of Paris originates in this region. The Loire is home to some of the most beautiful and distinctive wines to be found, with many pairing superbly with a wide variety of cuisine. This is particularly true today, when the culinary world's focus has turned to cooking lighter and fresher fare. It is particularly in this vein that the lovely wines of the Loire Valley excel.
The Loire valley is a long and varied area for wine, stretching some 200 miles as a crow flies west from Muscadet country around Nantes to Pouilly-sur-Loire in the east, 40 miles upstream from the city of Orléans. There is a wide variety of wine styles in the Loire, with the best-known white being the bone-dry and minerally whites of Muscadet, the equally dry and ageworthy chenin blancs of Savennières, the snappy sauvignon blancs of Sancerre and Pouilly-Fumé, and the generally sweeter white wines (chenin blancs) of the central Loire. In addition, the lovely chalky vineyards of Vouvray and Montlouis that surround the beautiful city of Tours provide both dry and sweet wines from chenin blanc, as well as some truly outstanding sparkling wines. There are also a plethora of white wines gems to be found amongst the less well-known appellations such as Menetou-Salon, Cheverny, Reuilly, and Quincy, all of which are generally sauvignon blanc-based.
The Loire also boasts some of the most beautiful and complex red wines to be found in France. The majority of these are made primarily from cabernet franc, which generally plays second fiddle in Bordeaux to cabernet sauvignon and merlot, but here cabernet franc is king. Wines such as Chinon, Bourgueil (pronounced
bore-goy
), and Saumur-Champigny may not be household names to many wine lovers outside the region and Parisian bistros (where Loire wines are ragingly popular), but they are beautiful reds that deserve a place in any wine lovers' universe. Stylistically the reds of the region represent a synthesis of Bordeaux and Burgundy, as their aromatics and flavor spectrums recall fine Bordeaux, but which are less tannic and rely on their acidities to age in much the same way as red Burgundy. The red wines of the Loire Valley can age very well indeed, gaining depth and complexity with bottle age, and yet are often irresistible when drunk young.
The wines of the Loire marry beautifully with the cuisine of the region, and are harmonious complements to America's modern cuisine as well. Muscadet, whose vineyards lie a (long) stone's throw from the Atlantic, are a brilliant match with shellfish of any kind, and with bottle age can reach out and carry off poultry and rabbit dishes with ease. Look in particular for two of the best domaines: Marc Ollivier and Luneau-Papin. If sauvignon blanc is your thing, then one can do no better than Sancerre or Pouilly-Fumé, as this grape excels in these flinty and chalky soils. These wines marry brilliantly with vegetable dishes and seafood of any kind, and often Loire chefs will serve fish with a wide array of fresh vegetable-based sauces or purées to push the marriage with sauvignon blanc to new heights. The other world class pairing for these glorious wines is goat cheese, and particularly the fabulous "Crottin de Chavignol" (from one of the top villages in the Sancerre appellation), which many will argue is the world's greatest chevre.
In Pouilly-Fumé, the undisputed king is Didier Dageneau. In the larger appellation of Sancerre, there are dozens of options for producers making world-class whites in the same league, and many can offer a bit better value than Monsieur Dageneau. Some of my favorites including Edmond Vatan, François Cotat, Hippolyte Reverdy, François Crochet, Thomas-Labaille, Pascal Cotat, and Lucien Crochet. While Sancerre is best known for its whites, there are also beautiful rosés and a small amount of red wine made from pinot noir here as well.
Chenin blanc can offer a stunning array of options at the table as well, as it can come bone-dry (Sec), off-dry (Demi-Sec), or made in a sweeter style (Moelleux), and it also makes lovely sparkling wine. Chenin is wonderful when finished dry with a wide array of dishes, from seafood to poultry, and with a bit of residual sweetness is magical with pâtés, foie gras, and one of the regional specialties, pork rillette. Interestingly, semi-dry chenin can almost play the role of a red wine at the table. While it may not be able to carry red meat dishes, it is terrific with rabbit, game birds, chicken, and turkey. Vouvrays are the best known Loire wines made from chenin (ranging from dry to sweet), but do not overlook neighboring Montlouis (for a similar panoply in a slightly more understated style). Amongst my favorites are Domaines Huet, Clos Naudin, Pinon, Champalou for Vouvray, and François Chidaine for both Montlouis and Vouvray.
With Loire Valley red wines, Chinon is undoubtedly the best known (thanks to the proselytizing of Rabelais several centuries ago), and is the most tannicly structured of these cabernet franc-based wines. Domaine Charles Joguet is the best known estate here (and now fully back on form after a short slump in the mid-to-late '90s), but Bernard Baudry and Philippe Alliet are also brilliant producers. Bourgueil tends to be more transparent and accessible when young, though top bottlings can certainly cellar for fifteen years. I particularly love the Bourgueil from Pierre and Catherine Breton. Saumur-Champigny is another superb red, with the wines perhaps more red fruity and Burgundian in style than either Bourgueil or Chinon. The Foucault brothers brilliant Clos Rougeard is the gold standard in Saumur-Champigny, and I am also a huge fan of the wines from Domaine Filliatreau.
Keep in mind that the brilliance of the 2005 vintage for red wines in the Loire has produced tannic and powerful examples of each appellation, and the glories of this vintage will only be realized after several years of cellaring. Look more for 1997s, 2002s, 2004s and the soon to be released 2006s for immediate pleasure.