Backyard Bliss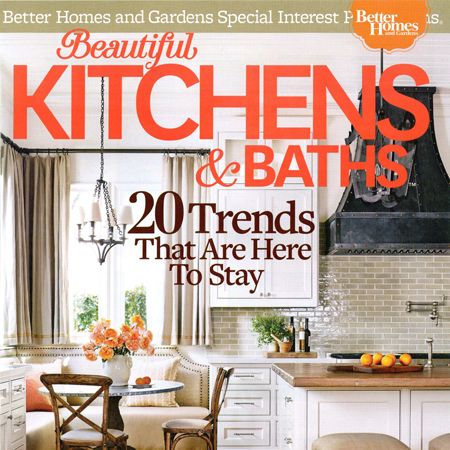 Outdoor kitchens have come a long way since charcoal grills became popular in the 1950s. Back then, the grill stood alone in the backyard. Guests ate their burgers at a picnic table. And if it rained, everyone ran indoors.
Today's outdoor kitchens offer a decidedly different version of backyard living. They've grown in size, scope, and style to become open-air great-rooms that supersize a homeowner's ability to entertain. Such high-end spaces often include a fully outfitted kitchen, a dining area, a living room complete with fireplace and comfy furniture, an entertainment area for dancing, and even a rain-repelling roof.
"It's important to come up with a cohesive plan for your kitchen with a grander vision for outdoor living," says Russ Faulk, vice president of design and marketing for Kalamazoo Outdoor Gourmet. "That's how outdoor kitchens make cooking and entertaining more fun."
Landscape architect Mark Scott, principal of Mark Scott Associates in Newport Beach, California, agrees. "When we design, we create an environment that accommodates the homeowners' specific cooking and entertaining needs while tying into the overall site design," he says.
Amenities aside, it's an outdoor kitchen's connection to the house that separates ho-hum spaces from fabulous ones. Indulge your desire for Cape Cod-style outdoor kitchen when you live in a Tudor home, and you risk having that kitchen look like an afterthought. That's why Scott prefers to use materials that exist within the home's architecture. "We want it to look like the outdoor kitchen was an original element to the house," he says.
Construction materials vary from home to home, of course. The outdoor kitchen for an Italian farmhouse-style home may look best with counters clad in stone veneer, countertops surfaced in old-world-style tile, and a roofed pavilion topped in solid terra-cotta barrel tile, Scott says. A contemporary home's outdoor kitchen may look better with gleaming stainless-steel cabinets and countertops of translucent onyx--backlit for effect.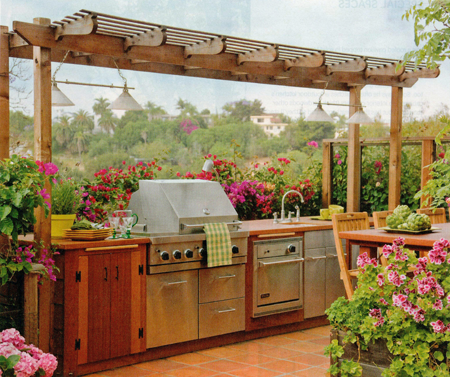 A pergola offers stylish framework for lighting fixtures that illuminate work surfaces after dark.
Interior details are integral to the overall effect, too. Scott says he often matches an outdoor kitchen's cabinetry to interior cabinets (think hardwoods other than teak) but has them weatherproofed so they'll stand up to the elements. This choice requires the working kitchen to have a solid roof structure to protect more delicate woods from the elements, Scott says. "The idea is to create an indoor kitchen outside, rather than just creating an outdoor barbecue center," he says.
Going for the ultimate entertainment venues? For comfort's sake, install shade structures of metal or weatherproof fabric to beat the heat, and infrared heaters to warm guests after dark. Layer in creative components--such as water features--to encourage visitors to move into the garden. And add decorative lighting that illuminates pathways and gathering areas, helping guests transition for day to night.
"You have a wonderful opportunity to extend your living space outside when you create an outdoor kitchen," says certified kitchen designer Mary Jo Peterson, who covers outdoor kitchens for the National Kitchen and Bath Association. "But don't just add more and brighter lights; do it unobtrusively, or you'll take away what's beautiful about being out there."