Viking Featured in July 2014 House & Home Magazine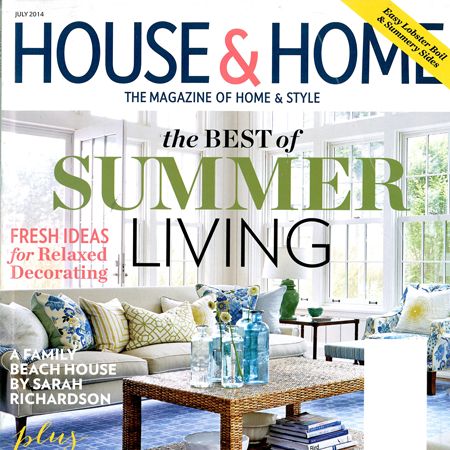 Soft ocean breezes, lush greenery and mountains dotting the horizon - designer Carrie McCarthy's cottage has all the perks of a tropical isle, but is located on B.C.'s Pender Island, known as the Hawaii of Canada for its mild sub-Mediterranean climate. Carrie, husband Cameron Thorn, their five-year-old son, Leighton, and dog, Billie, make the three-hour trip here at least twice a month from their home in Vancouver. While on the island, they take long daily hikes or kayak trips, visit the local farmer's market and enjoy the welcome respite from the harried pace of city life.
Designed with entertaining in mind, the 830-square-foot cottage has just one multitasking great room on the main level and a loft bedroom-office upstairs. In the age-old question of quality over quantity, Carrie and her family subscribe to the quality ethos at every turn, using local materials and tradespeople to craft their petite island getaway. Encircled by towering evergreens, the cottage is grounded by the rugged rock patio out front and its classic shingled exterior, but reveals a surprisingly minimalist interior, almost Scandinavian in its restrained white palette and simple but luxurious materials. We spoke with Carrie about her approach to designing a serene family cottage.
HOUSE & HOME: The incredible sight lines must have been paramount to your design.
CARRIE MCCARTHY: My husband is a developer and her was very aware of the architectural details and how all the views would be framed. He was mindful of where things were located, and where they'd work best. He poured the foundation himself and did anything he could during construction. When he didn't know how to do something, he found out about it.
H&H: How did your approach differ here from your city home?
CM: It's more natural here than in the city, especially on the outside. The patio stone is from the island quarry, and the cedar is from the island, too. It was all locally oriented. The natural colours were brought inside with the poured-concrete floors, the pottery and the chandelier. There's no plastic, nothing that's not natural.
H&H: Was this your original vision for the cottage?
CM: Our initial drawing was a 2,300-square-foot house. But instead of going into debt, we started with this much smaller cottage, which will eventually become our guesthouse. We love to entertain, and we like the idea of friends and family having privacy when they visit us. In the long run, we also plan to build an art and yoga studio with a loft, bedroom and bathroom, as well as a tree house for Leighton.
H&H: Where did you splurge and where did you save?
CM: We saved by keeping it small. And, we splurged on the appliances - a Liebherr fridge, Bosch dishwasher and Viking gas stove. People are surprised we chose these for a cottage, but, for us, it's a place to entertain, and quality appliances were important. On the other hand, I knew I could furnish our space beautifully and cost-effectively.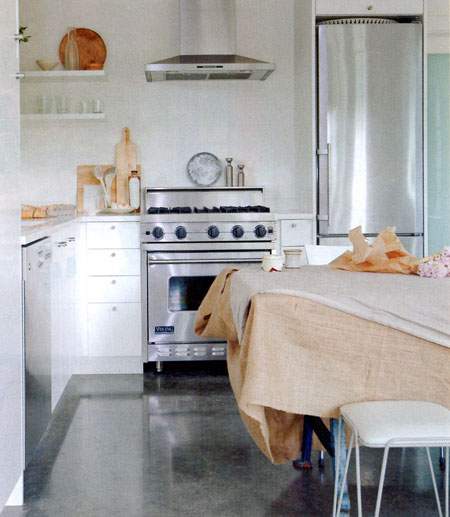 H&H: How does this house suit your lifestyle?
CM: It was about relaxing and being close to nature. Cameron also made sure we had everything we needed technology-wise. Before we leave Vancouver, we call in and turn on the in-floor radiant heat using our phones, so the cottage is warm when we arrive. Our music is all wired throughout the house, so we can easily switch it to play upstairs, or in the bathroom or outside.
H&H: What inspired you to do the more traditional exterior?
CM: We liked the idea of it having a European flair. It feels a little bit pastoral. I think it's going to age beautifully. I can see us growing lavender here.
H&H: The interior, on the other hand, is very spare, but it still feels warm. Why did you take this approach?
CM: Inside is quiet and serene with the same nature-inspired palette. My style is always very quiet. It was much easier to take a lighter approach inside, and the upkeep is easier in a small space when the look is minimal.
H&H: Was it challenging to be restrained with the decor and the white palette?
CM: White is a great canvas to build on. To me, it's unlimited. In the kitchen, when we cook, the food is the colour. I love a quote by the French author Antoine de Saint-Exupery: "It seems that perfection is attained not when there is nothing more to add, but when there is nothing left to take away."