New 524 Series Dishwashers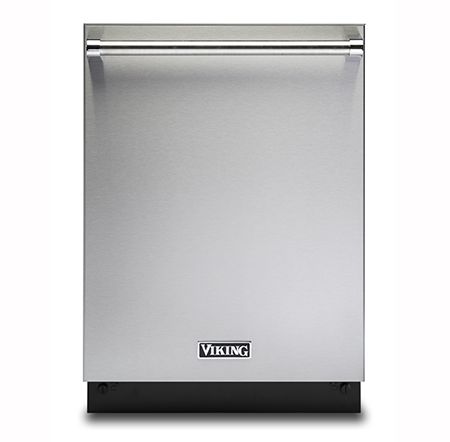 Viking Range, LLC, the originator of commercial-type cooking equipment for the home, is pleased to announce the introduction of a new platform and chassis for the Viking dishwasher. A complete redesign offers an increase in rigidity of the unit and a quieter operation.
The 524 Series Dishwasher offers Multi-Level Washing provides variable pressure washing by adjusting water volume, pressure, and temperature according to load size and soil levels. The multi-level washing uses a stainless steel bottom spray arm, upper spray arm and top nozzle to ensure clean dishes with every wash. The unit also features an intensive lower rack washing with an Extra Spray Arm for enhanced cleaning. The Turbidity Sensor monitors the soil level of the dishes for superior quality and the Triple Filtration System removes the smallest particles for clean water circulation.  The Flow-Through Water Heater is concealed to provide a safer alternative to exposed heaters.  
This 24" dishwasher also has a Turbo Fan Dry function. The fan circulates air throughout the unit for efficient drying performance.
The Quiet Clean™ Performance Package - 42dB is made possible by three layers of insulation. Bitumen, cotton, and full side walls create one of the quietest dishwashers on the market. The brushless discharge and circulation motor is yet another feature that keeps this dishwasher quiet while in use.
Viking offers many different loading capabilities with the 524 Dishwasher models. The industry-leading heavy gauge top and bottom dish baskets hold even the heaviest of dishes.  This dishwasher holds up to 16 international place settings along with silverware and cutlery.  The adjustable top rack has 3-positons allowing for loading of taller glasses in the upper rack or large pans in the bottom rack. A Telescopic rail provides a smooth gliding motion for the upper basket.
The Upper Smart FullSize™ Rack is designed to allow cleaning of cutlery while washing tall items simultaneously in the upper rack. Adjustable stemware shelves can be used for holding ladles or other small utensils and foldable tines provide versatility for the loading of pots, pans, and uniquely sized items in top and bottom racks. The bottom rack has eight split foldable tines and the top rack has six with a variable setting from flat to vertical. A sliding cutlery basket can be moved horizontally to any position.
Other features of the new Viking 524 Dishwashers include a LCD screen with a remaining time indicator, touch button direct access control and a cycle indicator light on the floor. This unit is Energy Star Qualified and a Water Softener model is available.
The numerous cycles and options offered allow for the best care of dishes and glassware. Those cycles and options are as follows:
Pots/Pans Plus – Extra-heavy soil level
GlassCare
Auto – determines the amount of water and temperature, needed
CombiClean – washes delicate items in upper basket and heavier soiled items in lower basket
Regular Wash – Normal soil level
HourWash
Quick Wash – 35 Minutes!
Rinse/Hold – Pre-rinse dishes clean
Options:
Express Function – Sensor detects rinse aid and automatically sets drying cycle duration
Sanitize Function – Raises water temperature in final rinse to meet NSF requirements
High Gloss – Provides superior drying performance
Intense Wash – Helps wash heavily soiled dishes
Delay Start – Allows delayed activation for up to 24 hours
Viking Range, LLC originated ultra-premium commercial-type appliances for the home, creating a whole new category of home appliances. Committed to innovative product design, unrivaled performance and peerless quality, Viking is headquartered in Greenwood, Mississippi, and is a subsidiary of The Middleby Corporation, a long-time leader in commercial kitchen technology. Viking appliances are recognized globally as the foremost brand in the high-end appliance industry and are sold through a network of premium appliance distributors and dealers worldwide.
For additional product information, to locate a Viking dealer in your area, please visit www.vikingrange.com. VIKING is a registered trademark of Viking Range, LLC.
RECENT POSTS IN News at Viking