"Viking is a caring and supportive company" - Ron and Belva O.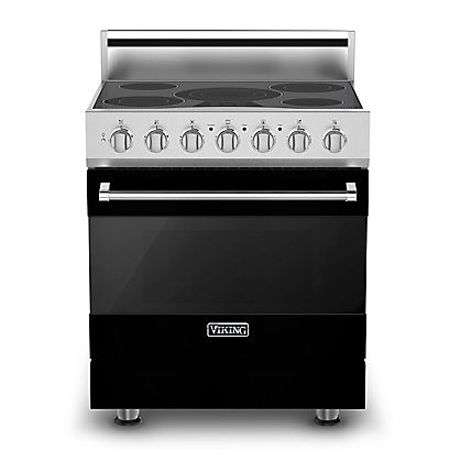 My wife and I love this new electric Viking range.  It is as impressive as all the photos that we reviewed prior to the decision to purchase this unit, even though no electric range was present to review in the store.  We are writing you to express our deepest thanks for all the wonderful help we received from the Viking staff in corporate and your professional Viking staff in Texas.
Your customer support team was excellent and provided detailed information about the delay in delivery of our new electric range.  With all the Holidays the target date for delivery kept shifting.  We eventually received a call from Mr. Jamie Byrd, VP of Viking from Dallas/Plano Regional Office, and he provided additional information about when the range would arrive in Austin.  In addition, he requested us to follow up with him to see how the delivery went and if we were satisfied with the range.
Once the range arrived and was installed, we turned on the oven to clean, as instructed by your user guide, but the fan made a loud screeching sound.  So we turned off the range and called Mr. Byrd.  Mr. Byrd was so kind to return our call even though it was during the weekend.  Mr. Byrd was so nice and helpful.  He contacted Mr. Rick Wilson, Viking, in Houston who in turn promptly called us about our concern. Mr. Wilson was very nice and understanding and said he would have Mr. Michael Cain, Repair Specialist, from Viking contact us and set up an appointment to repair the range.
Mr. Cain called the next day, set up an appointment for the following day to repair our range.  Today, Mr. Cain arrived on time and replaced the fan motor for the oven.  In addition, Mr. Cain checked the unit and found the electrical connection needed some attention and took care of that as well.
Mr. Cain answered all of our questions we had about the use and operation of the range.  We can see why you have Mr. Cain as your Special Repair person.
He is absolutely the perfect person to have trouble shoot special circumstances and issues.  I am sure you are glad to have this quality of staff and we were very pleased with his professional way of resolving ours issues with the range.  Mr. Cain has such a warm and honest approach to the repairs, he felt like family by the time he left our home.
Again, all of your Viking staff were positive, friendly, and very supportive.  It is nice to receive such care and attention to detail.  This electric range and the Viking over-the-range microwave oven (RVMH330SST) is our first Viking appliance purchase and we are very pleased with your company, your staff and your products.
In our opinion, Viking has demonstrated to us that Viking is a caring and supportive company which stands behind its products with detailed and timely attention that one would except from Viking.
God Bless,
Ron & Belva O.