Cooking Up a Dream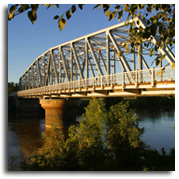 Fred Carl, Jr., is a visionary. You'd never realize it just by looking at him. Short and stocky, with intense blue eyes and a fringe of white hair circling his balding head, he looks more like Santa Claus in khakis than the founder and CEO of a multi-million-dollar empire. His sentences are peppered with phrases like "durn" and "dad-gum," but it takes only a few minutes in his presence to realize that here is a brilliant man who had the persistence and determination to realize a dream ... a dream that involved finding his wife a stove like the one her mother had owned. And in the quest for that dream, he brought life and hope to a dying little Delta town Greenwood.

Fred, a native of Greenwood, Mississippi, graduated from Greenwood High School in 1966. He first attended Mississippi State University but left after only one semester and transferred to Mississippi Delta Community College near his hometown.  As the Viet Nam war heated up Fred enlisted in the Navy Reserve rather than waiting to be drafted and served two years active duty, stationed in Iceland.  He then returned home and went back to college at Delta State University while working part-time at a local architect's office.  After graduating from Delta State with a Bachelor of Business Administration degree, he entered the recently established Mississippi State University School of Architecture, but a job offer "too good to turn down" soon ended his architecture schooling. A Vietnam-era Navy veteran and a fourth-generation building contractor for his entire adult career, he spent the years after college designing and building homes and buildings.

In the early 1980s, Fred was building a new home for himself and his family. He asked his wife, Margaret, what kind of stove she wanted in her new kitchen and discovered that she longed for something similar to the shiny white and chrome porcelain Chambers range she had learned to cook on when she was a child. The stove was a heavy-duty classic, but it was no longer in production. Fred fancied a true restaurant range and offered that as a possible alternative but knew a restaurant range wasn't really suited for use in a home because of the intense heat it put off, being hot to the touch when in use, the extra weight and the fact that its oven had no broiling capability. After an extensive search, he discovered that there was no commercial-style range being produced for the home. "I found it unbelievable that there was nothing like this and that no one recognized the need," he said. "No one saw the niche." So he sat down at his familiar drawing board and, after countless late nights, arrived at a design for a high-end home range with the look, styling, cooking power and features of a professional range but with the needed features of a high-end residential gas range, something that didn't exist at the time. As the drawings progressed and he became convinced that he was on to something, Fred held a brainstorming session with a small, local ad agency owned by a good friend to come up with a name for the product and the company. The goal was to generate a strong name that would embody the concept of commercial-type stoves for the home. After narrowing the list down to five names, the group unanimously decided on Viking.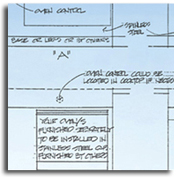 After more than a year of research, Fred was ready to take his drawings and specifications to manufacturers of commercial ranges in hopes of them making this new residential product for him. But they laughed at him, told him he was "nuts," and turned him away, saying people would never buy such a product. For several years, he traveled around the country, peddling what he felt sure was a good product, and yet never letting his "range project" stand in the way of building a client's house or building on schedule. "One of the hardest things I had to do was keep going," he said. "I knew the project could succeed." Finally, a company in California agreed to manufacture his range, and, after the first stoves were delivered, demand grew so rapidly that production couldn't keep up. Fred moved production to a company in Cleveland, Tennessee, but that company too was soon overwhelmed. That's when Fred decided to move his manufacturing plant to Greenwood and, in the process, transformed his hometown. Setting up headquarters in Greenwood was not a difficult decision. Fred had always loved Greenwood and wanted to do something good for his hometown. "I love my hometown. I was born and raised here and there's nowhere else I wanted to go," he said. "I used to feel uncomfortable leaving Greenwood, and as I got older, I felt uncomfortable leaving the Delta. It's still that way. When I get to the edge of the Delta and see those hills, I just start feeling funny leaving the Delta. This is where I belong." And so Viking Range came to Greenwood. In a rented warehouse that, ironically, his father had built back in 1957. The first locally-manufactured Viking range came off the line in December of 1989. And the rest, as they say, is history.

Since those early days, when there were less than 20 employees manufacturing a single product, the free-standing range, Viking Range, LLC has grown to approximately 1200 employees worldwide and produces a complete line of kitchen products, including built-in ranges and cooktops, refrigerators, refrigerator/freezers, built-in wall ovens, warming drawers and refrigerated drawers, downdraft ventilation systems, dishwashers, food waste disposers, wine coolers, and outdoor grills. Today's products also include a line of culinary items: countertop appliances, cookware and cutlery. The appliances and culinary products can be found in the homes of major movie stars, chefs, and heads of state and are frequently featured in many well-known publications.  The White House even has one.  Although the recent nationwide economic woes have affected Viking, forcing a series of layoffs, the company is still the largest employer in Leflore County. Fred is dismayed by the layoffs; each employee, no matter what their position, is like a family member to him. In fact, employees often refer to themselves and their co-workers as "the Viking family," and Fred's goal is to maintain a family atmosphere. All his employees, from the lowest to the highest, call him by his first name because, "My father was Mr. Carl; I'm Fred," he says.  He gives his employees plenty of leeway to do their jobs, yet remains very hands-on in the day-to-day operation of the company. Fred, surprisingly, doesn't know how to cook, but he definitely has his "finger in every pie" throughout the company. His willingness to work right alongside his employees, his down-to-earth attitude, and his attention to detail has earned him the loyalty, respect, and admiration of those who work for him.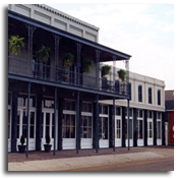 Viking's corporate headquarters are located in an entire block of historic brick warehouses that were once used to grade and store cotton. The buildings were restored and updated by Fred and Viking, leaving the facades and interiors as intact as possible. Almost every building features a skylight that was once used by cotton factors because bright natural light was required to accurately grade cotton. The block was formerly known as "Cotton Row" and the heart of corporate headquarters is located in the old Greenwood Opera House.  The Viking Cooking School and Training Center are located in what was once the very first Ford dealership in the Mississippi Delta. Fred chuckled and said, "I get a kick out of that every time I walk in the door. My parents bought me a 1966 Mustang from the showroom where our display kitchen is now." In addition to the twelve office buildings, Viking has four manufacturing plants and a distribution center located in Greenwood.

And as if creating employment wasn't enough, Fred has been buying and restoring many of the abandoned and neglected buildings on Greenwood's main street. The project began simply enough ... Viking needed a decent hotel for visiting salespeople, so the old Irving Hotel, empty and abandoned for many years, was purchased and renovated, literally from the inside out. The hotel was renamed "The Alluvian," in tribute to the alluvial plain from which the Mississippi Delta was created.  After The Alluvian, the restoration of buildings by Fred and Viking continued and almost three blocks of buildings have been restored so far and, in addition to the boutique hotel, house a luxury spa, a Viking retail store and cooking school, restaurants, a bakery, antique shops, clothing shops, a book store, gift shops, and specialty stores, as well as upscale apartments above several of the businesses. Downtown Greenwood is once again bustling with activity.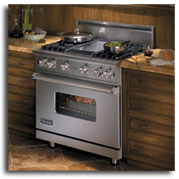 These days, Fred's mother still lives in the house where he grew up, and Fred and Margaret live right next door. Fred's father, Fred Carl, Sr., was a frequent and welcome visitor to the Viking facilities until his death in 2003 of complications from Parkinson's disease. Fred never did become an architect, but he credits the experience with helping him launch Viking. "Not fulfilling my dream to finish architecture school was a major blow. However, it instilled in me the determination not to let a dream slip away again. Missing out on one dream enabled me not to miss out on another."

Where are Fred and Viking headed next? Fred doesn't feel compelled to divulge research and development plans, but he remains intensely committed to Greenwood.  "Greenwood is my hometown," he said. "It means a lot to me to think I've made a positive economic impact on our community and I want to help it continue to thrive and grow. Margaret and I have been fortunate because we were always surrounded by good people who believed in this project and who gave me a tremendous amount of encouragement.  There is still so much potential for development of new products and we've shown that it can be done right here in the Mississippi Delta. Who knows where we will go from here?"

Who knows, indeed?  I've been part of the Viking family for six years now. I know without a doubt that Fred will continue directing the future of his dream as long as possible, and he'll be doing it from that row of old brick buildings on the Yazoo River.