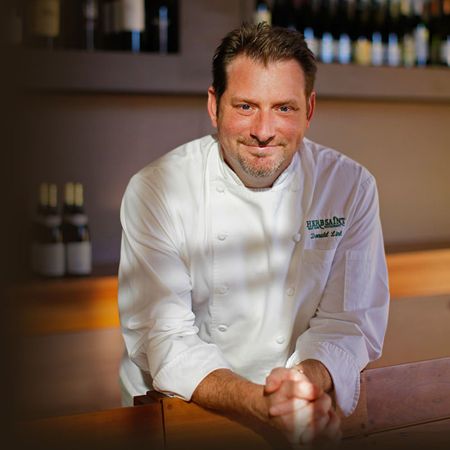 The highest calling of wine is its accompaniment to great food. In addition to being delicious, it should amplify the best qualities of the food, all the while refreshing the palate. For food prepared with a deft touch, no wine excels in this role like Burgundy, both red and white. Its silky elegance, depth of flavor, and minerally framework allow a spectrum of great cuisines to display the array of nuances that make them distinctive. It's Bach playing to an Epicurean stage.
The source of some of the greatest Burgundies is the venerable Bouchard Pere et Fils, a firm dating back to the late 18th Century, that has produced a remarkable series of vintages since 1999. Thus, it was a delight in early October to participate in a sterling dinner in New Orleans at which Bouchard's 2006 wines were introduced by Luc Bouchard, representing the 9th generation of the Bouchard family. The dinner for around 15 local wine aficionados was arranged by Ric Hopper, New Orleans wine merchant and highly-respected Burgundy authority, and was held at Herbsaint Bar & Restaurant, whose chef/owner Donald Link was the deserved recipient of the illustrious 2007 James Beard Award for Best Chef in the South.
We gathered in lively conversation beforehand, and, to prime the palate for great chardonnay, we were served the Meursault Les Clous. Perennially, this is one of the better values in white Burgundy and the '06 is true to that reputation. For around $50, one is hard-pressed to find a Meursault with this richness, concentration of flavor (citrus and tropical fruits) and freshness. M. Bouchard explained that winemaker Philippe Prost chose to pick his grapes before most vignerons and thereby retained the acidity of the grapes and avoided the over-ripe flavors and texture found in the wines of some of his peers.
Chef Link commenced the dinner with a pair of shrimp, stuffed with a mild brandade and fried, served on a bed of fennel slaw. For a brilliant and most generous pairing, M. Bouchard served both his premier cru Meursault Genevrieres and grand cru Corton Charlemagne, both of which were stunning examples of how wonderful this vintage can be. Some commentators have opined that many of the '06s are imbued with non-traditional exotic flavors, not unpleasant, but not the subtle admixture of sweetness and zest and precision for which great Burgundy is appreciated. These two Bouchard wines do not fall into this category. The Genevrieres displays a typical core of soft citrus and white flowers with a firm underpinning of minerals, resulting in a delicious, clean aftertaste that urged one back to the sumptuous shrimp dish.
The Bouchard's Corton Charlemagne has become a benchmark for great white Burgundy. It is a multi-dimensional wine of serious magnitude. Embodying power and finesse, sweet and pungent flavors, depth with a filigreed frame of wet stones, a captivating complexity and liveliness, this is a wine that is seldom surpassed. Prost's ability to capture the best of this great vineyard every year despite varying weather conditions impacting the vines is a testimony to his exceptional skills and to the nobility of this parcel of land. Among the participants, the anticipation of tasting this wine after 10 more years of aging was a joyful topic of discussion.
We then turned to the reds, serving the Monthelie Les Duresses alongside a baked pasta (strozzapreti) dish with ham, Gruyere and mushrooms. This was an excellent pairing, with the Monthelie's red berry flavor and somewhat rustic texture providing enough sharpness to cut the richness of the pasta and cheese. Monthelie is one of the lesser appellations of Burgundy, located southwest of the more illustrious village of Volnay. However, as with other lesser-known villages, talented winemakers here are now cultivating excellent fruit on well-chosen plots and devoting serious vinification techniques to the wine's production. The result is an excellent, if not particularly refined, wine, which offers a less expensive alternative to the Burgundies of more famous vineyards. It is a very good food companion.
The next course was a thick slice of stuffed leg of lamb, accompanied by the Savigny-les-Beaune Les Lavieres, a premier cru possessing a charming character of red fruit blended with notes of wet leaves and dark chocolate. Presently, this wine is somewhat closed on the nose, but there was enough subsurface substance and firmness on the palate to suggest that in five years this will be a delightful wine. It served as an excellent counterpoint to the full texture and richness of the lamb, which is one of the great attributes of Burgundy; it is equally adept at either complementing or contrasting with a variety of food textures, each with pleasing effect. There are not many wines so capable and versatile.
As the dinner wound down, we sat with our multiple glasses, retasting the wines to see how they had developed in the glass, and discussing how pleasant such occasions are. For it is never just the wine and food, however great, that creates memorable experiences; it is also the setting and camaraderie, the full context of dining well. We all should be so blessed.