Diana Kennedy
In terms of introducing to Americans an understanding of various national cuisines, the most influential writers, assuredly thus far, have been Julia Child (French), Marcella Hazan (Italian), and Diana Kennedy (Mexican). However, the British-born Kennedy has provided an additional dimension, that of the pioneering anthropologist. Perhaps more than any culinary writer, she has served as the conduit for preserving a wonderfully traditional regional cuisine by traveling more than a million kilometers around her adopted country, alone, in a simple pickup truck, seeking sources for documenting the techniques and ingredients passed down orally in remote villages for centuries.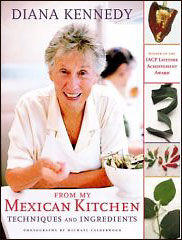 Now in her mid-80's, she came to Mexico in 1957 to marry Paul Kennedy, a foreign correspondent for the
New York Times
. Through Paul, she developed a fortuitous friendship with Craig Claiborne, the food critic for the
Times
. Through their discussions, Claiborne was impressed with her knowledge of the Mexican cuisine to the extent that he strongly urged her to write a cookbook. And ultimately, after Paul's death in 1967, he persuaded Diana to research and write the book,
The Cuisines of Mexico
, now considered one of the modern culinary classics. Over the succeeding 30 years, she wrote 6 more books. The latest,
From My Mexican Kitchen
, focuses on basic, but thorough, instruction in techniques for preparing the fundamental elements of Mexican cuisine, something she says she should have written in the beginning.
Upon meeting Ms. Kennedy, the first unmistakable impression is that this is a very interesting woman. Her appearance is reminiscent of pictures of Anglican missionaries in the colonies during the early 20th century: handsome British facial features, but with bronzed skin; bright, passionate eyes; strong, leathery, working hands which Yousuf Karsh would have longed to photograph; all together exuding the firm, self-assured kindness and zeal of the women who ventured out into the far reaches of the British Empire.
However, instead of proselytizing to the natives, Ms. Kennedy sought to learn from them in order to convert the rest of the world. She professes that her work was made possible by "the generosity of people in small villages who let me sit in their kitchens for hours watching them prepare meals with primitive tools, and who took me with them to the local forests to forage for exotic ingredients." While this is undoubtedly true, it is equally so that the personality of Ms. Kennedy is the rare one that encourages strangers to trust and help her. In the modern vernacular, she "bonds" rapidly. Her other prominent feature is a constant state of alertness; she misses nothing and you sense that her observations are under frank scrutiny. When she travels, she says it is almost always alone, "to avoid being distracted by someone who wants to talk about somewhere other than where we are."
She became the "savior" of traditional Mexican cuisine, being the first person to empirically research and record the endless regional variations of the cuisine's staple elements of moles, corn masa, tortilla, peppers, beans and meats. She did so in a style that dissuaded Americans away from the familiar notion of the monochromatic amalgamation of thick starch spread across a plate and topped with bean paste and cheap, melted cheese. Her success was evidenced last year when Chef Rick Bayless's Frontera Grill in Chicago won the 2007 James Beard Award for Best Restaurant in America. Anyone who has dined at either Frontera, or his upscale Topalabambo, knows the depths of flavorful delight to be found in true Mexican dishes.
Despite her acclaim (among her many awards, she was admitted to the Order of the Aztec Eagle, the highest honor given to a non-Mexican by the government), she has continued to live alone on her seven-acre ranch in rural Mexico, four hours west of Mexico City, albeit with a loaded pistol under her pillow. There, her principal source of water is rain captured in her cistern, and her electricity is supplied entirely by solar panels on her roof. "My life isn't frugal, it's Spartan," she laughs. But, with an added twinkle in the eye and sheepish smile, she adds, "However, I do always keep a little foie gras in the freezer. Everyone should."
She claims her real luxuries are "clean water, wonderful weather, and quiet, which lets me hear the birds sing. I also love eating with silver and drinking good tea." That doesn't sound like too much to ask for someone who has enabled the world to experience a remarkable cuisine.