Grilling Recipes from Bobby Flay
I'm going to put a new and colorful twist on southwestern cuisine," said Bobby Flay, host of Food Network's FoodNation and Boy Meets Grill, just before the 1991 opening of the now-celebrated Mesa Grill. Since then the flame-haired man from Manhattan has earned critical acclaim, including Gael Greene's choice of Mesa Grill as best restaurant in 1992. Mesa Grill's two-star review in The New York Times reported that "the sassy fare at Mesa Grill surpasses anything of its kind elsewhere in New York."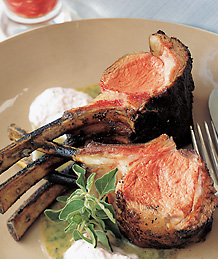 The recognition that Bobby has gained at Mesa Grill for his mouthwatering dishes has built his reputation as a major force not only in New York's culinary scene but also nationwide. In May 1993, Bobby was voted the James Beard Foundation's Rising Star Chef of the Year, an award that honors the country's most accomplished chef under the age of 30. The French Culinary Institute, his alma mater, honored him in 1993 with its first-ever Outstanding Graduate Award, which recognizes the school's most accomplished alumni. And his first book, Bobby Flay's Bold American Food (Warner Books, 1994), won the 1995 International Association of Culinary Professionals award for design. Not one to rest on his laurels, Bobby has authored five more cookbooks: From My Kitchen to Your Table, Boy Meets Grill, Bobby Flay Cooks American, Boy Gets Grill, and Bobby Flay's Grilling for Life.

Bobby fell into cooking at the age of 17 when he took a job at New York's Joe Allen restaurant. Eventually, he so impressed the management that Joe Allen paid his tuition to the prestigious French Culinary Institute. But French cuisine was not to be Bobby's destiny. After restaurateur Jonathan Waxman introduced him to southwestern ingredients, Bobby – instantly drawn to indigenous American foods such as black and white beans, chiles, and avocados – was determined to explore the possibilities of southwestern cuisine as an important and distinct culinary style for America.

From 1988 to 1990, Bobby experimented with his new culinary passion at New York's Miracle Grill, where his colorful southwestern creations earned him something of a cult following. When Bobby's own Mesa Grill opened its doors in 1991, his reputation as a major New York chef was sealed. He continued to soar with Bolo, his second New York restaurant, which Bobby (Bo) and partner Laurence Kretchmer (Lo) opened in November 1993. Dedicated to exploring Spanish cuisine, Bobby's innovative menu at Bolo dazzles adventurous palates daily.

In 2004, Bobby opened the Mesa Grill Las Vegas in Caesar's Palace. His newest American Brasserie, Bar Americain, opened in New York in the spring of 2005.
Grilled Chicken Breasts Filled with Fontina & Prosciutto with Sage-Orange Vinaigrette
Grilled Lamb Chops and Oregano Vinaigrette with Radish Tzatziki