Meeting Mai Pham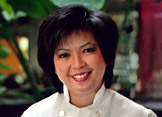 Mai Pham is the chef and owner of Lemon Grass Restaurant in Sacramento, California, a nationally acclaimed restaurant featuring Vietnamese and Thai cuisine. A respected expert on Southeast Asian Cuisine, she writes for national publications, conducts cooking classes and seminars, and serves as a consultant to various food organizations throughout the U.S.
Mai is the author of Pleasures of the Vietnamese Table. Her first book, The Best of Vietnamese and Thai Cooking was featured on National Public Radio 'Fresh Air' and in Martha Stewart Living and Art Culinaire magazines. A food columnist for the San Francisco Chronicle, she also contributes to the Los Angeles Times, Fine Cooking, and other major publications. In addition, she teaches at the Culinary Institute of America at Greystone.
Mai came to the U.S. with her family after the fall of Saigon in 1975. After graduating from the University of Maryland with a degree in Journalism, she worked as a television reporter until 1988 when she decided to follow her passion for cooking and opened Lemon Grass Restaurant. Mai, who is in the process of opening a second restaurant, was able to spare a few minutes to answer some of our questions.
Where are your culinary roots planted?
They were born in Vietnam but raised in Thailand.

What is your earliest kitchen memory?
Helping my grandmother pluck off the feathers of a chicken.

How are passing down your culinary heritage?
Through cookbook writing, teaching, conduct travel tours, and doing food photography.

When you give a party, what's on the menu?
Definitely green papaya salad and Vietnamese crepe because guests can cook their own.

What ingredients do you always have on hand?
Lime, ginger, and chilies.

What is in your refrigerator at home?
Mangoes, mangoes!

What is your most used cookbook?
I'm a professional chef so I tend not to use books, but occasionally books on baking because we have beautiful stone fruit trees. With so many peaches and nectarines one has to find different ways to eat them other than fresh – such as cobblers and pies.

What is your favorite kitchen gadget?
A mortar and pestle, and a mandoline.

What is your most memorable meal?
The meal my grandmother cooked for our wedding. It was all homemade, rustic, and natural – even the decorations. There were columns made from carved out banana trunks, and flower arrangements with carved pineapple.

Do you have any guilty pleasures or food indulgences?
Too much ginger ice cream and roast duck!

What are your favorite foods?
Simple foods, such as noodle soups and salads.

What advice would you give to an aspiring chef?
It's not for the weak at heart. Cook what you love, and remember the people and the land that produced the ingredients for you to cook.

What is the most useful ingredient?
Fish sauce.

What is the one thing you will not eat?
Snake!

What food reminds you of childhood or takes you home when you are traveling?
Hot, steaming bowls of noodle soups (correctly prepared of course).

Who or what influenced you to become a professional chef?
After escaping from the war in Vietnam and arriving in this new country, I wanted to reconnect to my culture and cooking allowed me that opportunity.