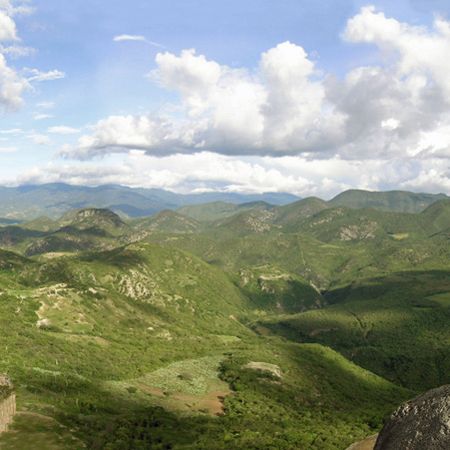 "We come to Oaxaca for a reason," says Rick Bayless. "Here, we can see the roots of Mexican cooking laid bare. In Mexico City, the glamour would get in the way. But Oaxaca, the second poorest state in Mexico, has become known for its folk cooking and its folk art. I am not saying that Oaxaca lacks complexity. Oaxaca is at the heart of mole country, a triangle along with Puebla and Veracruz that defines the most complex Mexican cooking," says the Chicago-based chef, author, and television host who has made it his lifework to codify the dishes of Mexico for Americans who heretofore worshiped at the Velveeta enchilada altar.

Dressed in jeans and a red t-shirt, his hair tousled, his Vandyke trimmed, his eyes bright and earnest behind a pair of mod glasses, Bayless looks and sounds like a waylaid doctoral candidate, still enthralled by his research. "You are in the birthplace of corn, the place where, through intensive cultivation, a native grass became the staple grain we know today," says Bayless, as twenty-odd pilgrims, gathered poolside at the Camino Real Hotel, a onetime convent elaborated with frescoes, nod as one.

The week ahead will be intense, Bayless tells us. "I don't expect you to become expert in Oaxacan cooking," he says as the cathedral bells sound, thick and resonant and full of portent. "My goal for you is simple. I want you to learn to cook with the heart of a Mexican cook."

More nods now. A few smiles. And then we, the students on this annual Culinary Institute of America (CIA)/Viking Range sponsored foray in experiential learning, reach yet again for our margaritas, drinking deeply, reveling in the marriage of tequila, salt, and lime, steeling ourselves for a week of study.

Experiential learning is a 21st century buzzword, a term, like cultural tourism, which is bandied about with increasing frequency. The concept is that one learns by doing. The conceit is that the doing is rarely arduous; that if one is, say, a fool for Mexican cooking, then a mad dash through a Oaxacan market in search of the peculiar chiles that add the bass note in a mole negro is a don't-throw-me-in-that-briar-patch pleasure.

The possibilities are now seemingly endless: Whiskey trails that wend through Tennessee and Kentucky. Summer farmstead tours of Iowa. Designated driver required Napa Valley vintner caroms. Rickshaw pho tours of Ho Chi Minh City. Prosciutto pilgrimages to Parma. And yet many of these are recent arrivals on the culinary and cultural tourism scene, yet to prove their mettle. Established in the late 1990s, the annual Bayless escorted Oaxacan expedition is a comparative graybeard amongst a scrum of adolescents.

The approach is a blitzkrieg, a lightning strike through the heart of vernacular Mexican cookery. A cynic might compare the speed with which we attack our subject to one of those vacuous ten-countries-in-seven-days European jaunts. And yet a trip like that is all veneer. In the hands of Bayless and his compatriots, speed of immersion is a teaching tool, one that reveals its efficacy on our first morning, when we are divided into groups of four, given shopping lists, and set loose in the sprawling mercado at the center of the city. No one evaluates our group's language skills – or for that matter our ability to read a map. We are, after all, grownups. And it is expected that our devotion to all things edible will propel us.

The market is a maze without a Cenotaur, a Babylon of voices, smells, and temptations. Our group is charged with gathering ten or so ingredients, everything from pasilla peppers to tomato criollo. One of our band takes the lead. She can speak passable Spanish. And she has the drive, the competitive spirit of a sandlot ten-year-old. Meanwhile, I dawdle, ogling the ropes of chorizo that dangle from the butcher stalls, sniffing wheels of queso fresca and leaves of epazote, snacking on anise-spiked rolls and chile-roasted grasshoppers, the latter of which taste something like sun-dried tomatoes. I even down a mid-morning shot of mescal, the smoky maguey-distilled liquor that is endemic to Oaxaca.

Despite my best efforts, our group accomplishes its goals. And chiles in hand, bags bulging with tropical fruits of divine provenance, we, along with our fellow scavengers, gather for an after-school treat. At Chaguita, a stall famed for its Baskin-Robbins variety of ices – among which the muted corn and phosphorescent avocado flavors are standouts – we dig plastic spoons deep into footed bowls and swap war stories of our time spent in the aisles.

I recall the next few days as a blur of caloric indulgence. Of black beans with masa dumplings. Of mango lobes bathed in crema. Of taquitos brimming with picadillo. Of red snapper, laid open, slathered with chipotle mayonnaise, and baked in a mesquite-fired horno. Of chiles stuffed with tuna, or swaddled in a sauce of walnuts and sherry, or dipped in a lacey egg batter and fried. Most profoundly, I recall tamales that defy American notions of the form. Crepe-like in their delicacy, shaped like bundles rather than cylinders, and perfumed with, among other aromatics, squash blossoms, they serve as mile markers on my journey of discovery, elemental proof of the complexity evident in Oaxacan cookery. 
 
Each person learns in his or her own way. Most mornings of the seven-day trip begin with a lesson. One morning, I arrive at our makeshift cooking theatre to find Bayless, perched stork-like at the edge of a kitchen counter, preaching the gospel of chilaquiles (a casserole of chile and tomato smothered tortillas) while explaining that, among his wishes for us is that we learn to be "not recipe followers but practitioners of a cuisine." Another morning, Amado Ramirez awaits with a mound of masa and a mind bent upon explaining how, by way of a metate and a comal, rough field corn begets feathery tortillas. 

Although I annotate each recipe with prodigious notes and revel in the opportunities for one-on-one instruction in subjects as wide-ranging as pairing wines with Oaxacan cooking (Rieslings from Alsace play well off hoja santa, the omnipresent resinous herb; Syrahs from Australia complement dishes driven by dried chiles), I take the most pleasure and glean the most knowledge from walkabouts, from expeditions to the state botanical gardens and the city in the clouds at Monte Alban. Less obliquely, we visit the Mayordomo chocolate factory; the rug weaving village of Teotitlan; a roadside goat barbacoa purveyor; and the La Guerita stall in the Merced market, justly famed for its huitlacoche and squash blossom empanadas.

In those settings, Bayless and his cohorts are no longer instructors. They are our doting Mexican aunts and uncles – intellectually curious, fluent in Spanish language and Oaxacan idiom, and ever inclined to indulge favored relations. Mention that you've always been curious about the place of squash blossoms in Mexican cookery and a bag of blooms appears and an informal class in sourcing begins. Express curiosity about why a market vendor offers a seemingly incongruous selection of orange, carrot, and beet juices, and you are soon sipping on a Technicolor swirl of the three.

By day four, my note-taking slows. And my digital camera no longer flashes every three minutes. I've been paying attention enough to quit learning and start living.

I now begin my mornings with a steaming cup of tejate – a puree of cacao beans, cacao flowers, mamey seeds, and masa. As for my evenings, I've come to embrace the smoky-sweet possibilities of mescal; I've come to learn that this artisanal beverage – made from the heart of the maguey plant – differs from the frat boy tequila that flavors typical American margaritas. I know this because I have stared down into an earthen pit, filled with roasted maguey hearts. I know this because I have sipped single-village mescals that bear all the complexity of single malt Scotches.

What's more, by way of much time spent at the table, I know that friolles negros criollos hold their color better than regular ol' black beans. I know that a proper tortilla does not begin with masas harina but with a handful of field corn and some elbow grease. And I know, after a trek to Susana Trilling's cooking school in the arroyo beyond Oaxaca, that mole negro – the nut-thickened, chile-fired, chocolate-slicked heart-and-soul of Oaxacan cucina – is as complex a dish as billed. In fact, it may be the most haunting dish I have ever tasted. 

By day five, I grow somewhat weary of instruction. Although Bayless and his compatriots are among the best instructors a student of Mexican cuisine could conceive, I yearn to walk the streets of Oaxaca on my own; to gawk at the lovely rainbow of adobes that ring the Zocalo; to seek out the locally beloved but hard-to-find tlayuda stand that opens at nine in the evening and closes at four in the morning; to track down the woman who, on occasion, peddles pumpkin tamales in front of the cathedral; to discern and devour the ultimate chorizo con queso taco. In short, I want to eat, to live like a Oaxacan might.

Six days after I first set foot on Mexican soil, I break free and taste Oaxaca on my own terms. I no longer want an escort, an interlocutor. And that may well be the ultimate endorsement of the Worlds of Flavor approach. Although my Spanish has improved little over the past week, my knowledge of Oaxacan cookery is now comparatively formidable. Put another way, I still can't manage a Spanish translation of "Where is the nearest bank machine?" but I know the difference between pasilla and guajillo peppers. And I know that the leaves of wild avocados impart a beautiful anise flavor to pit-cooked goat. And I know, once and for all, that the best entrée to a culture is by way of its cuisine. 

Originally published in the U.S. Airways magazine.