The Golden Age of California Cabernet Sauvignon
California cabernet sauvignon has never been more popular than it is in the first decade of the twenty-first century. But has it ever been better than it is today? The answer to that question depends on one's criteria for evaluating today's top cabernets and comparing them with the wines of yesteryear. Certainly California's cabernets have never been more delicious upon release than they are today, but to many wine lovers this forward appeal comes with a price tag: a shorter cellar lifespan. For most cabernet enthusiasts, the more "fruit-forward" style of today's best wines is a blessing, as the vast majority of these cabernets do not demand extended bottle aging prior to the wines showing at their best. Simply fire up the grill, and while the meat is marinating, head down to the cellar and reach for a bottle of the first good-looking cabernet that catches your eye. This is in notable contrast to most major wine-producing regions in Europe, where top red wines will often need at least a decade of cellaring prior to beginning to soften and drink well. For many in the wine trade, this attribute has been seen as one of California's great advantages during its meteoric rise from country cousin to lord of the manor – ever since California cabernets first burst onto the international wine scene during the great wine challenge in Paris in 1976.
As many wine lovers may already know, in 1976 an English wine merchant living in Paris named Steven Spurrier organized a competitive tasting of the best California wineries of the day and their counterpart "blue chips" from Bordeaux and Burgundy. The wines were all served blind (meaning that the wines were not revealed until after all had been evaluated) to a star-studded lineup of French wine judges. California wines won, as the top red wine was a cabernet sauvignon from Stag's Leap Wine Cellars and the top white wine was a chardonnay from Château Montelena. Explanations were sought, winemakers' reputations were sullied, and the tasting's methodology was called into question, but all for naught, as the reality was that the California wines had simply carried the day. Both winning wines on that day were from the 1973 vintage in California, which was soon to be followed by an even finer vintage in 1974. The reputation of California wines changed virtually overnight. What followed was a tremendous expansion of the state's acreage under vine, and the number of new wineries simply skyrocketed. Throughout the decade of the 1970s, vintage after vintage in California produced stellar wines, and many winemakers of that era began to dream of an international wine landscape where California would take its place at the very pinnacle of wine-producing regions. And that has indeed come to pass.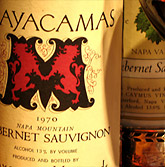 However, despite the state's glowing success throughout the vintages of the 1970s, many California vintners began to change how they made wines in the early 1980s. The rich and dramatic wines of the earlier epoch were replaced by a style that winemakers called "food wines," which they explained were "sculpted" during the vinification process to produce more elegant and refined examples.
Hence vintages from 1982 through the end of the decade produced a dramatically different style of cabernet – wines that were not particularly full-bodied or tannic, and which were designed to offer early drinking appeal. Critical praise for this new style was even more lavish than it had been for the old-style cabernets of the '60s and '70s, and seemingly everything was in place for further success. But after cellaring for a few years, many of the "food wine" cabernets began to fall apart and age poorly, and momentum built for a return to the cabernets of yesteryear. "Sculpted" cabernets lost favor, and most winemakers moved to make richer and more dramatic wines that they felt harkened back to the more heroic style of the '70s, while still taking advantage of all the modern scientific tools that today's winemakers have at their fingertips. The results were wines that were much riper, creamier, oakier, and higher in alcohol than the 1980s' "sculpted" cabernets, and again wine critics loved them. Unfortunately, the jury is still out on whether today's style of cabernets will age any better than the "food wine" cabernets of the 1980s. The early results are not encouraging for those that wish to cellar their California wines.
But there remains the wine made in the vintages of the 1970s (and earlier) upon which California's reputation was built. Many of the cabernets from this era are still glorious wines that have been seemingly untouched by the march of time. They continue to drink brilliantly and offer great enjoyment in the glass at ages thirty and more, while similar wines half their age are already over the hill. Many of the wineries that flourished in the 1960s and 1970s are still familiar names today, but their stars have lost a bit of luster as wine publications have fixated on the newest star winemakers or consultants in California. Wineries such as the aforementioned Château Montelena and Stag's Leap Wine Cellars, as well as other well-known names such as Beaulieu Vineyards (BV), Robert Mondavi, Caymus, Joseph Phelps, Mayacamas, Mount Eden, Ridge, Joseph Heitz, Conn Creek, Freemark Abbey, Sterling (vintages '74-'76), and Inglenook have left behind a legacy of great California wine from earlier decades that is yet to be surpassed in the state's winemaking history.
While many of the cabernets from the 1950s and 1960s are now beginning to slide gently into decline (though many pleasant surprises can still be found), the wines from the vintages of 1970 through 1980 continue to drink magnificently well. A great many are readily found either at auction or from merchants who specialize in older California wines. Look for wines from 1970, 1974, 1975, 1976, 1978, and 1980 from any of the wineries mentioned above. Truly great cabernets that I have tasted in the last year from this era include a 1968 and 1970 BV Reserve, 1970 and 1974 Mayacamas, 1976 Sterling Reserve, 1975 Joseph Phelps "Eisele," 1965 Inglenook, 1970 and 1974 Heitz "Martha's Vineyard," 1976 Caymus "Special Select," 1974 Robert Mondavi (both the "regular" cabernet and the Reserve), and a 1974 Mount Eden.
All of these wines continue to drink beautifully, with ripe and pure fruit, melting tannins, and the added complexity that only time can bring to cabernet. And many of these old treasures sell for less than the newest releases from today's most sought-after producers! My advice is to track down a few of these old gems as the grilling season gets underway. Let them rest comfortably for a few months in your cellar before drinking, as older wines always need to recover after they are moved. Over the course of the summer, drink your younger cabernets when you fire up the grill, and as the autumn starts to threaten, go down in the cellar and open a cabernet from the 1970s to go along with that dry-aged porterhouse. There has never been a better match than a perfectly grilled steak and a cabernet sauvignon from California's golden age.