Chicken Curry
by
The types of curry combinations in Indian cuisine are almost endless. However, there are some curries that appear fairly routinely on restaurant menus in the U.S. Balti is a curry cooked in a special pot; jalfrezi is distinguished by its heat from green chiles; korma is a long-simmered, mild curry with a thick sauce; Madras curry's spicy tomato sauce can be hot to very hot; and rogan josh, usually made with lamb, is a red curry that is usually medium-hot. In England, there's a popular dish called Chicken Tikka Masala in which chicken pieces are marinated in yogurt and spices, skewered and grilled, and then finished in a creamy tomato-based sauce.
This Chicken Curry is most like the latter and is a great dish to serve to those uninitiated in the flavors of Indian cuisine. Not too spicy or hot, it is enjoyed by children and adults alike and is delicious served over Spiced Basmati Rice (see the recipe on this site). The recipe is intentionally low in fat, but if you're not watching your fat intake you can substitute whipping cream for the slurry of fat free half and half and cornstarch. For a slightly sweeter version, a cup of coconut milk also can be substituted.
2 tablespoons plain yogurt
2 tablespoons fresh lemon juice
1 teaspoon salt
1 teaspoon garam masala, or more to taste
3 pounds boneless, skinless chicken breasts, cut into bite-size chunks
1 tablespoon minced, fresh ginger
1 tablespoon minced garlic
1 cup fat free half and half mixed with 1 teaspoon cornstarch
6-ounce can tomato paste
1/2 teaspoon salt
Sliced almonds, optional
Coriander leaves
In a bowl blend yogurt, lemon juice, salt, and garam masala until smooth. Add chicken and mix well to evenly coat chicken. Allow to marinate for at least 30 minutes and as long as overnight. Thread chicken onto skewers and grill over medium heat until browned on all sides. Remove from the fire and keep warm.
Grind ginger and garlic together using a mortar and pestle or pulse together in a small food processor. Combine half and half/cornstarch mixture, ginger-garlic paste, tomato paste, and salt in a skillet over medium-high heat and bring to a boil. Simmer, stirring frequently, for 10 minutes. Add grilled chicken and simmer for 5 minutes longer, until chicken is done. Serve, garnished with sliced almonds and coriander leaves.
Makes 4-6 servings.

Print This Page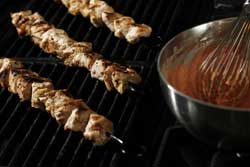 Related Menus
Curry Scented
Related Recipe Categories
Main Dishes

| | |
| --- | --- |
| | Karin Calloway is a working mom living in Augusta, Ga., with multiple freelance jobs and a ton of dirty dishes. |