Mini Catfish Cakes with Peachy Tartar Sauce
by
Crab cakes are celebrated in the South from Maryland to Florida, but good lump crabmeat can be very pricey. U.S. Farm-Raised catfish, on the other hand, is readily available and far less expensive, so I came up with these delicious Mini Catfish Cakes to highlight this domestic ingredient.
Topping the Catfish Cakes with regular tartar sauce is good, but making your own tartar sauce with a hint of spiced peaches takes them over-the-top. The sauce is delicious with any fried seafood, especially catfish and oysters.
Catfish Cakes
1 tablespoon vegetable oil
1 pound catfish, poached, cooled and shredded
1/2 cup fine dry breadcrumbs
3 tablespoons mayonnaise
1 1/2 teaspoons Old Bay seasoning
2 tablespoons chopped parsley
Preheat oven to 350 degrees F. Coat a baking sheet with the oil and set aside. Combine shredded catfish with the breadcrumbs, mayonnaise and old bay in a bowl. Shape into 1-inch patties and place on a lightly oiled baking sheet. Turn cakes over to coat both sides with oil. Bake 8 to 10 minutes, until golden.
Peachy Tartar Sauce
1/2 cup mayonnaise
1 tablespoon fresh lemon juice
1 teaspoon Worcestershire sauce
1 dash Tabasco sauce
3 tablespoons chopped canned spiced peaches
1 tablespoon chopped fresh parsley
Salt and freshly ground black pepper, to taste
Mix mayonnaise, lemon juice, Worcestershire sauce and Tabasco together in a bowl. Fold in peaches and parsley. Season with salt and pepper and refrigerate until ready to serve.
Makes 24 cakes and 1 cup of sauce.

Print This Page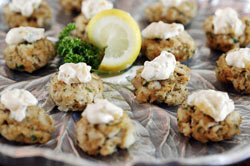 Related Menus
Southern Traditions
Related Recipe Categories
Appetizers

| | |
| --- | --- |
| | Karin Calloway is a working mom living in Augusta, Ga., with multiple freelance jobs and a ton of dirty dishes. |