Lemon-Dijon Chicken
If you're tired of grilled chicken marinated in the same old bottled teriyaki or store-bought marinades, this recipe is for you. Lemon-Dijon Chicken takes chicken on the grill to new heights. The marinade is made with ingredients most of us keep on hand, including Dijon mustard, garlic, olive oil and lemon juice. Fresh shallots and a dried herb blend make it come alive.

The recipe is perfect for grilling on your rangetop grill or Viking outdoor grill. I like to serve the grilled chicken with new potatoes and steamed fresh green beans. Boil the new potatoes until tender, then drain and quarter them. Toss them in a saucepan or skillet with butter, minced garlic, chopped fresh parsley and salt and pepper to taste.


1/4 cup chopped fresh parsley
3 cloves garlic, peeled and halved
1 large shallot, peeled and quartered
1 teaspoon dried herbs de Provence or Italian seasoning
1/2 teaspoon fresh or dried rosemary
3 tablespoons Dijon mustard
Juice of 1 lemon
6 tablespoons olive oil
Salt and Pepper to taste
4 boneless, skinless chicken breast halves

In a food processor or blender, combine parsley, garlic, shallots, dried herb blend, rosemary, mustard and lemon juice. Process until ingredients are finely chopped. Drizzle in olive oil and run until the mixture is fluid. Add salt and pepper to taste.
Wash chicken and pat dry with paper towels. Place chicken in a zip-top plastic bag and spoon marinade over the chicken. Seal bag and refrigerate for several hours or overnight.

Preheat Vikingtop grill or outdoor grill on high for 5 minutes. Place chicken on grill and decrease heat to medium. Grill chicken for 7 minutes per side, until juices are clear and internal temperature is 170 degrees.

Makes 4 servings.

Print This Page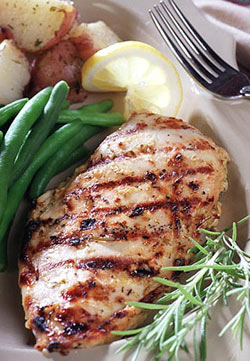 Related Recipe Categories
Main Dishes