Blender Amaretto Pots de Creme with Mocha Java Cigars
by
Can a dessert offer an over-the-top chocolate fix while being quick and easy to prepare. The answer is a resounding "yes!" with these quick Blender Amaretto Pots de Crème. The recipe is as simple as pouring steaming hot whipping cream over dark chocolate chips, egg yolks and brown sugar in your blender and then letting the blender do the rest of the work. A pinch of salt and some almond-scented Amaretto bring out the flavor of the chocolate.
While I love the hint of almond from the Amaretto, you can substitute other liqueurs for more flavor options. Crème de Menthe would make these into chocolate-mint treats, and Kahlua's coffee flavor would add spark to the chocolate.
I like to serve these pots de crème in demitasse or espresso cups, but you also can use small ramekins. A fanned strawberry would make a lovely garnish, but I like to take this one step further and garnish these chocolate puddings with Mocha Java "Cigars," further enhancing this chocolate experience.
1 cup whipping cream
1 cup dark chocolate chips (or 6 ounces chopped bittersweet chocolate)
2 egg yolks
2 tablespoons light brown sugar
Pinch of salt
1 tablespoon amaretto
Heat whipping cream just to boiling over medium-high heat in a small saucepan. Place chocolate chips, egg yolks and brown sugar in a blender. Add a pinch of salt, cover and blend to chop up the chocolate chips, about 30 seconds. Take the center cover out of the blender lid and, with the blender running, gradually add hot cream. Add amaretto and blend for a few seconds to incorporate. Pour into pots de crème cups or demitasse cups and chill.
Mocha Java "Cigars"
1/4 cup granulated sugar
1 tablespoon cocoa powder
1/2 teaspoon espresso powder
6 sheets defrosted filo dough
2 tablespoons melted butter
Heat oven to 350 degrees F. Combine sugar, cocoa powder and espresso powder in a bowl. Place one sheet of filo on a flat work surface and brush with some of the melted butter. Sprinkle with some of the sugar mixture and roll up around a small wooden dowel, or other long, thin round object. Place on a parchment paper or silicone mat-lined baking sheet and bake for 15 minutes, until crisp.
Makes 6 servings.

Print This Page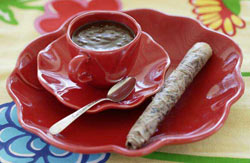 Related Menus
Signs of Spring Dinner for Six
Related Recipe Categories
Desserts

| | |
| --- | --- |
| | Karin Calloway is a working mom living in Augusta, Ga., with multiple freelance jobs and a ton of dirty dishes. |